Snow melting systems are an amenity that can make every winter at your home less stressful. If you've been considering a snow-melting system for your home or business, now is the time to make the upgrade. Warmzone's snow melting systems are proven, state-of-the-art systems that are fully automated and maintenance-free. Snow-melting systems are an excellent investment for any homeowner. Here is some basic info to get you started on the road to a snow and ice-free winter.
Each Warmzone snow melting system is customized to meet the specific layout and budget needs of the homeowner, but each system comes with three main components: the heating element (ClearZone heat cable), a snow sensor activation device, and a control panel. Warmzone's industry-leading heat cable is available in individual lengths, or pre-spaced in mats that can be easily rolled out for quick installation. ClearZone heat cable can be installed in a variety of mediums, including concrete, asphalt, and under brick or stone pavers. Installation in concrete begins by laying the cable over the area to be heated and securing it to remesh with plastic zip ties. The remesh is typically supported by plastic Mesh-Up supports, which keeps the cable off the ground and ideally positioned a couple of inches below the surface. Concrete is poured directly over the cable.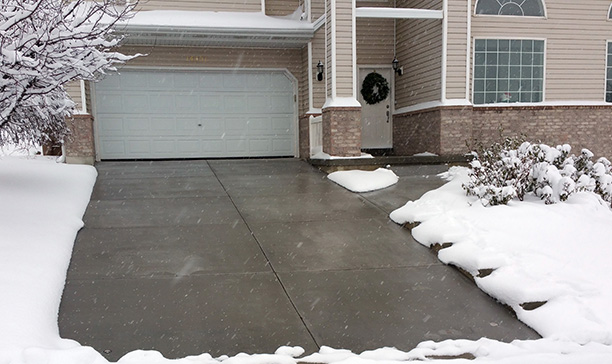 Warmzone's asphalt heating cable features cable with an extra durable outer jacket that is rated for a temperature of 464°F (240°C) for up to 10 minutes. The cable is laid out over the prepared bed (or existing asphalt) and secured, and then fresh asphalt is then applied directly over the cable.
Automated snow melting systems are triggered by the snow sensor (activation device). The sensor detects temperature and precipitation. When the temperature is below the adjustable set point (typically 39°F) and precipitation is detected, it signals the control panel. The controller then sends power to the heating cable, efficiently and evenly heating the area to prevent snow and ice build-up. Warmzone snow melting systems feature either an aerial-mount sensor or an in-pavement sensor.
The most common sensor used is the advanced WS-2C aerial-mount activation device. The WS-2C sensor is typically installed above the roofline, or in an area where it is open to the elements so that it can detect the first snowfall. The WS-5C sensor is also mounted aerially, and is designed for systems that require "zoning". This is when there is limited power, and sections of the system have to heat individually. Both the WS-2C and WS-5C feature universal power supply and sensitivity control. The sensitivity control allows for sensor programming to accommodate specific conditions. The universal power allows the sensor to select the input voltage.
If an aerial sensor isn't the right choice for your home or business, Warmzone also offers a pavement-mounted sensor. This sensor not only measures pavement temperature but features an advanced mounting system to ensure it aligns with the pavement surface. Warmzone's pavement-mounted sensor features a durable construction, and is mounted in the surface of the heated driveway. This sensor offered by Warmzone is the most advanced in-ground activation device, and is easily installed to provide efficient, accurate performance each winter.
Snow-melting needs differ for every customer. Warmzone professionals understand that customer needs vary, so each system is custom designed to accommodate the layout and performance needs, as well as the budget of each customer. And every system is designed according to ASHRAE standards, so each customer can be assured that their system is tailored for the weather in their area. While the most popular applications for snow-melting systems are driveways and sidewalks, installation is available in almost any area, including steps, ramps, and more.
Electric radiant snow melting systems are easy to customize, giving residential customers a variety of options to accommodate their budget. Instead of heating entire areas, Warmzone systems can be installed to only heat specific areas of the driveway, such as troublesome areas or inclines. Two 24-inch wide tire tracks can also be installed. This is a popular solution for long driveways or driveways with limited available power.
Heating porches, entryways, steps, or patios are also great options. Keeping walks and parking areas clear and dry is especially vital for businesses. Automated snow-melting systems provide an ideal way to keep visitors safe during the winter months. Snow melting systems have been installed in commercial parking areas, ramps, loading docks, airport aprons, and even runaway truck ramps.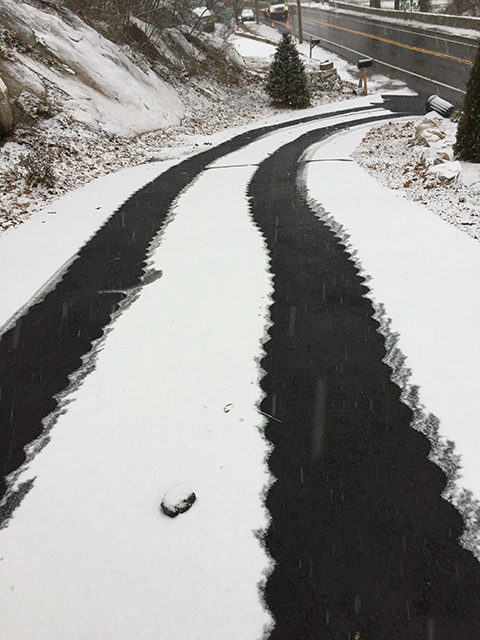 Warmzone snow-melting systems can be custom designed to suit your needs. With a Warmzone snow-melting system, no winter storm can slow your business or family down. Whatever your needs are, a Warmzone professional will be there to support you throughout the process. From picking products to installing the system, Warmzone stands with you throughout the process. Warmzone's professional design team will provide the system design and layout, which includes all the technical and electrical information needed for installation.
Warmzone prides itself on its extensive customer service. Along with professional design services, Warmzone includes technical support and free installation training. Installers can take the free course online with their instructor via video conference. The courses typically take less than an hour, but installers can stop and ask questions at any time.
All customers have access to Warmzone radiant heat experts to ask questions or consult with. An online library of product documentation and helpful installation tips and videos are also available at Warmzone.com. Warmzone also maintains a network of experienced installers throughout the country, so we may be able to help you connect with a qualified electrician or installer in your area. Call a Warmzone professional today to learn more about the many options that are available, at 888-488-9276.