Powerblankets Perform Under Extreme Conditions
Warmzone is known for its innovative heating solutions. If it kicks out heat better than the competition, chances are Warmzone has investigated it, tested it, or sold it. One of the leading multipurpose product lines available through Warmzone are the patented Powerblanket® outdoor heating solutions. While the Powerblanket has specific heat-spreading properties that deliver a lightweight targeted heating solution, it can in no way be said that it does only that. The Powerblanket is a versatile, weatherproof warming blanket that has many universal uses, including heated tote boxes, barrel warmers, concrete curing mats and other solutions that aid in the heating or thawing of various materials and equipment.
Powerblankets were initially designed as concrete curing blankets in construction jobs. A Powerblanket utilizes electricity to provide the spread of heat which warms concrete evenly during the curing process. What results from the heating power of these concrete curing blankets is the ideal curing with crack-free finish that every project manager dreams of. The Powerblanket helps retain moisture during wet concrete curing, bringing it to the desired PSI more quickly and definitely more efficiently. When Powerblanket is used as a concrete curing blanket, they may be used in both cold and warm weather, in turn protecting the concrete from rapid drying, freezing, or cracking. Powerblankets achieve a compressive strength in concrete of 4300 psi in only nine hours. The result is defect free and a better product all around for the customer.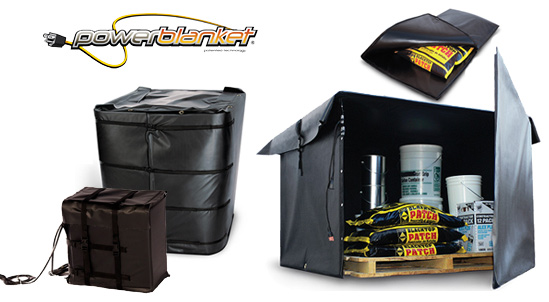 Powerblanket doesn't stop there however. Although most often associated with construction jobs, many customers are finding out about the many uses of this versatile warming blanket. Even though they are designed to be durable enough for the largest construction projects the Powerblanket can be used for many home projects.
If you do any projects outside you may find that your list of uses for a warming blanket is extensive. You may not have known that one product could achieve so many results. If you have need to thaw ground during cold months, simply plug in a Powerblanket and let it go to work for you. Cemetery workers often use Powerblankets for this purpose.
Another helpful application is for equipment warming. This includes tractors, machines, construction tools, snowmobiles, and engine warmers. If dependable start-ups on cold winter mornings are a must for you, the Powerblanket engine warmer may be your best cold-weather friend. All that is required is a 120V outlet.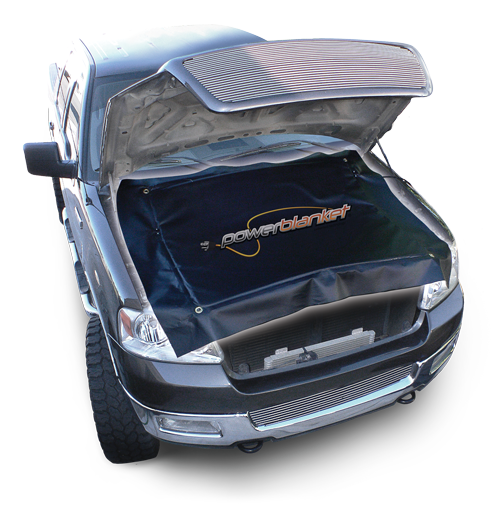 What about outdoor pets or livestock? They need to be kept warm year-round. Powerblankets are proven to be durable and safe enough for animals to walk or sleep on. Drop it, roll it up, or even fold it, you can't hurt this durable heating blanket, and neither can your animals. This is an ideal way to keep your animals warm during winter as well as keep water troughs from freezing.
Should you require the use of any liquids or gases in the freezing days ahead, wrap a Powerblanket around any container and keep the liquid flowing. Powerblankets are available for heating small paint containers, propane tanks, barrel heaters and water containers, and other temperature sensitive materials.
And don't forget about protecting exposed pipes during cold winter nights. The Powerblanket warming blankets provide safe, efficient pipe freeze protection quickly and safely. This eliminates the need for expensive propane burners.
Versatile, handy, user-friendly, affordable to operate and oh-so-many uses! The Powerblanket is a product worth investigating for any outdoor warming needs.
Snowmelt Systems Feature Top Rated Safety Design
Your Homeowner's Insurance Policy will not be Void with Driveway Heating
If you have any hesitation about installing an electric snowmelt system for fear of jeopardizing your homeowner's insurance, let's clear this up now. Some fear that enjoying the benefits of a heated driveway means you have to forfeit certain benefits on your insurance policy. Not so with any Warmzone snow melting system. Using any of our radiant heated driveway cables is safe and approved for use in residential properties.
Each Warmzone driveway snow melting system is UL safety approved for both residential and commercial use. Warmzone electric snowmelt systems meet the highest industry standards of safety to ensure there is no added risk for fire damage. These industry-leading snowmelt systems are designed to be fail proof and maintenance free. If a heating cable does become cut or damaged in any way, the system's GFEP (Ground Fault Equipment Protection) will automatically shut-down the power to the system. This enables repairs to take place before any hazardous effects come into play.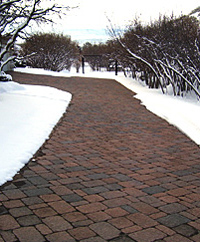 Having a heated driveway has many benefits, including energy-efficient automated operation. Warmzone snowmelt systems have been designed with smart technology to keep the electric radiant heat working properly and safely. Warmzone offers snowmelt systems that feature an impressive 10-year manufacturer warranty which includes up to five times the initial cost to offset costs of reinstalling any defective cables.