It's that time of year to dig out the coats, snow boots and Halloween costumes again. But there is still time for homeowners to decide how to spend this winter season. Will they choose to labor all season with a snow shovel to keep their walks and driveways clear, or are hoping to relax and let a heated driveway do all the work?
October is a prime month to help homeowners plan for winter. While a driveway heating system may seem like a luxury for many customers, Warmzone is making it easier than ever. Whether your customers want to heat an existing driveway or create a stylish new brick paver driveway, Warmzone offers the ideal snow melting cable – ClearZone heat cable – to keep driveways free of snow all winter long.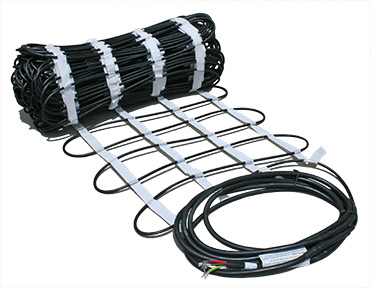 The ClearZone cables are ideal for melting snow in just about any outdoor area, including the growing trend for building outdoor living spaces for recreational and entertainment purposes. Several past articles have highlighted outdoor heating projects, such as parlors and patios, each of which utilize the CZ cables to ensure the ultimate in comfort, longevity and ease of use. An outdoor space is a great way to add value and comfort to homes, while still keeping within budget.
ClearZone heat cables are made specifically to withstand the harshest construction applications and extreme weather conditions. Durable CZ snow melting cables can be embedded in concrete and asphalt, as well as under brick pavers.
Many snowmelt systems are not capable of withstanding the harsh temperatures of new asphalt; and low-voltage systems do not pass the ASHRAE standard for snow melting systems. Warmzone offers one of the most comprehensive warranties on the market. Warmzone is a trusted manufacturer of radiant heat solutions and has a reputation for offering only the highest quality radiant heat products.
Installing a snow melting system eliminates the need for harsh chemicals and snow removal devices, and will increase the life span of your driveway and the value of the home. Whether you're looking to install a heated driveway or create a new, warm outdoor space, Warmzone can help you plan a system that keeps within your customers' budgets while providing a lifetime of benefits.