Considering an electric radiant heated floor system for your home? Let Warmzone be your "go to" for solid solutions to your heating needs. Warmzone offers a wide variety of heating systems that are flexible enough to be installed under just about any type of surface.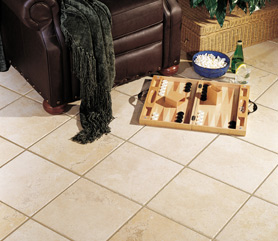 Basically there are two types of radiant heat—hydronic and electric, and certainly Warmzone can handle the installation of both. Electric radiant heat systems feature rapid response times, easy installation at a cost most homeowners are comfortable with. And it just so happens that Warmzone carries a full line of products perfect for a variety of electric radiant heated floor applications and a variety of surfaces:
ComfortTile cable is less than ¼ of an inch in thickness and is installed in thinset so there is no floor buildup. With a durable, stainless steel braid covering, the cable is perfect right off the spool for custom shaped flooring projects involving tile, marble and slate surfaces, among others. The cable also comes pre-configured in mats that are low-profile for ease of installation.
HeatShield floor heating insulation panels are perfect for laminate or wood flooring applications. The ½-inch thick panels feature polstyrene insulation that is covered with a thin, specially profiled aluminum.  Their construction creates excellent downward insulation and optimizes upward heat distribution for reduced energy consumption. Installation is simple. Just lay panels on the existing floor, press cable into grooves provided and place wooden laminate floor on top.
Warmzone FloorHeat is a low-voltage, self-regulating heating element that operates efficiently and enjoys a long life by design. Like HeatShield panels, this heating element is thin, requires no floor buildup and can be easily secured to the subfloor with adhesive, staples or pegs. Panels can be cut to length on site and installed under most floor coverings, including tile, stone, resilient, laminate, hardwood and carpet, making for easy installation under a variety of surfaces.
And for those concerned about the invasive nature of radiant floor heat, there's RetroHeat radiant heat elements that can be retrofitted to existing floors with minimal effort between floor joists to efficiently heat your floors. Heat panels are available for joists with 12, 16 and 24-inch spacing and can be cut on site, so they're easy to work with for a contractor or do-it-yourselfer.
With so many choices there's bound to be a solution from Warmzone to fit your budget and project requirements. Give them a call today to find out how Warmzone can help you find the perfect radiant heated flooring solution for you at 888.488.9276.
ClearZone Radiant Snow Melting Systems: The Perfect Fit for Your Driveway
Warmzone offers several high quality heated driveway and radiant snow melting systems available for both commercial and residential applications. Among their most popular products you'll find ClearZone cable, a trusted, popular snow and ice melting solution among homeowners and professional builders alike, and a great solution for snow removal during the cold winter months.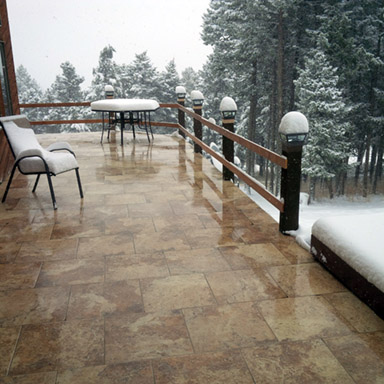 ClearZone electric snowmelt cable is incredibly energy efficient, fully automated, maintenance free and easy to install. Plus, it's readily customizable to meet the needs of just about any project, including retrofitting existing driveways. That's because ClearZone snow heat cable can be purchased on the spool in a form that's durable, versatile and easily configured for use in a variety of applications. This trusted, popular snow melting solution allows for greater flexibility so it's good for custom layouts, or for use in large snow melting jobs and unconventionally shaped areas.
If you're a do-it-yourselfer or contractor with limited experience in radiant heat installation, it may be more beneficial to choose ClearZone Radiant Snow Melting Mats. They're basically ClearZone heat cable pre-spaced in mats to create a convenient, versatile design. The heat cable is pre-spaced and attached to a durable backing for proper cable spacing and easy "roll-out" installation. The backing can be cut on site so mats can be installed around corners and odd layouts.
ClearZone cable is also designed for installation under a variety of applications, from new concrete pours to paver stones. Whether pre-configured or right off the spool, it can easily withstand the hot temperatures of new asphalt construction jobs and installation is easy. Asphalt is spread directly over the rugged ClearZone heat cable and then compacted. Embedded, fully automated ClearZone radiant heat snow melting provides a discreet, reliable snowmelt solution for your driveway or sidewalks.
For heated stone or brick paver driveways and sidewalks, the cable is laid out in the bedding material of the driveway or sidewalk to be heated before a bed of sand is applied. The pavers can then be directly placed over the new heat cable.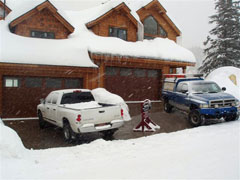 If you're current plans don't involve a new driveway, Warmzone has the expertise to retrofit a system for you inexpensively. ClearZone radiant heat cable can be easily laid over existing asphalt and secured using clips and nails, followed by a few shovels of new asphalt. The good news–the cable only requires a ½ inch of asphalt, a minimal amount (when you consider the cost of an entirely new driveway) to operate properly and provide quick, efficient, effective snow removal.
A ClearZone snow melting system can also be installed in existing driveways using saw-cut technology. Grooves are cut into the existing concrete or asphalt to allow for a proper retrofit. The cable is laid into the grooves and then sealed with an epoxy topcoat (for asphalt, an additional layer of asphalt is added).
To learn more about ClearZone snow melting cable, contact Warmzone at 888.488.9276 or go to www.warmzone.com.