Whether you are a senior, live with or have a senior in your employ, undoubtedly your comfort and safety is a priority, particularly in the prevention of slip and fall accidents. In inclement weather, radiant heat snow melting systems not only help to protect seniors, but all employees and customers from potential ice and snow-related falls.
Just how likely is this problem for seniors? It is estimated that the majority of the lifetime cost for persons 65 and over is directly attributed to falls. Among people aged 65 to 69, one out of every 200 falls results in a hip fracture, and among those persons 85 years of age or older, one fall in ten results in a hip fracture. The most profound effect of falling is the loss of independent functioning. Twenty-five percent of those who fracture a hip require life-long nursing care. About 50 percent of the elderly who sustain a fall-related injury will be discharged to a nursing home rather than return home. Considering these disturbing trends, it's not surprising that many home and business owners are turning to radiant heat to curtail this tragic trend.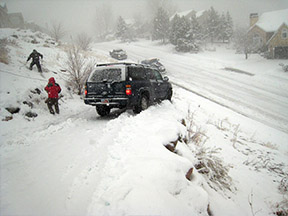 Electric radiant heated driveways and walkways are a practical method of slip and fall prevention during inclement weather. Fully automated, these systems are activated by a high-performance snow sensor when precipitation is detected and temperatures dip below 39 degrees F. The sensor signals the master control box, initiating startup of the electric radiant heated driveway system. This heated driveway system not only eliminates the task (or in the case of seniors, the cost) of snow removal, it clears surfaces to prepare for foot traffic well before ice and snow buildup occurs, eliminating the possibility of a slip and fall due to changing weather conditions.
When it comes to maintaining a quality of life for seniors, radiant heat is not only valuable in terms of snow melting, but other applications as well. If you're a senior, you can now say goodbye to unwelcome cold winter drafts in the home associated with traditional heat systems. Unlike forced air, electric radiant heated floors, once initiated, can heat a room quickly, radiating heat from the floor up. They can be safely installed under wood, carpet, and ceramic tile to keep seniors safe, warm, and protected against illnesses brought on by winter's chill. By reducing the dependence on costly fossil fuels, they are equally cost-effective, and that's important when you're on a limited budget. And, with the help of a room-specific thermostat and sensors, you have the freedom to heat one room, or heat them all, depending upon your needs for even greater efficiency.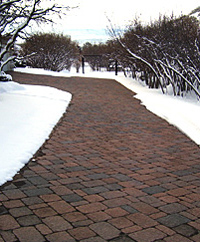 Due to medications, changes in vision and other health concerns, incidents of falling and illness increase dramatically with age. Each fall or medical setback brings with it a threat to independence. Taking preventive measures now is one way to lessen the chance of a fall, or illness, and ensure that seniors live healthy, productive lives well into old age.
Call a radiant heat expert (888.488.9276) to learn more about the snow melting and floor heating systems and options available for you.
Snow Melting Systems Work While you Sleep
The weather has been in the news a lot lately. Crazy storms are wreaking havoc on roads and structures across the country, as evidenced by the roof collapse of the Metrodome in Minnesota. The record snowfalls even resulted in the postponing of a couple of NFL football games, which hasn't happened in decades. The storms have made many of us take stock in how prepared we are for these blizzards.
The fortunate homeowners with radiant snow melting systems installed were able to go about their days without missing a beat during these storms, but the folks without a heated driveway snow melting system were faced with considerable challenges. Repeated shoveling of driveways and sidewalks were necessary as a series of storms left heavy snow in their wake. The hours and efforts of manual snow removal took a toll, and many people simply couldn't keep up with the winter barrage. For these folks, installing an automated snow melting system may be quickly jumping to the top of their priority lists.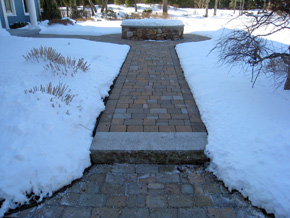 Heated driveways have automatic sensors that allow them to work even while you are asleep. The smart snow sensor signals the driveway heating system when weather conditions warrant, activating the heat cables and warming your driveway to keep it clear of snow and ice. You can rest easy and keep your aspirin in the cupboard, knowing that your snowmelt system will do the heavy labor while you get your sleep. Contact Warmzone to learn more about these affordable snow melting solutions.