Monthly Archives: March 2022
Installation Manual for Warmzone RetroRoof De-icing System
Download the Warmzone RetroRoof De-icing System Installation Manual (PDF)
Winter is coming to a close and spring will be here soon. Radiant heat may not be the first thing you think about when it comes to spring, but there is no better time to install a new radiant heat system. Springtime weather is typically more accommodating for installers, and allows you to beat the summer rush. Additionally, you may be able to find better discounts during the early spring.
Don't wait to start enjoying the many benefits of radiant heat. Install heated floors, heated driveways, a roof de-icing system, or even heated countertops with Warmzone's state-of-the-art products. Spring installations can be more convenient for home and business owners. Struggling to find a contractor during the construction boom that happens every summer and fall can be hard, and finding one who can work on your schedule can be exasperating. Purchasing your product in spring also means greater availability, so you can rest assured that you will have the heating system for your needs. No matter what project you have, or the product you are looking for, spring is a great time to start.
Floor heating systems are a popular option year-round, providing clean, energy-efficient comfort. The comfort of a heated floor is perfect for coming in after an icy snowstorm, or for that cozy feeling while watching a spring shower. Floor heating is also helpful for those months when pollen and allergens are high. Radiant heat does not circulate dust and allergens like a forced-air system. Instead, heat from the floor rises and silently and efficiently heats the entire area.
Warmzone offers some of the most trusted, advanced systems on the market. Versatile ComfortTile® floor heating cable is available on spools or in mats and installs easily under just about all types of floor surfaces. Another great option is RetroHeat™, which can be installed under existing flooring by simply accessing the floor joists. FilmHeat™ is an almost paper-thin heating element that is an ideal choice for floating floors, and low-voltage FloorHeat STEP® features a self-regulating polymer heating element that is another popular choice for heating hardwood. FilmHeat and FloorHeat STEP require no floor build-up and are easily rolled out over the subfloor during installation. Simply put, Warmzone offers perhaps the largest selection of floor heating systems on the market.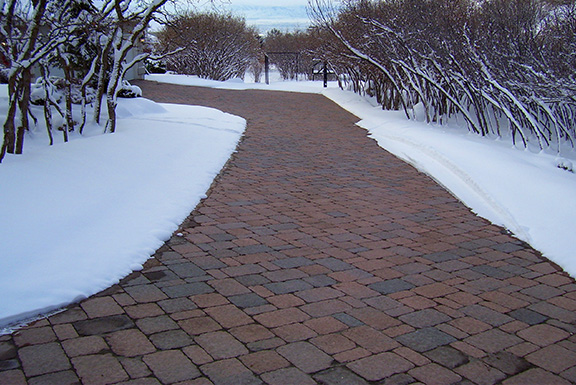 Snow-melting systems are also a great choice for spring installation. Being prepared for winter will provide reassurance and avoid the nuisances that come with the busy summer season, not to mention the rigors of shoveling snow. Snow-melting systems are easy to customize, and can be installed in driveways, walkways, patios, or almost any outdoor space. Snow melting systems are also a prudent choice for business owners. They are great for protecting employees and customers when installed in walkways or areas such as ramps and loading docks. Warmzone's range of electric snow-melting products includes heating elements that can be installed under concrete, pavers, or even asphalt. ClearZone heating cable and mats lead the industry by providing easy-to-install, energy-efficient heat. Snow melting systems are fully automated and require virtually no maintenance. After a quick installation this spring, you will be enjoying clear, safe sidewalks and driveways every winter.
Roof de-icing is another spring project to prepare for the winter ahead. Snow and ice can build up, freeze, and re-freeze during the winter season. Water freezing and thawing behind ice dams can lead to extensive and expensive roof damage. Warmzone offers several proven roof de-icing products to help keep your roof and home safe from water damage. Self-regulating heat cable can be used on roof gutters, downspouts, edges, or rooftops. Warmzone's cable is durable and self-regulating. This means when temperature decreases or precipitation increases, the system will automatically activate and clear the roof of ice and snow. The low-voltage RoofHeat STEP de-icing system is another industry-leading self-regulating roof de-icing option. The heating element is a thin polymer that can be installed under shingles and nailed or stapled through during installation. Easy-to-work-with products like RoofHeat STEP and self-regulating heat cable not only can protect your roof from ice dams and snow build-up, but help ensure that your spring project is quick and easy.
Warmzone has each of its industry-leading products available so you can begin your spring project when you are ready. Dedicated customer service specialists can help determine which products are the best fit for your project, and connect you with a local installer if needed. Each system purchased with Warmzone includes a professional system design to assure easy, efficient installation. Warmzone also offers free installation training for installers. Support throughout the installation is another unique benefit available from Warmzone. Whatever questions there are during installation, a Warmzone expert can help you. Moving forward with a radiant heat project this spring can also mean discounts on products that may have less availability during the busy summer months. Reap the benefits of being an early bird and get your radiant heat project started this spring! Call and speak to a Warmzone professional today at 888-488-9276.