Roof Gutter Trace Systems
Self-regulating Heat Cable for Gutters, Downspouts, Valleys and More
During the winter months many homeowners scramble to find a way to protect their roof gutters from heavy ice buildup. Icicles can also form, creating dangerous conditions for pedestrians below. Not only does falling ice present a danger, but melting icicles drip onto the sidewalk below and the water refreezes in the evening, creating a thin sheet of slick ice. Needless to say, these conditions are a nightmare for business owners.
The most popular and trusted method for keeping roof gutters and downspouts free of snow and ice is installing a heat trace system. These affordable systems are easy to install and are fully automated. The reliable, maintenance free roof deicing systems rely on durable self-regulating heat trace cable.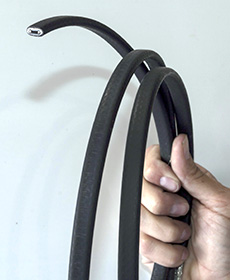 Self-regulating heat cable automatically adjusts its power output to compensate for temperature changes. The cable's irradiated conductive core increases the heat output as the outside temperature falls and decreases the heat output as the temperature rises. This unique construction makes it durable, safe, and extremely energy efficient.
The UV stabilized, flexible thermoplastic elastomer overjacket protects the durable carbon core for wet applications and exposure to the sun. These features provide more consistent performance, longer lifespan, and easier installation in cold temperatures that most other cable brands. In addition to providing ideal protection for roof and gutter applications, the heat cable can also be used for pipe tracing applications.
The other key component to Warmzone's industry leading roof deicing and gutter trace system is the WS-8C aerial-mount snow sensor. This advanced sensor is designed primarily for gutter, downspout, and roof ice melting and small satellite antenna deicing. The totally sealed, low voltage, remote mount precipitation sensor allows the user to install the small sensor head in a downspout, the back of a gutter, or at the end of an antenna boom, up to 10 feet away, while keeping the main controller in a more convenient or protected outdoor location.
Warmzone roof heat tracing systems are affordable and effective. And once installed, you never have to worry about it. The system automatically operates when needed.
In addition to installing the cable in roof gutters, downspouts and valleys, the cable can also be zigzagged along the roof's edge to help break up ice dams. The heat cable prevents water from pooling up behind ice dams by providing channels for the runoff to reach the gutter.
However, if your roof is consistently dealing with ice dams, that may be an indication that your attic is poorly insulated. Certainly, a roof deicing system can be installed at your roof edges to eliminate ice dams, but it is also recommended that you check your attic to ensure that it is properly insulated as well.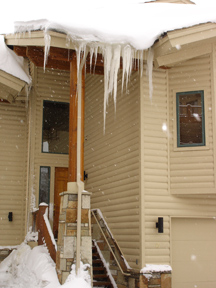 Ice dams form as a result of warm air rising from the home and escaping into the attic where it warms the roof and causes runoff. The melted snow reaches the colder roof overhang and refreezes. Eventually a ridge of ice forms and then subsequent runoff pools behind the ridge of ice. Water can seep under shingles and when it refreezes damage may occur.
Warmzone can provide a variety of custom roof heating solutions for you. Call today and see what options would best suit your needs. Any system can be customized to meet your specific roof heating needs and budget. Call 888.488.9276 today.
Features and Benefits of Warmzone's Roof Heat Trace Systems
Will not overheat or burnout when overlapped
Superior quality outer jacket and carbon core
Features advanced technology that results in highly effective, energy efficient operation
Can be cut to length in the field
Fully automated
Maintenance free
Protects roofs by preventing ice dams and ice buildup