Affordable Snow Melting that's Right up your Driveway
Here in Michigan we joke about having two seasons—winter and construction. But what good is that newly paved (or plowed) road to you if you're snowed in? ClearZone electric heated driveways are a great solution. Affordable, energy efficient, easy to install and easily customizable, these fully automated home improvement solutions will have you seeing pavement before the first snow plow ever makes your neighborhood.
What is the secret to this efficiency? All ClearZone electric heated driveway systems share three common components—a control box, snow sensor and heating element. Whether aerial or pavement mounted, it's the snow sensor that detects the changes in temperature and precipitation indicating a storm is on the way. When conditions are just right, the sensor signals the master control unit, which then sends power to the heat cable, warming the driveway or surface area just before the first snowflake ever falls.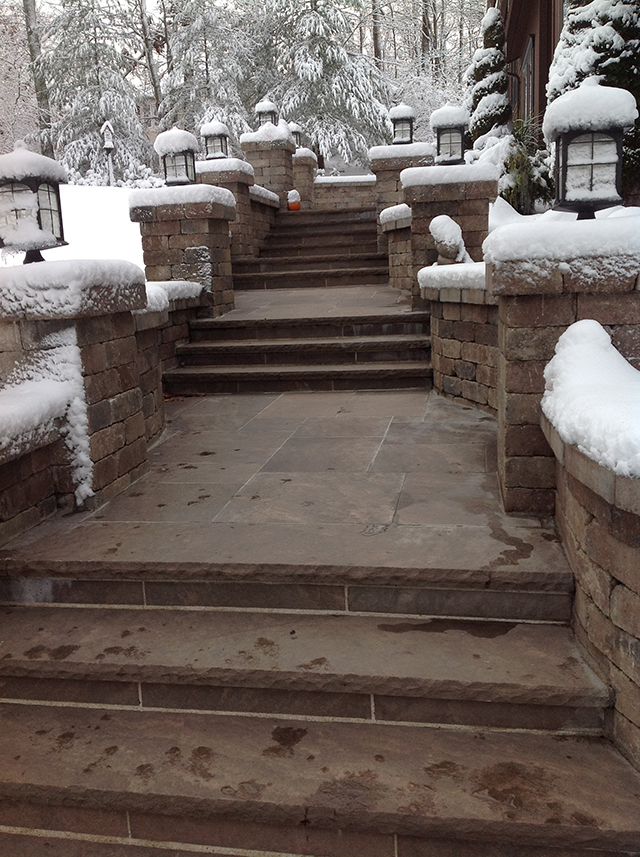 If you're a green thinker, then sustainable electric radiant heat is well, right up your driveway. ClearZone electric radiant heated driveways can be run for pennies on the dollar, and can be coordinated with wind and solar power to generate enough heat to melt snow and preserve the environment. If you're an aspiring environmentalist, or if your goals are more closely associated with your tightening purse strings, you'll save money on snow removal services and equipment for just pennies on the dollar. No more snow blowers belching gasoline vapor and black smoke. And, no more waiting for a snow removal service to show up, a disappointing event after heavier snowfalls.
As electric radiant heat becomes more prevalent, the relative novelty of heated driveway systems is now fading. No longer a luxury of the past, ClearZone electric heated driveways are affordable, especially when you do business with Warmzone. With one of the largest selections of electric radiant heat solutions in the business, Warmzone can design a system to meet or even exceed your expectations – and your budget. Their professionals will step up from your initial inquiry to offer solid solutions to your heating requirements, regardless of the size or shape of your driveway, free of charge.
You have several options to choose from when it comes to heating your driveway. You can install snow melting cable under the entire area of your driveway or install heat cable only in the most trafficked area. This usually involves the installation of an 8-10 foot strip up the middle of your driveway. Another economical alternative involves installing heat cable in two 24-inch wide tire tracks.
You can save even more money by doing much of the installation yourself. The cable is relatively easy to install, but it is important that a qualified electrician perform all the wiring. An extensive library of free articles, manuals and installation information is also available on Warmzone.com.
Summer is the perfect time for outdoor home improvement projects. Find out if there's a Warmzone ClearZone electric radiant heated driveway in your future by calling 888.488.9276 today.
Warmzone Roof Deicing Systems
As we move into summer, you've no doubt had a chance to survey the exterior condition of your home. If your list of home improvement projects includes a new roof, you might want to add some preventative protection once the winter months roll in. Warmzone roof deicing systems can save homeowners from expensive roof and water damage commonly caused by adverse winter weather. Installing a roof deicing system in warmer weather, while it's hot will give you a leg up on snow events before they happen. And when considering your options, your first consideration should be Warmzone.
Warmzone has several top systems and/or options to choose from, including RoofHeat and gutter trace cable. Both products work well for all types of roofing surfaces, and a multitude of projects, be they new construction or remodeling. Installed under new or existing asphalt, shake or tile shingles, both RoofHeat and gutter heat trace cables help prevent snow, ice and icicle build up around eaves, drains and valleys. An activation device/snow sensor detects precipitation and temperature to automatically trigger the control panel when conditions warrant. After receiving the signal, the controller then sends power to the heating element, activating the radiant snowmelt cables to heat your roof.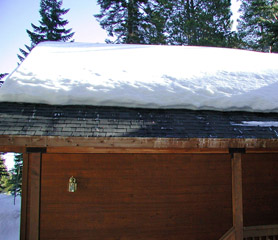 Roof deicing systems from Warmzone present nothing but choices and freedom to do what fits your budget and requirements, in equal measure. Warmzone strives to provide you with an impressive selection of the best, most proven radiant heating solutions. They've forged longstanding relationships with radiant heat suppliers. Deep generalists in roof heating, Warmzone benefits from these relationships to pass on the most relevant, affordable solutions available at a significant savings to you. Their experts can help you select a radiant heat solution that will best meet your needs, and is equally affordable.
So you might be thinking that heating your entire roof is a costly proposition. Yet this scenario is generally the least common. Most structures in heavy snow areas have steep roof grades, but flatter roofs require more comprehensive roof heating, so heating the entire roof is essential to avoiding damage. In this scenario, it's beneficial to heat the entire roof because it eliminates snow and ice buildup, protecting the structural integrity of your roof and reducing the chance of water damage to your home.
So just what electric radiant snow melting options does Warmzone most often recommend for your home? There are many ways to tackle snow and ice melting effectively, depending upon your roof and your project objectives:
Applying radiant heat to the roof edges is the most common application for radiant roof deicing systems. Warmzone RoofHeat panels feature self-regulating heat cable channeled into an aluminum panel designed for maximum heat transfer. You can also install a thin, RoofHeat STEP low-voltage heating element under roofing to heat roof eaves and keep heavy snow from accumulating.
Gutter heat tracing is another way to keep the ice and snow at bay, and radiant roof heating/ice melting cables are a great way to go. They are durable, self-regulating cables. Use them to melt heavy snow and ice from gutters, valleys and downspouts to help to protect the structural integrity of your roof. The cables can be easily installed in existing roofs to prevent icicles, ice buildup and ice dams that can cause water to back up under the roof decking and into your home.
And roof valleys can be the most problematic areas of your roof for snow accumulation in cold-weather climates. When attic temperature is above freezing, it can cause snow on roof to melt and trickle down the roof valleys. When this trickling water hits colder eaves, it refreezes. So installing roof heat in your roof valleys eliminates this potentially damaging event.
Warmzone roof deicing systems are versatile enough to heat almost any size or shaped area to fix ice buildup and prevent potential damage. To find out what Warmzone can do for you, call 888.488.9276 or visit www.warmzone.com.