Radiant Heated Driveways Work Only When Needed
It's rare to get around-the-clock reassurance with consumer products, yet a radiant heated driveway offers just that. Once you install a heated driveway, you quickly become the neighbor that has the heated driveway that automatically warms the driveway during a snowstorm in the day or the night – and then shutoffs afterwards. This means you sail through the winter with relative ease. The manual back-breaking labor you once dreaded after a storm is limited to sweeping a few particles of snow off your welcome mat at your front door.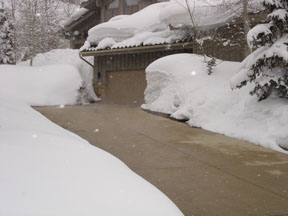 Radiant heated driveways come with a smart snow sensor that is always working. This doesn't mean your heat cables are always on. The radiant heated driveway uses sensors to detect temperatures and amounts of snowfall and activate the radiant heating system, only when needed. This means that you'll cut down on energy costs and eliminate the need for snowmelt chemicals or rock salt.
Radiant heated driveways communicate with the snow sensor that is programmed to activate the system when needed (usually when it detects precipitation and temperatures are below 39°Fahrenheit). The sensor signals the controller (typically installed on the wall in the garage) when conditions warrant and the controller then sends power to the heat cables to heat the driveway as the first snowflake hits. Afterwards, the system shuts off.
The driveway heating system also features manual override capability, so you can melt snowdrifts or ice that may have formed in a shady area. The snow sensor for a heated driveway system is typically installed on the side of your roof where it can accurately sense temperature and snowfall conditions. Once your heated driveway is installed, it can work without your presence, around the clock, reliably, and confidently