Finding the Right Snowmelt System Components and Services
Winter can be a treacherous time for business and homeowners when it comes to navigating the icy driveway, parking areas, and sidewalks. The best way to ensure safety around your house or business is by installing an automated snow melting system. These systems are reliable, easy to install and provide peace of mind for your home or workplace. When you work with trusted industry leader Warmzone, the systems include premier components, superior customer service, installation support, backed by years of radiant heat expertise.
Expertise and customer service is key when making such a significant investment, and at Warmzone, full design services are available to get you started off on the right foot. After discussing the project needs with you, a radiant heat expert will design a comprehensive radiant heat solution that is customized specifically for your property. The system layout includes a detailed CAD that outlines your system's layout and materials, power needs, proper load calculations, breaker sizes, number of breakers, and performance expectations. After you have worked with an expert to design your system, it's time to start your system installation.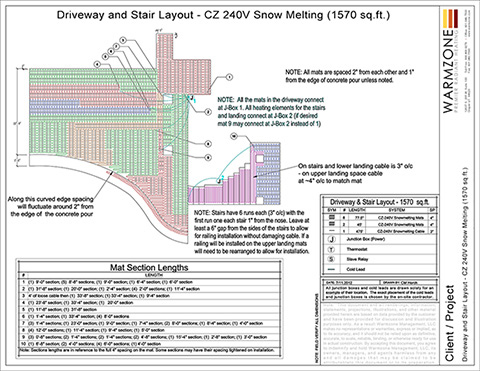 Proper installation is essential to radiant heat systems; that's why Warmzone offers free installation training and support. Whether you are a professional or a homeowner doing a DIY installation, installation training is available in person or online. Installers can also call our installation experts at 888.488.9276 if they have any questions.
Using Warmzone's proven UL listed Clearzone heating cable, snow melting systems can be installed in almost any medium, including concrete, asphalt, and pavers. ClearZone is a high quality twin-conductor, single-point connection cable that can withstand the stress of fresh concrete pours and heat of hot asphalt. Warmzone's standard CZ cable is rated at 220 degrees Fahrenheit and is designed to produce 30-50 watts per square foot. (For asphalt installations, a special ClearZone cable rated up to 460 degrees for up to 10 minutes is available.)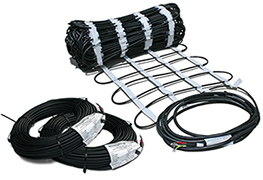 The durable and versatile heat cable is available off spools or in mats that can be easily rolled out for quick installation. Installation for your project begins with this heating cable being laid out and secured to a re-mesh. This re-mesh is supported by plastic Mesh-Ups that keep the heat cable elevated during the concrete pour. (It is important that the cable does not rest on the ground.) After the cable is laid out and secured, the concrete or asphalt is applied.
The next essential piece of an automated snow melting system is the automatic sensor (activation device). These temperature and moisture sensors can be pavement mounted or aerial-mounted. Aerial sensors are typically used for residential applications, while pavement mounted sensors are generally used for commercial snow melting projects. When the temperature reaches a set point (usually set at 39°F) and moisture is present, the sensor signals the master controller / contactor panel to send power to the snow melting system's heat cable. There are benefits to both sensors, and each are well suited for particular projects.
To continue learning about how Warmzone's snow melting systems, check out Part II of Snow Melting System Details below.
---
Snow Melting System Details (Part II)
Finding the Right Snowmelt System Components and Services
Aerial sensors are typically used for residential snow melting systems (and roof deicing systems). Warmzone's WS-2C aerial sensor sets the industry standard with new enhancements that make it the most popular and trusted. The activation device has a universal power supply allowing it to auto select input voltage, a redesigned case, and increased moisture control sensitivity. This sensor detects moisture through an interleaved grid at the top of the unit, and temperature is detected by a sensor at the bottom of the unit.
The WS-2C is compact and easy to install, features an adjustable set point and has manual, automatic and standby capability. Another bonus of Warmzone's aerial mounted sensor is its smart system compatibility. When you purchase the optional WS-AUX and CS-1 cable, you can control your system from remote locations through your telephone.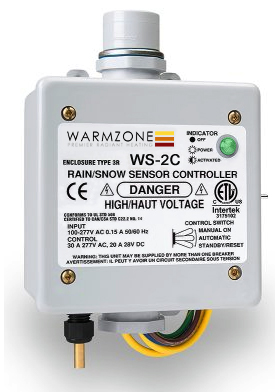 Pavement mounted sensors are generally used for commercial projects. The ground-mount sensor is directly mounted in the surface of the area to be heated, which allows for increased energy efficiency without sacrificing effectiveness. When the set point is reached and moisture is detected, the sensor signals the master controller, which activates the ClearZone snow melting system. This unit is only used with a pavement mounted sensor, and is a small NEMA 1 wall mounted control panel. The panel s designed so it can be controlled from an external signal. It can be in standby mode to activate when needed, or can be turned on manually to melt snow drifts or ice that may have formed in shaded areas. Warmzone's master controller is not only technologically advanced, but is also very affordable. The Warmzone controller provides maintenance free, UL listed, under pavement heating. After the storm, to ensure that the heated area is completely dry, the pavement mounted sensor is equipped with an "after-run" function to ensure complete dryness and no ice formation.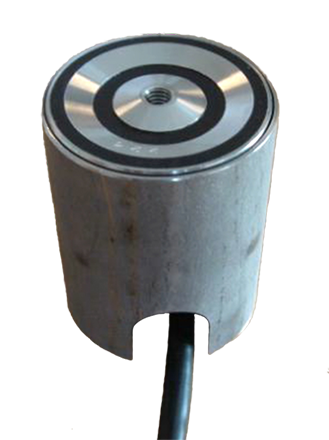 When you choose Warmzone for your snow melting needs, not only do you receive premier systems and components, you also receive online resources available at anytime – which include Warmzone's instructional videos, articles, and glossary of helpful terms.
Still have questions about ClearZone snow melting systems? Check out this snow melting system overview and other documentation, or contact an experienced representative who can provide sincere, non biased recommendations based on your needs at 888.488.9276.