The Importance of Designing Systems to ASHRAE Standards
Shopping snow melting systems during the spring months is smart. Even smarter, shopping a radiant heat solutions provider that meets ASHRAE standards. It's your ticket to finding the very best electric snow melting system for your home.
What is ASHRAE? The American Society of Heating, Refrigerating and Air-Conditioning Engineers (ASHRAE) is an organization committed to advancing the arts and sciences of heating, ventilating, air conditioning and refrigerating to serve humanity and promote a sustainable world. Sounds a bit lofty, huh? Basically, through research and writing, ASHRAE is striving to become the source for technical and educational information, and the primary provider of opportunity for professional growth in the arts and sciences of heating, ventilating, air conditioning and refrigerating.
What does this mean to you as a consumer? Snow melting system requirements vary, depending on the location and specifics of the project, such as altitude, average snowfall and temperature, etc.). ASHRAE standards were established to address these variances to optimize system performance for radiant heat. Basically, if you want the best snow melting system, it's a good idea to choose a radiant heat solutions provider that adheres to ASHRAE Standards.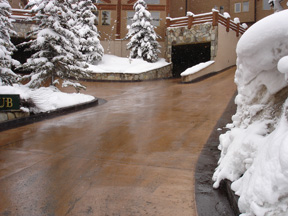 This is where Warmzone comes in. Warmzone designs custom systems in accordance with ASHRAE Standards to ensure they meet the specific needs of each customer. Adhering to these standards means breaking it down regionally―looking at the weather for the region, climate, average snow storm, temperatures, and other important factors to make sure a system is going to work well for a particular location. Choosing Warmzone, then, is a great way to get the best possible radiant heated snow melting solution for your home.
Maybe an optimized radiant heated driveway is nice, but who's to say a "one-size-fits-all" approach won't do the trick? Warmzone is prepared to help you find that "sweet spot", the system you want, at a price you can afford that exceeds your expectations. Warmzone is one of the largest radiant heat solutions providers in the country and has a huge inventory of snow melting products available to choose from. You get an top performing system that can handle whatever adverse conditions come your way.
With every Warmzone purchase, you also get free consultation, complete design services and installation support. Warmzone experts will take a look at your requirements and assess your situation to come up with the best snow melting solution for your driveway, walkways, gutters or roof. They'll deliver a system with the best performance for your home and budget. And Warmzone will be available during the installation if you need any assistance during the installation process. You'll also be able to freely access a full online library of installation manuals, articles and other helpful information.
When it comes to a snow melting solution for your home, don't lower your standards. Contact Warmzone at 888.488.9276 for the best possible radiant heat solution.
Radiant Snowmelt Systems – Versatile and Easy to Customize
Install a Custom Designed Snow Melting System in Any Type of Driveway
Have you surveyed your existing driveway with the fear that radiant heat is simply not an option? No matter what your circumstances, whether it be your driveway type, budgetary restraints or your project goals, don't pull the plug on your dream driveway until you speak with the folks at Warmzone. You'll discover the versatility of radiant heat makes it possible to have the driveway of your dreams.
If you're building your own home, you'll definitely want to consider a snow melting solution before you pour your driveway. Both electric or hydronic radiant heat systems can be custom designed to meet your specific snow melting needs. The difference between electric and hydronic systems is fairly simple. For electric heat, as you might already suspect, specially designed electric heat cable is installed in the driveway, evenly radiating warmth up to the surface of your driveway to quickly melt ice and snow. Hydronic heat, however, utilizes a boiler and pumps, heating the water and then pumping it through a network of Pex tubing with similar results.
A great benefit of radiant heated driveways is that they are fully automated and maintenance free. The systems are regulated by either an aerial or ground-mount snow sensor that detects optimal conditions for snow, including changes in air pressure, moisture and temperature. When conditions warrant, the sensor signals the master control unit that sends power to the heating element to warm the driveway. After the storm, the system shuts off automatically.
With both systems, most often the heating element (whether heat cable or Pex tubing) is laid out in a serpentine pattern to cover the area of your driveway, followed by pavers or an asphalt / concrete pour to seal the deal. But if you're not in the market for a new driveway, and crave the convenience of a radiant heated snow melting system, you're anything but out of luck.
No matter what your situation, Warmzone has a work around for you. Electric radiant heat systems are versatile and durable enough to be installed in virtually any type of driveway you choose. ClearZone heating cable is available off the spool or pre-spaced in mats that can be rolled out to heat a single strip, tire tracks or the entire driveway. Whatever you decide on, both the cable and the mats are durable and able to withstand years of punishment from the weather, as well as vehicle traffic. ClearZone heat cable can even be installed in hot asphalt installations.
Driveways can also be retrofitted with radiant heat. Featuring saw-cut technology, grooves in the concrete or asphalt driveway are cut and then cable is placed in the grooves and then a special sealant is placed over the cable. A more common application for heating existing asphalt driveways is to place the heat cable on the old asphalt and then apply a new layer of asphalt over the existing surface.
With electric radiant heat systems, there are very few limits to the type of surface and area you heat. They perform well and can be installed on or under a variety of materials, including concrete, asphalt, and stone, brick or tile pavers to deliver consistent performance every time. You'll also find solutions to fit your budget as well. When it comes to the heated driveway system of your dreams, you may have more options than you think.
To learn more about the many options available, or to receive a free quote, call Warmzone today, at 888.488.9276.