December is finally here. That means temperatures are dropping and snow will soon be falling. As beautiful as snow can be, it can also pose problems for homeowners. Perhaps the most prominent and troublesome challenges are those you can't see – up on the roof.
The greatest potential for problems comes as a result of ice dams. An ice dam forms when snow melts at higher points on the roof, runs down, and refreezes when it reaches the colder eaves. Warm air that has escaped into the attic warms the bottom layer of snow on the roof, which runs down to the eaves. This water refreezes because there is no warm air under the eaves, causing a ridge of ice to form.
As the ridge of ice grows, water reaches the "dam" and pools behind it. When it refreezes and expands, tiny imperfections in the roof can be exploited. This is why ice dams have the potential to cause problems both to the roof and inside the home. Water may eventually seep inside the house, leading to interior water damage. If undiscovered, this can even be the cause of mold and mildew developing in the home. This is worst case scenario, but homeowners should be aware of potential problems so they can take steps to reduce or eliminate the need for costly repairs.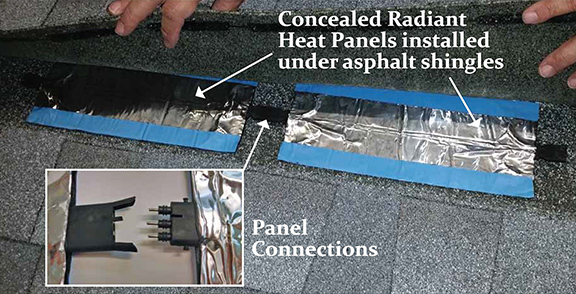 One preventive measure includes checking your attic insulation. Do what you can to prevent heat from escaping from the home into your attic. Also, inspect your roof every spring and fall. Keep the gutters and downspouts free of obstructions, such as small branches and leaves. If you notice snow and ice buildup in the same place every year, it may be time to consider installing a roof de-icing system.
Warmzone offers a variety of proven roof de-icing systems. The latest technology to be added to Warmzone's reputable line of roof heating solutions is the RetroRoof de-icing system.
RetroRoof is one of the most advanced roof de-icing systems available today. It affords homeowners the option of discreetly adding a roof de-icing system to an existing roof. The thin heating panels feature adhesive strips on the top and bottom of the element, so it can be safely secured under the existing shingles. The system can also be installed in new construction applications, making RetroRoof an excellent solution for ice dam prevention on both new and existing roofs.
RetroRoof systems are designed to make it easy to add heat to existing roofs. The system's modular design allows the installer to plug the heating panels together to keep entire areas free from snow and ice buildup. To install the heating panel, no nailing is required. Simply lift the shingle slightly, remove the underside release liner and secure the heating element underneath. Then remove the top side release liner and press down to seal the element to the next course of shingles. The innovative de-icing panel is now permanently and discreetly attached to the roof.
RetroRoof's ease of installation and efficient performance makes them an excellent choice for any roof de-icing project. And remember, the RetroRoof system can be installed in new construction as well as retrofit applications. The heating elements effectively warm areas to keep them free of snow and ice. Installing the system under shingles along the roof edges is an ideal way to prevent ice dams and other ice/runoff problems from forming. RetroRoof offers a quick solution to any roof snow or ice problems.
RetroRoof panels are ETL Intertek listed and come with a 15-year limited warranty. The panels are easy to work with, and weigh less than 7 ounces per foot. RetroRoof de-icing systems are available in 120V and 240V, as well as various standard lengths. Certified to stand up to 110 MPH winds, and completely waterproof, RetroRoof panels are designed to weather Mother Nature's worst storms. The flexibility and performance make RetroRoof panels an outstanding choice for heating almost any area of the roof.

RetroRoof systems are also compatible with Warmzone's other industry-leading roof de-icing systems. Warmzone offers self-regulating heat trace cable that can be installed along roof edges or in gutters and downspouts to prevent freezing and gutter damage. These cables are easy to install, flexible, and affordable. The low-voltage RoofHeat STEP system is another outstanding option for homeowners. This premier system features a thin, self-regulating polymer heating element available in multiple widths. RoofHeat STEP is ideal for heating roof edges, and also a popular choice for heating roof valleys. It can be cut onsite and stapled or nailed through.
Warmzone's RoofHeat aluminum panels feature attractive aluminum panels with pre-engineered channels for self-regulating heat cable. While not as discreet as RetroRoof, these panels are available in multiple finishes to boost the curb appeal of any home. The aluminum design also allows for maximum heat transfer across the entire panel. Warmzone de-icing systems also include an automated controller to safely and efficiently clear snow and ice before problems arise.
Combining any of these systems with Warmzone's advanced RetroRoof de-icing panels allows home and business owners to create a comprehensive de-icing system specifically for their needs. A Warmzone professional will help you create a roof de-icing system that considers every aspect of your project and your budget. From professional design to installation training and support, customer service is all-inclusive at Warmzone. If you have more questions about Warmzone roof de-icing systems, call a Warmzone professional today at 888-428-9726.