Warmzone has the Products, Expertise and Services
Homeowners looking for the best radiant heat solutions for their new home or remodel need look no farther than Warmzone. With one of the largest selections of trusted radiant heat systems available, customers are assured of choosing from a variety of proven, industry-leading solutions. But Warmzone's diverse product offering is only part of the advantage customers enjoy by working with the company.
Warmzone complements its many products with unmatched customer support and services. Whether you're looking to install a heated driveway, a heated floor, or a roof deicing system, Warmzone's experienced design team will provide a detailed layout of the system prior to the installation. These professional drawings not only include the precise layout of the heating elements and components, but also the proper load calculations for the system, the breaker sizes, number of breakers, and so on. This helps to eliminate any unwanted surprises during the installation and ensure that the system is properly installed and meets all the warranty requirements.
Having experienced pros like Warmzone design your system helps to eliminate any surprises during the installation. Warmzone's design and AutoCAD® layout services make things easier on your electrician and installer, and help to ensure that your system is installed correctly so that it performs as it should.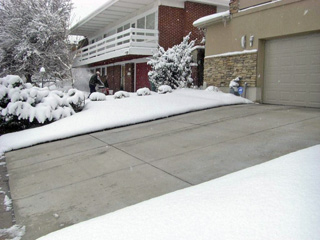 Warmzone radiant heat systems are also easy to customize. In addition to carrying one of the largest selections of floor heating systems around, Warmzone radiant heat experts can also customize each system to best meet the unique needs of each homeowner. So if you're looking to add efficient, luxurious warmth to your home, contact a floor heating expert today at 888.488.9276. We've been doing this for almost two decades, and we're happy to put that experience to work for you. Call us for a free, no-pressure consultation. You can tell us about your project and vision, and we'll be happy to discuss the different features of each system and show you the best options for heating your home. You can also submit your project information and receive a free quote.
Heated Driveways and Snow Melting Systems
While the comfort of radiant heat in the home can't be matched, neither can the convenience of a fully automated snow melting system. Some homeowners choose to install a heated driveway to eliminate the need for manual snow removal, but other home and business owners find that installing an automated snow removal system is more of a necessity.
Some driveways, parking areas and sidewalks are built on inclines, so when the snow falls these areas become treacherous. Needless to say, businesses cannot afford to have icy sidewalks on their premises. So, rather than paying employees to routinely shovel and salt the grounds, an automated snow melting system ensures that there is never any accumulation of snow or ice. This reduces the chances for litigation because of personal injuries by helping to ensure the customers' safety.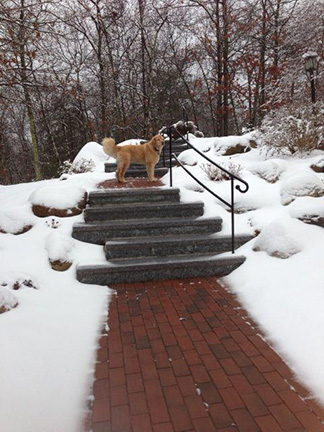 Consumers have many options when it comes to installing a heated driveway. In addition to heating the entire driveway, some may opt to save money by installing a custom system to only heat specific areas. Installing heated tire tracks is also an affordable option that features two 24-inch wide heated tracks that reduce the power requirements and installation costs. Warmzone experts will work with you to find the best solution to meet your snow melting requirements as well as your budget. Radiant heat can also be installed to heat outdoor steps, bridges, ramps, loading docks and more.
Roof Deicing
Warmzone also offers the most advanced and proven roof deicing and gutter heat trace systems. The most popular and affordable solution for keeping gutters and downspouts free of ice buildup is self-regulating heat cable. This affordable cable can also be installed along the roof edges to prevent ice dams from forming.
The most advanced system for keeping roof edges and valleys clear of snow and ice is the low-voltage RoofHeat STEP system. This system features thin, semi-conductive polymer heating elements that can be installed discreetly under the roof shingles (or safely under metal roofs) to keep areas completely free of snow. The flexible heating element is available in different widths, so it can also be installed under the flashing to keep roof valleys clear and facilitate runoff.
Warmzone has been leading the way for years when it comes to trusted snow melting solutions and services. In addition to the premier design services provided, Warmzone also includes free installation training and installation support. When customers purchase a system from Warmzone, they team up with a trusted partner who will provide customer support from beginning to end. Eliminate the headaches and the hassles by dealing with a seasoned pro like Warmzone. Call today for more information at 888.488.9276.