Home Remodeling Trends you can Really Warm up to
CBS Moneywatch.com recently identified twelve trends in home remodeling for 2011. The hottest projects—bathrooms, must-do remodeling and warmer interior design projects made the top three, with green living coming in at number nine. With growing concerns over rising fuel prices and carbon footprints, it's not surprising that more and more homeowners are investing in their homes to cut fuel consumption. Installing Warmzone radiant heated floors is a great way to keep up with remodeling trends and recoup on home improvement costs.
How does radiant heat work? Heated floors radiate heat from the floor up to keep you warm and comfortable when cold weather sets in. Two types of systems—electric heat cable and hydronic (water-based) tubing systems—when installed in the subfloor of your home act as heating elements to warm the surface above. These heating cables/tubing coordinate with a thermostat and sensors, as do traditional forced air systems, to provide heat to your home.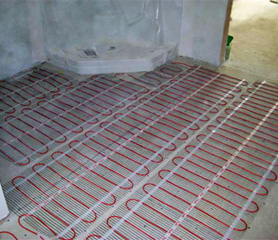 Warmzone radiant heat is green heat. Powered by electricity, electric radiant heat cables can heat a surface in 30 to 60 minutes. Unlike forced air systems, they are room specific. With the help of sensors and a programmable thermostat you can heat one room, or heat them all quickly and efficiently, saving money on your monthly gas bill. And unlike forced air systems, they do not belch out the dust and dirt that compromises air quality in your home.
A radiant heated floor installation equals cheap equity. Heated floors give your home an impressive level of comfort and customization with minimal investment. Not sure you want to install heated floors throughout you home just yet? Warmzone offers a variety of heat cable products that can be easily installed under the subfloor of any room in your home, whether it be bathroom tile, wood or even carpet.
If, as CBS Moneywatch.com suggests, the over-arching remodeling trend for 2011 is to tackle small projects while you wait to do the really big remodeling project that's on your list, why not start by installing heated flooring in your home.  Unlike other "one-size-fits-all" radiant heat providers, Warmzone offers an array of radiant heated flooring solutions designed to better match your individual project, and your budget. The good news—many of these floor heating products can be installed by do-it-yourself homeowners.