When it comes to Roof Deicing and Gutter Trace Solutions, Remember this: Not all Roof Heating Cable is Created Equal.
Beware of Cheap Local Hardware Store Heat Cable.
If you're currently shopping for a roof heating solution, don't settle on one system too quickly. Before you buy, it really pays to give Warmzone a call. They offer a range of affordable, reliable products to suit your home and your budget; and access to a staff of knowledgeable, reliable professionals to help you make an affordable, informed decision you can live with.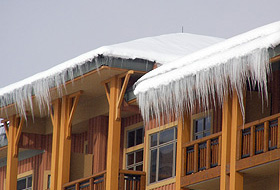 Why not buy heat cable at your local home improvement center? As with any home improvement project, you'll find there are many options, including many "bargain" roof heating cables that can be easily purchased right off the shelf. Many of these cables are designed to only deliver minimum wattage, which means that they will not perform well in extremely cold temperatures. Warmzone offers a large selection of proven heat cable specifically designed for roof deicing applications that can easily handle any cold-weather job.
Cheaper cable can also suffer from deficits in performance due to poor construction. Consider the outer jacket or covering of a radiant heat cable. On a "typical" cable, this outer jacket tends to bubble or separate from the cable core when the cable is manipulated for turns during installation. These irregularities can create stress points on the cable, allowing water to reach the core, resulting in erratic heating and eventual cable failure.
Warmzone self-regulating heat cable has a higher quality outer jacket that helps to ensure the integrity of the cable. As a result, this flexible cable construction delivers a more consistent, reliable performance than a solution you might find at your typical hardware chain. Warmzone's roof deicing and gutter trace cable is rated to perform in the worst weather conditions winter can bring.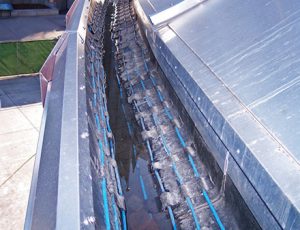 And if you're thinking of installing the radiant heat system you just picked up from your local hardware today, you'll most likely have to wait until the temperature warms up. That's because the carbon in a "cheaper" cable becomes brittle and can easily break when bent or manipulated in colder temperatures. The good news—unlike "bargain" heat cable, the high quality carbon center and outer jacket of a Warmzone cable remains flexible at temperatures as low as 0 degrees Fahrenheit, so you don't have to wait until spring to install it.
For long term, reliable performance, Warmzone's self-regulating "R" cable sets the industry gold standard. RHSR-R is UL listed self-regulating heat cable that can be used for roof and gutter heating as well as pipe tracing applications. This proven cable features a flexible, UV-stabilized thermoplastic elastomer overjacket that protects the carbon core for wet applications and exposure to the sun. This cable is versatile enough for both plastic or metal pipe freeze protection, and temperature maintenance of tanks, pipes and valves, and is covered by a 10-year warranty.
Of course, the best way to save money on your gutter trace system is to purchase an affordable cable that will perform in extreme cold and last as long as your roof. For more information on quality roof deicing solutions, give Warmzone a call at 888.488.9276.
Don't get Caught in a Deep Freeze. Protect your Home with a Warmzone Roof Deicing System.
Keeping your roof clear of ice and snow buildup is critical to maintaining the integrity of your home, and Warmzone offers the perfect snow melting solution for the job. With a fully-automated Warmzone radiant heated roof, you won't have to worry about costly ice and water damage, frost erosion or dangerous falling ice any longer.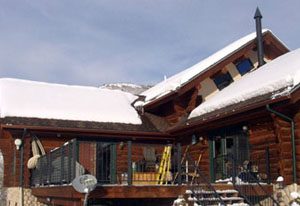 Unlike the bargain roof heating solutions you might find at your local hardware store, Warmzone radiant heated roof systems are rated for extremely cold weather and are fully-automated. They are controlled by automatic sensors designed to detect changes in temperature and precipitation. When conditions warrant, the sensor sends a signal to activate the heating element just as the storm starts, preventing snow from accumulating on your roof. There's no switch to flip, no weather channel to monitor. With a Warmzone radiant roof heating system, you simply set it and forget it. No matter what the conditions, Warmzone RoofHeat systems will keep your roof, gutters and downspouts clear and dry.
If you're concerned about the cost of heating your entire roof, no worries! Warmzone offers a wide selection of proven roof deicing systems that can be customized to meet your specific needs. Gutter trace systems, for example, are easily installed in existing gutters and downspouts to melt ice and snow, allowing it to freely flow down the roof and through the downspout and away from your home. Or choose a Warmzone RoofHeat panel system. They also rely on self-regulating heat cable which is channeled into an aluminum panel to quickly warm the edges of your roof and prevent snow from having any chance to build up. Another option, RoofHeat STEP low-voltage heating elements can be installed under the shingles, in roof valleys and problem areas of your roof where snow and ice have a tendency to build up. These low-voltage systems can also be safely installed under metal roofs.
Whatever your strategy, any snow melting solution for you roof is only as good as the cable behind it. Unlike typical "bargain" heat cable, Warmzone's durable self-regulating heat cable is effective for roofs, gutters and drainpipes regardless of the conditions. Heat cable commonly found in large hardware stores is low-end cable that often tends to crack and break under cold conditions. But Warmzone's heat cable is more durable under cold weather conditions. The self-regulating heat cable features a solid inner core surrounded by a rugged, durable outer jacket that reduces the chances of "bubbling" or pulling away from the core when the cable is manipulated, and is completely waterproof. The cable can be installed in cold or warm weather to protect your roof and home from ice dams and eliminate the costly results of water damage.
Remember, while those icicles may look pretty, they can be a sign of bigger problems. Make a smart investment in your home by installing a trusted roof heating system from Warmzone. Call today at 888.488.9276.