Two of the biggest reasons for installing a snowmelt system are safety and maintenance free snow removal. Safety was also the biggest concern for a dangerous stretch of road in Connecticut that has already claimed four lives. In an effort to prevent more accidents, the Connecticut Department of Transportation (CDOT) set out to build a runaway truck ramp. CDOT chose Warmzone's ClearZone snowmelt system to optimize the ramp's safety.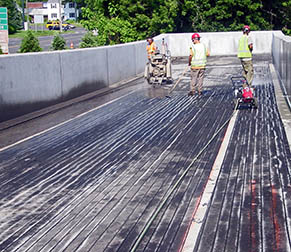 The truck ramp is located in a mountainous metropolitan area of Connecticut, which created a unique problem. Because of limited space, the ramp could only be 480 feet long and required three metal nets to slow vehicle speed in the event of brake failure. The ramp walls are two feet thick and five feet high and reinforced from within with steel to stop a car from breaking through the ramp.
The nets coupled with the thick high walls made traditional methods of snow removal virtually impossible. There was no place to put plowed snow, and the metal safety nets had to be removed each time snow removal was required. The safety of the ramp was severely compromised when snow or ice gathered, making removal critical. A snow melting system was the best option to keep the ramp safe and functioning properly all year-round.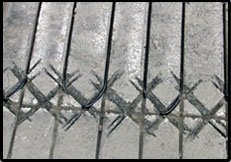 Views of grooves cut for radiant heat cable to be installed.
Projects of this scale usually require more installation expertise than that of a small snowmelt system, which is why Warmzone's technical specialist, Dan Mignogna, traveled to Connecticut to assist with the installation. With over 32 years of experience as an electrician and an expert in radiant heating, Mignogna worked closely with the CDOT team to determine the proper system installation and wiring of the automatic snow sensors.
The easiest method for installing a snowmelt system is beneath new asphalt, pavers or concrete. For this project, the ClearZone cables needed to be installed into existing asphalt using concrete saw-cutting technology. The cables were embedded 3 inches into the asphalt and covered using sealant. Each row of CZ cable was spaced 6 inches apart. The entire project required 12,960 feet of ClearZone snow melting cable.
The CDOT runaway truck ramp is scheduled for completion in early September of 2008. Click on the link for more information about ClearZone snowmelt systems.