Salt Lake City, Utah (PR WEB) February 1, 2021 – Warmzone, a leading provider of interior and exterior radiant heat systems, announces the release of its new EcoTrace™ 100 and 200-amp single-feed snow melting system contactor panels. Lauded by homeowners and industry professionals alike, the single-feed panels offer the potential for significant savings when it comes to the installation of radiant snow melting systems.
The cost-saving benefits of the SF100 and SF200 single-feed panels are realized by dramatically reducing the labor demands during the installation of the system. The industry's typical contactor panels usually require the electrician to run several circuits from the home's breaker box to the snow melting system's contactor panel. This process can take considerable time and materials, adding to the installation cost. However, with the EcoTrace™ panels electricians need only to route one circuit from the home's breaker box.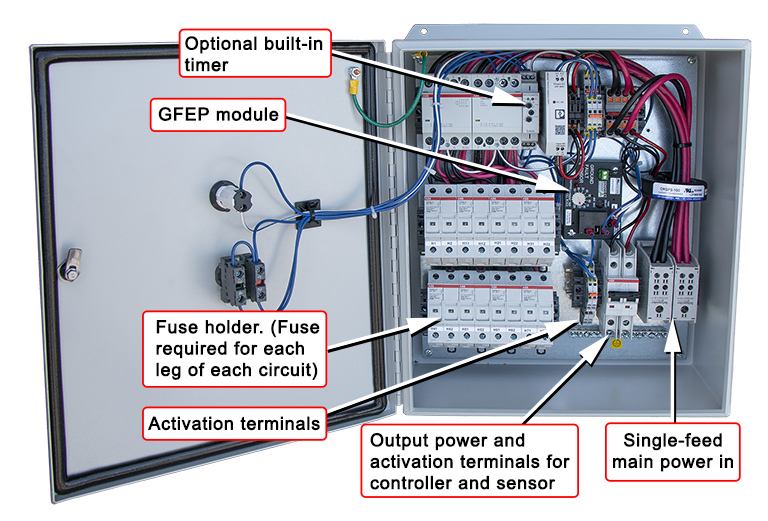 The EcoTrace™ SF100 and SF200 single-feed panels are self-contained with contactors, GFEP protection, and in-line fuses. Instehttp://<a href="/blog/wp-content/uploads/2021/02/sf-contactor-panel-diag-2846-GF200-callouts.jpg">ad of running multiple circuits to the contactor panel, the electrician can run a single circuit, thereby saving hours (and possibly days in installation labor for larger systems). The single-feed contactors can also eliminate the need for a sub-panel.
The new EcoTrace™ panels represent a technological breakthrough to electricians by addressing their age old power-feed concern. The availability of the SF100 and SF200 panels grant homeowners greater flexibility by providing a labor-saving option that was previously unavailable.
"The engineering of these advanced panels is state-of-the-art," stated Jim Sage, an electrical expert and Warmzone's senior radiant heat system designer. "The SF100 and SF200 panels were designed to save electricians a lot of time, which can translate into a significant cost savings for homeowners. We're excited to offer them to our customers."
To learn more about the EcoTrace™ single-feed panels, contact a Warmzone representative today at 888.488.9276. Radiant heat professionals are available for free consulting and will be happy to discuss your project.
About WARMZONE
As a leading provider of radiant heat solutions, Warmzone offers one of the largest selections of radiant heat products in the industry. Warmzone also includes professional system design and layout, free installation training and installation support.
Warmzone's mission is to match each customer's needs with the finest radiant heating systems available. As an intermediary between project requirements and a variety of system choices, Warmzone offers unbiased, individualized solutions that factor the installation, durability, performance and operational investment as the key criteria of their customers. With a staff of some of the most experienced professionals in the industry Warmzone routinely provides premier radiant heat solutions to customers throughout the United States and Canada. Warmzone is a privately owned and operated business headquartered in Salt Lake City Utah. For more information contact Warmzone at 888.488.9276, or visit us online at www.warmzone.com.