The Versatility of Radiant Snow melting Systems
Because of the reliability and versatility of radiant heat snow melting systems, these solutions are proving to be popular home improvement and new construction projects. And because radiant heat systems are so easy to customize, homeowners can flex their creative muscles when it comes to installing these systems.
Warmzone radiant heat systems are easily configurable to use in a variety of applications, whether you want to heat an entire driveway, tire tracks, steps, sidewalk or porch, etc. The cables can also be installed under a variety of mediums, such as brick/stone pavers, concrete and asphalt, providing you with endless possibilities when it comes to enhancing your home's curb appeal. Whatever your goals and budget, you'll find a range of versatile, affordable radiant snow melting systems flexible enough to conform to your specific needs.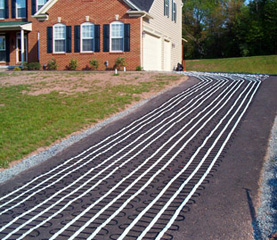 One of the most popular, affordable, and easy to install applications for radiant heat is asphalt. Where asphalt gives and flexes according to a wide-range of seasonal temperature changes, the specially designed Warmzone heat cable ensures consistent, effective performance to keep driveways clear of snow and ice in all the conditions. Designed specifically for installation in hot asphalt applications, ClearZone heat cable is rated up to 460 degrees for up to 10 minutes. For additional technical specs and installation information, please refer to the ClearZone installation manual.
ClearZone heat cable is available off the spool or pre-spaced in mats. The mats can be rolled out for quick and easy placement over the area to be heated. Cable off the spool allows greater flexibility for custom shapes and hard-to-reach areas of snow melting systems. In the case of a retrofitting an asphalt driveway with radiant heat, the cable is simply placed on the existing asphalt and new asphalt is then applied on top. A compacted layer of 2 inches is recommended. Refer to the installation manual for compacting instructions. (In addition to the benefits of heating asphalt applications, snow melting systems can also prolong the life of concrete driveways and pavers as well.)
If you're seriously considering heating an asphalt driveway or ramp, be sure to take advantage of Warmzone's unparalleled customer services, including free installation training, installation support, system design and layout, and online installation tips and guides.
A Few Helpful Installation Tips:
Heating cables should never touch, cross, overlap or get bunched up. A minimum cable spacing of 2 inches is required.
Check the maximum rated heat temperature of the heating cables before you apply hot asphalt. The asphalt must not exceed this temperature.
Pouring small quantities of asphalt on the heating cables helps to ensure a safe installation and prevent damage to the cables.
Never cut or alter heating cable. To accommodate your layout needs, cut the tape backing of the cable mats, but do not cut the heat cable.
Manually lay the asphalt, and be sure to spread it evenly around and over the heating cables.
Always handle heating cables with care—especially when using tools such as shovels, rakes and wheel barrels to avoid damaging the cables. When using wheelbarrows, lay down sheets of plywood over the cable to avoid damaging the cable's outer jacket.
Use a Megger to consistently check the cable resistance during installation.
Whether you choose to go with Warmzone radiant snow melting solutions, an understanding of the proper installation, in accordance with your local laws, codes and regulations is important. Call us toll-free at 888-488-9276. Our professionals are available and always happy to answer any questions you may have.
---
Warmzone Provides a Wealth of Online Information for Customers
Warmzone offers a wealth of information online regarding just about anything and everything radiant heat related. And the best part—it's all free.
While you may be tempted to visit your local hardware store or big box chain for a do-it-yourself kit, it's important to keep in mind that these one-size-fits-all approaches to radiant heated systems can be risky, particularly if you are tackling a radiant heat project for the first time. Once you choose one of these off-the-shelf solutions, you may be hard pressed to find anyone to answer your questions. What consumers must understand is that a radiant heat system is only as good as its installation.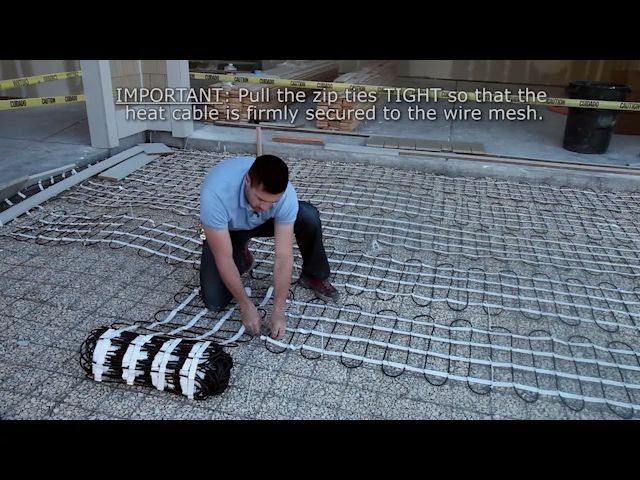 Warmzone has taken the sting (and the stigma) out of home improvement projects with informative, easy-to-follow videos on all things radiant heat related. Warmzone's comprehensive video library includes time lapse videos and detailed "how to" clips of installations you can watch again and again, any time of the day or night. You'll also find plenty of tips and tricks from the pros at Warmzone to help make your installation a success.
Stuck on a step or concerned about a technical aspect of a project? Warmzone offers more detailed instruction on topics ranging from simple cable placement to cable testing, so you can be assured you'll have your radiant heat snow melting system up and running in no time. As far as thoughtful extras go, there's even a video to help you fill out warranty information for your recently purchased Warmzone radiant heat system to help keep you covered. Best of all, you also have access to personal installation support from a Warmzone radiant heat expert.
If you're a hands-on type of learner, you may want to shorten the learning curve with Warmzone's free webinar training. Warmzone's valuable online installation training program has helped many contractors and ambitious do-it-yourselfers learn the art of radiant heat installation. Once you call and register, you can login and participate in real-time training to learn how to properly install ClearZone snow melting systems, roof deicing or floor heating systems with confidence. For those in the area, you can attend in person at Warmzone's headquarters in Salt Lake City.
Sometimes all you need is a little time to "hit the books." In the Warmzone online library you'll find plenty of detailed information and product literature posted to help you with your studies. Simply click on a link to familiarize yourself with manuals, user guides, installation diagrams and more. In addition to links, Warmzone also offers downloadable versions of these resources for free. All you have to do is ask!
If you haven't purchased a radiant heat system yet, it's worth the call to Warmzone at 888-488-9276. You can discuss your radiant heat system requirements with a professional who can give you a free schematic, help you select the products for the job or set you up with an experienced contractor in your area to install your radiant heated snow melting system.