What is ETS and Why You Should Care
Here's another acronym that's worth remembering – ETS. Learning about Electrical Thermal Storage (ETS) may help you save some coin. Who can turn that down right now? And let's be honest, who would want too? Saving money is on everyone's mind, and this may be one more chance to do just that. Electrical thermal storage is the term given to certain types of heating, specifically, electrical storage heating that stores heat during the nighttime hours, allowing radiant heat to slowly transfer throughout your home or commercial site without drawing electricity during peak hours.
Some utility companies have adapted their rates to reflect high usage hours. In a way they have copied the telecommunications industry that charges more for calls during peak hours and drops rates during the less trafficked times of the day. Electrical thermal storage heaters draw upon this concept, allowing you to use your heat during non-peak usage times, storing heat for use during the more expensive times of the day.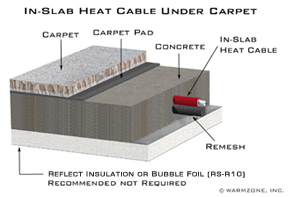 You would need to check with your utility company first to make sure they offer these price incentives. If they do (and many are starting to jump on this pricing band wagon) then you may be a candidate for ETS.
Once you establish the rate system of your electrical provider, you may find you could benefit from a radiant heat system that provides electrical storage heating when the rates are lower. While it is important to distinguish that you will not be saving energy with this system, it can save you money because you'll be taking advantage of the lower rates.
Warmzone offers radiant heating systems compatible with electrical thermal storage. Specifically the In-Slab cable systems provide underfloor heating ideal for this time of money saving advantage. Warmzone's radiant heating floor systems are an inexpensive system that will effectively warm your floors and heat your entire home or commercial building. When you install In-Slab radiant floor heat, you are given a maintenance-free operating system as well as the peace of mind that comes with a 10-year manufacturer warranty. Warmzone's In-Slab heat cable is durable, high quality, and hassle free. The In-Slab floor heating systems can be installed to provide luxurious radiant floor heating to almost any type of floor surface. The technology associated with these heat cables make them ideal for electrical thermal storage heating because they are typically installed beneath a concrete or brick floor. While heat is building up, drawing upon your electricity you may use the system during less expensive times of the day. The radiant heat builds up and then once shut down during peak hours, slowly transfers throughout the day from all the heat stored in the slab.
It may not be for everyone, but ETS may be another way you can save money as you heat your home. Contact Warmzone to find out if you can benefit from a radiant heating system that would allow you to take advantage of the cost-saving benefits of electrical thermal storage. ETS – it might just become your favorite acronym.
Electric Radiant Floor Heat – Steps for Installing a Radiant Heated Floor
We all know about forced air heating systems, which use burners to fire up and heat the air and then a fan blows heated air throughout the home. For the most part, this works rather well. It is reasonably quick and for years it has been the standard method of heat for homeowners. So, you ask, what else is there? Well, surely you have heard of radiant heated floors. It's a form of heating for the home that is becoming more and more popular as of late.
Installing electric radiant floor heating is not extremely difficult. Here are the basic steps to installing a heated floor. (Don't worry, you can do this.) Let's assume that you have arrived at the point where you can get started. After thoroughly cleaning the subfloor surface, lay out Reflect ground insulation over the area you plan to heat. A proven ground insulator such as Reflect will optimize the efficiency of your heated floor.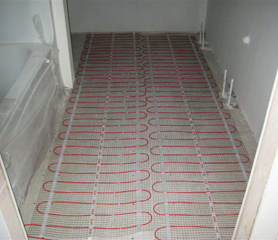 ComfortTile heating cable is available pre-spaced and woven into mats that can be easily rolled out, or individual cable that is laid out with the aid of spacing straps. Individual cable is best suited for custom shapes while the heated mats are ideal for quick layout of standard shapes.
(It would be a good idea to check the resistance of the wiring before proceeding.  The instructions will give you a range that it should fall within. Temperature can make a difference in the reading as well so keep that in mind.)
If you are installing over a wood subfloor (after applying ground insulation), staple the heating mat or cable spacer tabs to the floor in the desired layout. Be careful to avoid damaging the heat cable anywhere. Lay the cable out in such a way as to allow for the connection to the switch in the wall of course.
Once you have the heat cable laid out and fastened, you should consider pouring a leveling surface over the cable. Technically, you could simply apply thinset and then install your tile, but since the heat cable has a thickness of around 3/8th of an inch or so, it is advisable to pour a leveling surface. Quick Level does a good job of this. Use the adhesion liquid that is recommended. Follow the instructions for applying the liquid and then simply mix the Quick Level with water and then pour it over the entire floor.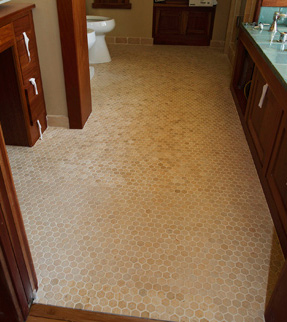 Ensure that it spreads evenly and doesn't form any lumps anywhere. Only pour to the top of the heat cable. The less you use the better. This will provide you with a clean flat surface to which you will adhere your floor surface.
Tile is a common surface since it conducts the heat very well. Reflect floor insulation is effective in preventing the heat from being lost, and the radiant properties of the tile further enhance the efficiency of the system. Once installed, the sensor embedded in the floor will automatically maintain the temperature you desire.
One of the big advantages to radiant floor heating systems is that you can heat only the rooms you are using. There is no need to heat the whole house. In that sense these floor heating systems are very efficient. The greatest advantage though is the enhanced comfort level you will enjoy. It is really true that when your feet are warm you feel warm and comfortable all over.