Now is the Ideal Time to Install Radiant Heat
Deadly cold temperatures and heavy snow crippled much of the country during the winter of 2014, due in large part to a weather phenomenon known as the polar vortex. These freezing cyclones are typically restricted to the earth's geographical poles, but in 2014, the arctic storms plunged so far south that it affected most of the states in the U.S., including Florida.
If you were one of many who got caught in the infamous storms of 2014, you no doubt spent much time and money shoveling snow and buying 50-pound bags of salt in an effort to cope with the brutal conditions. But with record low temperatures, it was almost impossible to keep walks and driveways clear of ice and snow – unless you had a radiant heated driveway system installed.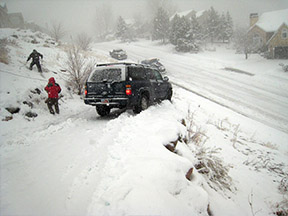 Recent winters seem to be dumping record snowfalls and unusually cold temperatures, and homeowners in the Northeast who are seeing nothing but white from November through March are now thinking seriously about radiant heat. Homeowners are reconsidering clearing their walks and driveway of snow during sub-zero degree temperatures. This is especially true in light of the recent life-threatening temperatures and wind chill. In the Chicago area (temporarily renamed by locals as "Chiberia"), four people died over one weekend while shoveling snow, and 37 people in Ohio were rushed to the emergency room because of cold weather related problems.
Naturally, homeowners aren't too thrilled about the prospects of risking life and limb shoveling and salting snow every year. Fortunately, there is some good news. Radiant heat is an affordable option for those who are looking to ditch their shovels. And for all of you who are considering installing a radiant snow melting system, you'll be glad to know that early spring is the ideal time to save on a heated driveway system from Warmzone.
And you simply won't find a more professional, helpful staff than those at Warmzone. Unlike many radiant heat providers, Warmzone custom designs each system and includes personal installation support for your installer. Warmzone can even recommend experienced installers in your area.
With record snow falls occurring across the country, installing an efficient, fully automated heated driveway just makes sense. Forget about the cost for hiring a snow removal service, buying salt, or devoting your own time and labor. The next time Mother Nature throws an icy temper tantrum in your neck of the woods, you can enjoy the beauty of the white countryside as well as a clear, ice-free driveway. Just how much will this cost, you ask? The answer may surprise you.
– Now is the Time to Install (Continued below)
– Radiant Heat Conquers the Polar Vortex (Part II)
Don't let the initial cost of installing a snow melting system intimidate you. Warmzone has a variety of radiant heat solutions and can custom design your system so that it meets your heating needs AND your budget. For manual snow removal, consider the cost of running and maintaining your snow blower, purchasing salt, or paying a snow removal service. For climates particularly accustomed to lots of snow, a heated driveway installation could likely pay for itself in no time.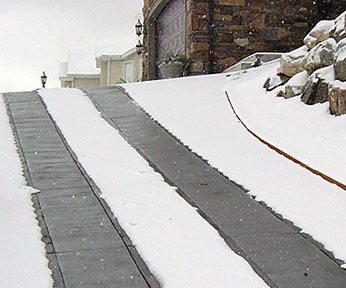 At this point, it's predictable that most of us are ready to put down the shovel and gear up for warm weather, lawn care and similar home improvement projects. Early spring is the best time to install radiant heat in your driveway, walkway or even on your roof. The demand is typically lower, so you may be able to get discounts that you normally wouldn't during peak season. Be savvy and take advantage of the off season to beat the rush and get the best prices for a radiant heated driveway this spring.
Still not convinced on the benefits of radiant heat? Read what some Warmzone customers are saying. Join the legions of happy Warmzone customers like this one (below), who is enjoying the benefits of a heated driveway from the comfort of his own living room:
The first show fall this winter was the test and the driveway has been ice/snow free all winter! The option to manually turn on the heat system has not been needed since the sensor works so well. My wife and I are very pleased with the results and feel much safer walking outside during the winter now!
–Dan, heated driveway owner
One of the greatest benefits of radiant heated driveways is that they are automated and maintenance free. Think of it as the "set it and forget it" phenomenon. Because heated driveways are fully-automated systems, there's no guess work in when to turn them on, off or how long it will take to remove the snow. With the help of outdoor sensors, your radiant heated driveway system is automatically programmed to sense the changes in precipitation and temperature that indicate snow fall, then turn off when a snow event is over. You get dry, clear pavement efficiently and affordably, without lifting a shovel.
Here's another construction professional and first-time installer who said this about his experience working with Warmzone:
Thanks for supplying my customer with exactly what they needed. Living in multiple locations, the automated concrete heating system you provided was the perfect match for my customers in Idaho. Being new to this type of installation, I expected things to be a little more complicated. A few phone calls after receiving the product within days made the job simple to install. I would have to say that customer service with your company was by far second to none. I look forward to doing business with you in the future and referring you on to other homeowners with snow melting needs.
–Cody, Independent Contractor
Cody brings up another good point, and that is the wide selection of radiant heat installation options and the unmatched customer support you have with Warmzone. When you do business with Warmzone you'll have live phone support from professionals with years of experience in radiant heat installations. They are willing to partner with you every step of the way to find you the best possible system for your performance expectations and budgetary concerns. They can even help you find an experienced installer in your area.
Trade in your shovel and salt for an easier snow removal solution. Now is the best time to pick up the phone and call Warmzone (888.488.9276) to discuss your plans for stress free winters with a radiant heated driveway.