Most municipalities in cold weather climates across the U.S. have snow removal ordinances. If homeowners fail to remove snow and ice from their sidewalks in a timely manner, citations / fines are often the result, adding insult to injury. Here are some examples of just a few snow removal ordinances from cities across the U.S.
According to Philadelphia Code 10-720, "The owner, agent and tenants of any building or premises shall clear a path of not less than 30 inches in width on all sidewalks abutting the building or premises within 6 hours after the snow has ceased to fall." Failure to comply in Philadelphia sidewalk snow removal could result in penalties ranging from $100 to $300, and residents can also be penalized for dumping the snow from their sidewalks into the street.
The New Jersey "Snow Removal Bill" penalizes the owner or controller of a parking area for failing to remove snow, ice or other obstacles from accessible parking spaces, curb cuts and other improvements designed to provide accessibility. Ice or snow must be removed from the parking space, curb cut or other improvement within 48 hours after snow has stopped falling. A violator of this provision would be subject to a penalty of not less than $200 or more than $500.
According to the Municipal Code of Chicago (4-4-310 & 10-8-180), property owners and occupants are responsible for keeping sidewalks clear of snow and ice.
Following the severe winter storms of 2009-10 (a.k.a. Snowmageddon), many business owners, property managers and homeowners started exploring the options of radiant heat. Radiant snow melting systems are fully automated and can dramatically enhance safety as well as increase property values. Radiant heated driveways and sidewalks not only eliminate the time consuming task of physical snow removal, but also eliminate the need for harsh snow melting chemicals that can damage surrounding grass and vegetation.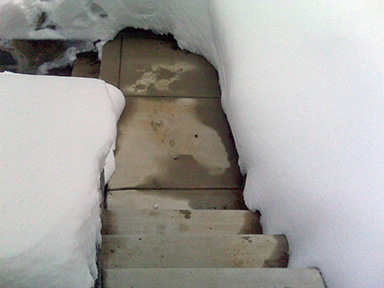 Electric snow melting systems are maintenance free. The automated system is activated by a high-tech snow sensor that detects temperatures and precipitation. When the sensor detects moisture and temperatures are below a set point (usually 39° Fahrenheit), it signals the snow melting system's master control unit. The controller then sends power to the embedded heat cable to warm the driveway as the first snowflake hits.
Installing a radiant snow melting system is one sure way to protect yourself from personal injury liabilities and fines from failing to comply with local snow removal ordinances. For more information about automated snow melting systems, contact Warmzone at 888.488.9276.
Got Questions About Radiant Heat?
Q. What are the operational costs of snow melting systems?
The average operational cost for a snow melting system is approximately $0.28 per 100 square feet per hour. This figure is based on a system producing 35 watts/sq. ft. with a kwh rate of $0.08 per hour (the national average kwh is $.08/hour). If you know the square feet of the area you want to heat and your kwh rate, you can calculate the operational costs with this formula: heatable sq. ft. times watts/sq. ft., divided by 1000, times your kwh rate.
Q. What are the power requirements for your snow melting systems?
The power requirements vary from system to system. Generally, cable heating systems require a 240 V. 30 amp breaker for every 300 square feet you are heating. (On average, a 240 V. 30 amp breaker is required for every 175 square feet you are snow melting.)
Click here for more driveway heating information.
Q. Are your snow melting systems manually or automatically activated?
Warmzone systems come standard with an aerial-mounted, automatic snow switch and a 4-hour manual timer. The system automatically turns on when the temperature is below a set point (usually set at 38° or 39°F) and there is moisture on the sensor. Pavement-mounted snow sensors are also available.
Installation Questions
Q. In what types of surfaces can your systems be installed?
Warmzone snowmelt systems can be installed in almost any surface, including concrete, stamped concrete, asphalt, and under pavers. View our snow melting project gallery.
Q. Can the cables be cut or spliced together?
Warmzone systems come with the cold leads pre-spliced and should never be cut or spliced together. If you have questions during installation please consult the installation manual or contact us for assistance.
Q. Can the cold leads be cut or spliced together?
Cold leads can be trimmed if there is excess cable, but they should never be spliced to other cold leads or cable.
Q. Does Warmzone provide detailed layouts for purchased systems?
Yes. Warmzone provides detailed layouts for most systems at the price of $0.35 per square foot. (This price is subject to change. Please call 888.488.9276 for more information.)