Heated Driveway on the Fritz? Retrofit with the WS-2 Snowmelt Sensor
This week many parts of the country saw record snowfalls. The days of shoveling have seemingly stretched into years. Snow is piling up everywhere, making snow removal even more difficult. Investment in a radiant heated snow melting system is smart. While electric snowmelt systems are fully automated and maintenance free, you can still do things to keep it operating at peak efficiency. If you do have an old system that is struggling to keep your driveway clear, you may only need a sensor update. You don't have to wait until spring, or invest big bucks to tear up your entire driveway to fix the problem.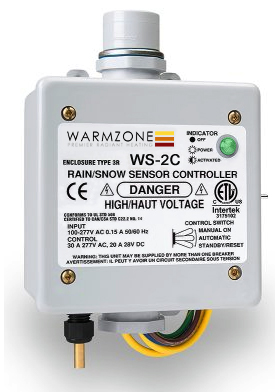 Warmzone has a complete line of proven products, including WS-2 aerial-mount snow melting sensors that make repairing your existing electric or hydronic heated driveway a snap. Each unit has four mounting tabs that can be used to mount the sensor to a post, elevating it above the highest level of expected snow fall. Weighing in at just two pounds, they can be easily secured and supported on a variety of surfaces.
There are a number of minimally invasive techniques for adding the WZ-2 aerial sensor to your existing snow melting system, regardless of the conditions outside. For convenience, the unit has pre-set all operational switches and set points; however, for further customization, users can access all electronics by simply removing the four screws of the front cover plate.
Aerial-mount snow sensors are an integral part of any snow melting system, so the quality of your system components is critical. When sensors read changes in moisture and temperature indicating that snow is on the way, they trigger the system controller to activate your heated driveway as the first snowflake falls. They are the brain of your heated driveway and maximize efficiency.
WS-2 snow sensors feature an adjustable "Delay Off" cycle. "Delay off" refers to drying cycle. This cycle restarts and operates whenever snow is detected, then continues for a short "delay off" period once the precipitation has stopped to dry the heated surface. This intuitive drying cycle enhances safety by reducing the chance of moisture refreezing into ice.
For further efficiency and convenience, these sensors are also "smart system" ready, offering a number of remote features so you can control your heated driveway system from remote locations. For instance, the optional CS-1 cable and the snow sensor are easily connected into compatible Warmzone smart systems, giving you the ability to turn your radiant heated driveway on and off via your telephone.
You can also control and monitor your driveway snow melting system from inside your home by adding Warmzone's system-specific remote control panel. The panel provides basic DE-ICE ON status for deicing, as well as MANUAL ON, AUTOMATIC and STANDBY control capabilities. Even though the system is fully automated, it's nice to have access to manual control as well.
If you're looking to update your snow melting system in time for the next storm, take heart. Warmzone WS-2 aerial-mounted sensors can be installed quickly so your driveway snow melting system is up and running for the next big storm. Call 888.488.9276 or visit Warmzone.com for more details.
A Premier Roof Heating Solution
Eliminate Ice Dams with the Warmzone RoofHeat Panel Roof Deicing System
One of the many effective roof heating options available from Warmzone is the RoofHeat Panel roof deicing system. RoofHeat Panels feature self-regulating heat cable that is placed in the grooves of aluminum panels for maximum heat transfer. Because of the conductive properties of the aluminum panel, this roof deicing system is one of the most effective and efficient roof heating systems available.
In the past, many homeowners "zig zagged" heat cable along the eaves of their roofs prevent ice dams from forming, but this method required much cable and not all the snow and ice would be melted at the roof's edge. With the RoofHeat Panel system (Product Specsheet PDF), the heat cable is installed in special grooves within the aluminum panels to transfer heat quickly and evenly. Panels warm a larger surface area while using less cable, so not only is all the snow and ice melted at the roof's edge, but there is less energy consumption as well. The system has proven to be more environmentally friendly, while keeping operation costs at a minimum.

The attractive panels are powder-coated with a durable finish, and are available in a variety of colors (PDF) to choose from. RoofHeat panels are also available in several widths so you can choose how much of your roof edges to heat. Panels are available in 8, 12, and 18-inch widths and are interlocking, so you can truly customize your roof heating system as you see fit.
Warmzone also offers RoofHeat valley heating panels that feature a 3-inch extruded aluminum panel. The roof valley panels may be the best roof valley heating solution on the market today. The heated panels provide a remarkably effective, and efficient means of melting snow and ice to protect your roof. The roof heating system typically melts snow on each side of the panel to create a significant clearing for runoff to eliminate buildup resulting in destructive ice dams. This industry leading roof heating system also features a lifetime manufacturer warranty!
And don't forget that Warmzone is known as the industry leader when it comes to customer service. Warmzone custom designs each system, and includes personal installation support services. We work with you throughout the installation process to ensure that your system is installed correctly and performing as expected. Call Warmzone today at 888.488.9276 to learn more about the custom roof deicing options available to you.
Summary of Warmzone's Top Notch Services
Premier Product Quality, Affordable Pricing, and Large Selection
Complete System Design and Engineering Services
Customer Service and Installation Support
FREE Installation Training Courses (Call 801.948.7545)
Radiant Heat Information Resource (Vast collection of online information.)
Radiant Heat Product Manuals, Videos, Guides, Illustrations and more.
Warmzone was recently named "VENDOR OF THE YEAR" by the National Association of Custom Home Builders.