I'm a bit of a nerd. Or maybe I'm a geek. Regardless, I like techy stuff, and I enjoy learning how things work. While my wife is watching reruns of Gilligan's Island, I'm in the other room, watching "How it's Made" on the Science Channel. On the weekends, I get a little wild and watch documentaries on the Smithsonian and History channels. I like to mix it up.
The point is, I like to understand what makes things tick. That way, I tend to appreciate them a little more. I'm not the least bit interested in keeping up with the Kardashians, or watching adults behave like ill-mannered adolescents on staged "reality" shows. I'd much rather know important things like, how Silly Putty is made, or how they put those little model ships into glass bottles. You know, life-skills type of stuff.
Being of curious mind, I've also found myself intrigued with radiant heat technology. Radiant heat is becoming more and more popular nowadays, for both interior (heated floors) and exterior (snow melting) applications. Apparently, the Europeans got a jump on us when it came to installing radiant heat in their homes. (Yes, I'm setting my grandiose American ego aside and conceding that the Europeans were way ahead of us in the home heating race.) I'm not sure why North America was slower to adopt radiant heat, but we're certainly making up for lost time now. Radiant heated floors and heated driveways are rapidly becoming commonplace in today's new homes. In fact, seeing so many heated driveways, and experiencing homes with heated floors are what piqued my interest in radiant heat.
But how do these systems work? Why are Americans making the shift to radiant heat? And is it true that radiant heat is the most efficient heating technology available today? These are just a few questions that launched me on my quest.
Early in my investigation, I was surprised to discover how many different types of heating elements are available, and how they work with different floor types. Thin heat resistance cable was the only heating element that I knew about, but apparently, there are many, very different, heating elements, each with their own specific features and benefits.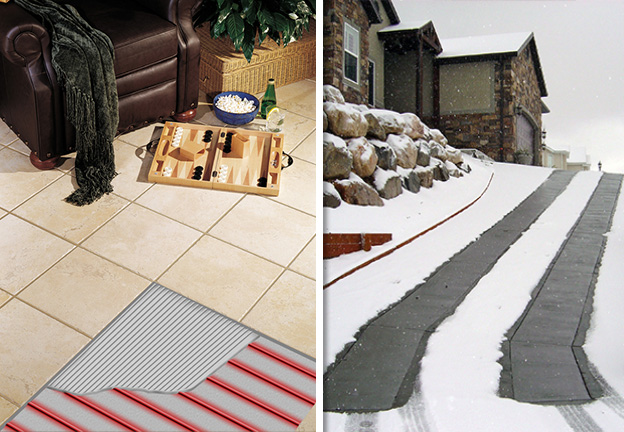 Floor heating systems that use thin heating cable are probably the most popular. Most heat cable is available off the spool or pre-spaced in mats. I gotta say, these heating mats are slick. Ya just roll 'em out over the area to be heated, and the adhesive on the back of the mat sticks to the subfloor. Needless to say, this makes installation quick and easy. System that use heat cable, s like ComfortTile, are ideal for heating stone, marble, and tile floors. And because the heat cable is thin, there is very little floor buildup. ComfortTile seems to be the cable of choice for many homeowners and installers. (It doesn't hurt that the cable also has a 25-year warranty.)
There are also thin heating panels that can be installed under just about any surface, including hardwood, vinyl tile, linoleum, and more. One remarkable – and very popular – system is FilmHeat. FilmHeat utilizes ultra thin panels that are barely thicker than a sheet of paper. (The element is just 0.016-inch thick.) The heating element is used with an underlayment, and doesn't even require the use of thinset or mortar. This makes for a clean and easy installation! A special version of this system, called RetroHeat, can also be used to install between floor joists. This allows homeowners to heat their existing floors! I love the idea of heating my floors without having to do any major renovations.
Special heat cable is also available for installation in concrete slabs. Because of its intended applications, the In-Slab heat cable is thicker, and more robust than other floor heating cables. It's ideal for heating rooms in the basement.
Another unique floor heating system is the low-voltage FloorHeat STEP system. The system features thin, flexible polymer heating panels that have proven to be especially well-suited for heating hardwood floors.  
All these systems are incredibly efficient. In fact, 99 percent of the energy used by these systems translates directly into heat. There's virtually no heat loss. In today's environmentally conscious mindset, radiant heat is a winner. It's clean. It runs on renewable energy, and it provides far more comfort than traditional furnace-blower heating systems. I also like the flexibility that radiant heat offers. I can heat specific rooms and areas as I see fit. Because each zone (or room) is controlled by its own thermostat, I have precise control over my home heat. The systems can also be programmed to accommodate my family's schedule. (Hydronic floor heating systems are also available. A closed loop of PEX tubing is installed under the floor, and then specially treated water is heated and pumped through the tubing to warm the floor.)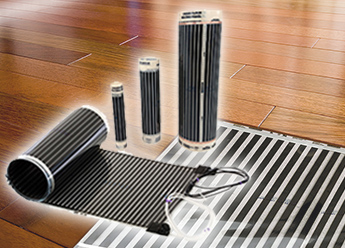 When it comes to exterior applications such as heating driveways, steps, and walkways, etc., the most common heating element is durable heat cable. The ClearZone system is a favorite among professional builders, and can be customized to accommodate just about any layout and application. The systems utilize an advanced snow sensor activation device that detects precipitation and temperature so that the system is activated just as the first snowflake falls. The sensor signals a small controller that is typically installed on a wall in the garage, and then power is sent to the embedded heat cable. The driveway quickly warms so that snow is prevented from accumulating. After the snowstorm, the system remains on for a short time to dry the surface. This is a great safety feature that eliminates ice from forming on the driveway.
It's no wonder that radiant heat has become the new standard for home heating and snow melting applications. If you'd like to learn more, call and talk with a radiant heat expert today, at 888-488-9276. The more you learn about radiant heat, the more you'll like it. Or, you could just catch an old episode of Gilligan's Island. Fortunately for the crew of the S.S. Minnow, they didn't need to heat their bungalows. But if they did, I bet the Professor would have found a way to incorporate radiant heat.