The first day of spring has come and gone, yet most homeowners have still been left in the cold. Since winter seems intent on overstaying its welcome this year, thinking about preparing your home for the upcoming winter doesn't seem so far-fetched.
Radiant heat is an ideal solution to protect often overlooked areas of the home or business. Freezing temperatures and heavy snow and ice can cause safety concerns as well as damage to roof and gutters. Ice and heavy snow buildup can create ice dams along roof edges. Runoff from snow trickles down the roof and refreezes along the eaves, creating ice dams. These dams prevent roof drainage and cause dangerous seepage that can threaten the integrity of the roof. Over time, water seepage into the home may cause mold and mildew, creating a serious health hazard.
Ice is also hazardous to pipes on the outside or interior of the home. Frozen pipes can burst and cause expensive water damage that can take months to repair. Heat trace cable is a simple, effective way to prevent the hassle of dealing with cold-weather damage to your home or business. Warmzone heat trace products are the optimal choice for protecting pipes or roofs from the hazards of harsh winter weather.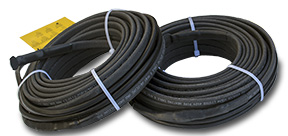 Warmzone's roof de-icing systems feature efficient self-regulating heat trace cable. This heat cable consists of an irradiated conductive core housed in a rugged outer jacket that protects it from the elements. The specially designed core increases heat output as the temperature falls and decreases as the temperature rises. Each Warmzone system features an activation device so that the system can be activated manually or be fully automated. The advanced features and reliability of these systems make them extremely popular among customers.
Self-regulating cable is used in gutters, downspouts, valleys, or installed in a serpentine layout along roof eaves. Using self-regulating heat cable is an affordable option for protecting roofs by creating channels for the water runoff so that ice dams don't develop. Installing self-regulating heat cable in gutters also helps to ensure that heavy snow and ice doesn't accumulate and prevent runoff or cause damage to the gutters. Uniquely shaped roofs, trouble spots, or north-facing roof edges are also areas where cable installation can be particularly beneficial. Warmzone carries several variants of heat cable so that customers are assured of finding the ideal solution for their specific roof de-icing needs.
Heat trace cable from Warmzone is not only efficient but versatile. Running heat trace cables along the length of pipes to prevent freezing is another application that can alleviate worries, especially in a commercial setting. For pipe tracing, pre-terminated self-regulating cable and constant wattage heat cable are excellent choices. Warmzone's self-regulating heat trace cable can also be used with other top-of-the-line roof de-icing systems. Combining systems allows you to create a completely custom de-icing solution that meets your specific needs. One popular, and often recommended option is to combine self-regulating heat trace cable with the low-voltage RoofHeat STEP system.
The innovative low-voltage STEP system features a thin, semi-conductive, flexible polymer heating element. The unique construction of the thin panel allows it to be nailed or stapled through, and can be discreetly installed under roof shingles. The versatile low-voltage heating element is available in rolls of 3, 6, 9, or 12-inch wide panels for installation in gutters, valleys and roof edges. The system utilizes transformers to control specific areas of the de-icing system, stepping down high voltage to low voltage (60 V or less). RoofHeat STEP systems also use an activation device that senses precipitation and temperature, making it fully automated and virtually maintenance-free.
Heat trace products from Warmzone will stand the test of time and keep your home comfortable, and protected from winter weather. If you're not sure what products best suit your de-icing needs, call and talk with a friendly customer service professional. Our experts are happy to talk with you to help determine the best options for your home.
Warmzone custom designs each system to best meet the specific needs of each customer. These detailed system layouts also include all the electrical information for your electrician. Warmzone also includes free installation training and technical support. The free training can be completed with your instructor online via video conference (usually in less than an hour). If needed, installers can also call and speak with an expert at any phase of the installation. No matter what questions you have, a trained customer service professional is available to assist you.
Top-notch customer service sets Warmzone apart and ensures every customer receives the support needed to have their installation go off without a hitch. If you need help locating a qualified installer, Warmzone may also be able to help. Warmzone maintains relationships with experienced installers and electricians throughout the country, so we may be able to recommend a trusted installer in your area. Whatever your de-icing needs are, a friendly Warmzone professional can help you get started today. Reach out to Warmzone at 888-488-9276 and see what radiant heat can do for you this spring.