Driveway Heating is 100 Percent Automated
If you think installing a snow melting system sounds complicated, think again. Radiant driveway heating is easier than ever to achieve. Not only are the heated driveway systems more affordable than ever, but snowmelt systems can be installed at any stage of construction. Even if you are already living in your home, you can still enjoy a heated driveway. A snow melting system can be retrofitted into both concrete and asphalt driveways. And these systems utilize a smart snow sensor which activates the system only when needed, making them fully automated and keeping your driveway clear of snow and ice 'round the clock.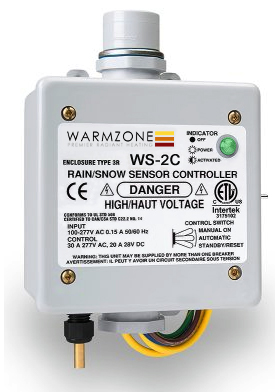 A major perk to using a Warmzone snowmelt system, is that once it is installed you won't have to worry about turning it on or off – not to mention never having to shovel snow again. The snow sensor detects precipitation and temperature levels (usually set at 39° F.) to signal the master controller and activate the system when conditions warrant. This results in a streamlined, highly efficient heated driveway system. Your heated driveway works only when there is enough snow to warrant use, so you save operation costs while enjoying the value added benefits it provides to your property.
A heated driveway system is a convenient way to face winter head on. Using a fully automated system means never having to worry about whether or not it's working or whether or not it is watching the weather report like you are. It senses the moisture, turns itself on and works while you sleep. You can wake up in the morning after a big storm and not hassle with your snow gear and snow plows. Just start your car and ease on to your snow-free heated driveway.