Small Spaces Shine with Radiant Floor Heat
When you tackle a home improvement project you want it to be perfect. You want to get the biggest bang for your buck, the most sophisticated designs, and obviously incredibly efficient output. That is a natural feeling as you protect one of the largest investments you'll make; your home. Piecing little projects together here and there can be frustrating and cost a bundle in the long run.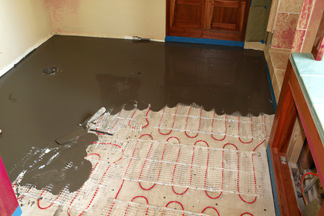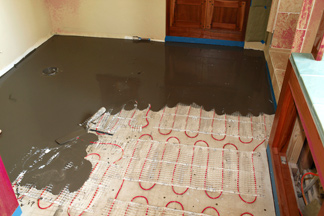 Radiant floor heating may sound like an intimidating home improvement on the surface, as many people worry that they have to do all the floors in their home or nothing at all. Electric radiant heated floors actually shine in small rooms and spaces. These efficient systems are designed to add extra warmth to tiled entry ways, colder bathrooms, or eternally cool basements.
Radiant floor heating is a great way to primarily heat your home as well and can easily be done in every room of your home, but underfloor heat is definitely not an all-or-nothing type of home heating. Small spaces benefit greatly from underfloor heat simply because radiant heat can produce much more efficient heat than traditional methods of heating. Using it to heat your entire home is a smart choice as well. Radiant heat technology is more sophisticated than ever and allows the heat to penetrate each surface of your room, from the ground to the ceiling. Radiant heat allows heat to rise naturally, rather than be forced through ducts in the ceiling. Considering radiant heated floors is a big deal, but doesn't have to be an all or nothing deal. Pick and choose the system that is right for you and enjoy heated floors in part, or in your entire home for added warmth and efficiency.