Location: Connecticut
Solution: ClearZone Snowmelt System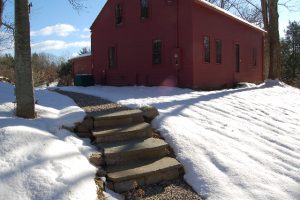 Last winter, after freezing rain solidified a bed of 3 inches of snow in December, we were stuck with 3 inches of solid ice on our entire property, making it extremely slippery and dangerous, the last of the ice melting in April! Walking from the car to our back door entrance was brutal, and being a weekend house, unloading our car and making a million trips back and forth with suitcases, food, etc.. was very difficult. We needed a clear path so nobody would slip and get hurt.
Warmzone was very responsive to our needs, giving us a cost effective and simple solution.
We are thrilled about the solution, as you can see in the photos, and Warmzone was extremely helpful in answering all of my questions, over and over again.
I would definitely recommend Warmzone to my friends. I've already begun showing off the new path to our neighbors, who look on with envy!!
The installation process was recommended by Bryan at Warmzone and was simple; Path: bed of crushed gravel, weed barrier, 1 inch of sand, heat cable mat, 1 inch of sand, 2 inches of pea gravel.
Steps and landing by back door: heat cable mat continued from path up behind the steps risers embedded within the mortar behind the stone facade, and then under the steps and landing flagstones within the mortar holding the stones in place.
Richard P.