Radiant heat is an amenity that can increase comfort and convenience in any home. With its ever growing popularity, many people are looking to see if radiant heat is a good fit for their home or business. Like any home improvement, there are pros and cons to consider when considering radiant heat.
To understand the pros and cons of radiant heat, it's important to understand what radiant heat is, and how it works. Radiant heat comes in two forms: hydronic and electric. Hydronic radiant heat sends specially treated hot water through durable Pex tubing underneath the floor. Electric radiant heating systems use a network of conductive material placed underneath the floor to heat the room.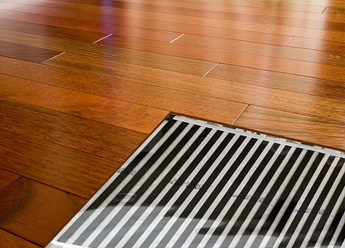 Electric radiant heat is becoming an increasingly popular choice. These systems are much easier to install and are ideal for heating specific areas or rooms. Electric floor heating systems generally use a heating cable (off the spool or pre-spaced cable in mats) or thin heating panels. The heating element is connected to a thermostat, and each room or zone can be controlled separately, giving you precise, efficient control over your heating system.
Radiant heat differs from conventional heating because it heats objects (like the floor) as opposed to air. The room warms from the floor up. The floor heat spreads to objects in the room, such as furniture and fixtures, which ultimately provides comforting warmth for the room. This dispersal method allows for consistent heat throughout any room.
A Few Advantages of Radiant Heat
Energy Efficient
Radiant heat is an extremely energy-efficient choice, especially when compared to traditional HVAC systems. All the heating in the home radiates upward from the floor, keeping more of the heat where you need it most. With a radiant heating system, you can lower the temperature by a few degrees and still enjoy a nice warm room, reducing the utility budget. Unlike forced-air systems, there is no hot air being wasted by blowing from vents and rising to the ceiling. Radiant heat systems are also room specific, and there is virtually no wasted energy. Heat transfers efficiently from the floor through to other objects. Each room can be heated according to your precise needs, allowing for even greater savings on monthly utility bills.
Consistent, Even Heating
An HVAC system blows warm air throughout the home, but this warm air doesn't heat the home uniformly, leaving cold and hot spots. With radiant heat, the heat rises evenly from the flooring, warming the entire room. This uniform heat provides luxurious warmth throughout the room, eliminating cold spots.
Hypoallergenic
Radiant heat is also hypoallergenic. HVAC systems not only blow air, but also blow dust, allergens, and other particles that may be trapped in the ducts. With radiant heat, this is not a concern. This advantage is great for the small children, the elderly, or those who struggle with allergies or other health issues.
Easy Installation
Radiant heat is a great choice for new construction homes or homes undergoing a remodel. Simply purchase a radiant heat system, and install before laying flooring. A professional at Warmzone can help identify the best system and layout for any home's needs. Electric floor heating systems are also very easy to customize, so they can be installed to heat small rooms and areas if you're looking to supplement your existing heating system.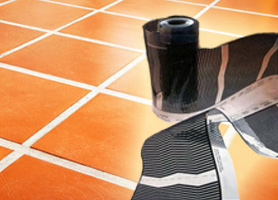 If considering radiant heat for an existing home, options like RetroHeat from Warmzone are available to keep installation quick and simple. Many homeowners don't realize that radiant heat can be installed under existing floors – without the need for major remodeling. If you have asses to the floor joists (through a basement or crawl space), you can install the RetroHeat floor heating system. The thin panels are stapled up between the joists and then batt insulation is stapled up over the heating elements to direct all of the heat upward to warm the floor. This is an affordable option for heating existing floors without the need of replacing or tearing out any flooring. RetroHeat can be installed under almost any existing flooring by accessing the floor joists.
Quiet
Radiant heat systems are not only energy efficient, but also almost completely silent when operating. HVAC systems create noise when turning on and off to regulate temperature, but radiant heat makes no noise at all, making it a great choice for any home.
If you're wondering what the catch is with radiant heat, here are a few more aspects to consider when before installing a radiant heat system.
Other Considerations
Depending on the system you install, one possible disadvantage is that it may result in some floor build up (raising the floor slightly). Several electric systems cause no floor buildup, but this is not true of all systems. Most radiant heat systems are extremely low profile, so the buildup is virtually unnoticeable. However, it is important for your contractor to know the specifics of the floor heating system you are considering. There are many floor heating options available from Warmzone that cause little or no floor build up, so talk with a Warmzone floor heating expert to learn what options are best for you.
Perhaps the biggest question for home or business owners is how much does radiant heat cost? While the initial cost of radiant heat can seem high, it is a great investment that can save money over the life of any home by reducing utility costs. (Learn more about How Much a Radiant Heated Driveway Costs.)
Radiant heat is also a great way to increase the value of a home. If cost is a concern, radiant heat can also be custom installed to only heat certain rooms that could use some additional heat. A Warmzone customer service professional can help you find the right system to best meet the needs of your household, as well as the budget.
If you have questions and would like to see if radiant heat is right for you, call Warmzone and speak to a customer service professional today at 888.488.9276.