Keep Your Decorative Concrete Looking Like the day You Installed it!
When installing decorative concrete, the installer can't help but wonder, "How long is my work going to last?" One concern may be that in the winter the owners will use snow removal methods that will eventually fade or destroy the beautiful decorative concrete. But what if there was a way for the customer to never lay a snow plow blade, shovel, or snowmelt chemical on the concrete? Would this be worth the slight extra cost for the customer now versus replacing the whole driveway later? There is a solution, and contractors can partner with Warmzone in getting their clients to "go green" and avoid harsh chemicals and salt to remove snow and ice.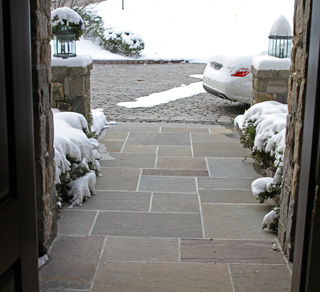 What Warmzone offers is a new way to utilize an old technology which has re-emerged in the last 50 years in Europe as a great alternative to other heating methods – radiant heat . Radiant heat can be used outdoors for melting snow and ice, and indoors to heat the house. There are two technologies that are associated with radiant heat: hydronic, which uses hot water to heat an area; and electric radiant heating, a newer technology that is quickly emerging as a great way to heat homes and keep driveways clear of snow and ice. Set yourself apart from your competition by offering these specialty products for your clients' decorative concrete projects. It won't change the normal installation process and can significantly add to your bottom line.
Set up of either radiant heat system is fairly simple while installing the concrete. You just install the cables or PEX pipes directly where you will pour the concrete, hook them up to a controller that is connected to a sensor, set the controller or thermostat and let it go to work. This efficient, even heat source will melt the snow and heat the floors and can reduce heating costs and stress for your customers when the weather outside turns dreary.
To learn more about Warmzone and what they can do for you and your clients, please search the site further or call a sales representative at 888.488.9276.