Anticipating Snow Before the Fall: Warmzone Radiant Heat Snow Melting Solutions
Global consciousness is not only moving us towards social responsibility, but new, more efficient landscaping and snow melting removal solutions. Many have discovered the clean, energy-efficient operation and benefits of radiant heat snow melting solutions. But don't just take our word for it. Check out these projects and comments from a few Warmzone customers.
Heated City Sidewalks, Municipality, Missouri
During the most recent snow event it was interesting to see that the (city) sidewalks were completely dry and free of snow while the plow trucks were still pushing the snow off the roads. The City of Oak Grove is very pleased with our heated sidewalks and would highly recommend Warmzone products. – Public Works Director, Missouri.
When a municipality in Missouri was installing heated sidewalks throughout their historic downtown area, they looked to Warmzone to do the job. The city's Public Works Director, John, contacted Warmzone to discuss the project and provide the requirements of a heated sidewalk system that spanned the downtown area.
Says John, "[Warmzone] designed our system, ordered the materials and made sure that they arrived on time, and they were there whenever we needed their help. They worked with our electricians to solve problems or answer questions as they came up and were willing to go that extra mile when needed."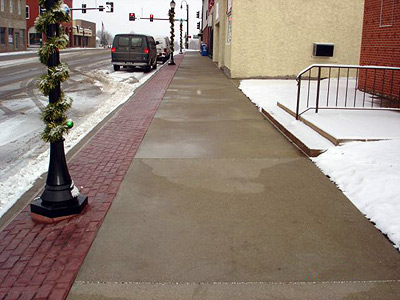 Warmzone's superior customer service is what distinguishes it from the competition. Unlike other radiant heat providers and distributors, Warmzone provides complete design, engineering and installation services. And unlike most other radiant heat distributors and manufacturers, Warmzone offers a wide selection of products and brands, so the experts cancan recommend the ideal solution for your needs – without bias. The expert consultants and design and engineering staff at Warmzone are second to none. Prior to any installation, Warmzone provides a detailed engineering drawing, so you'll know all the electrical requirements, layout and performance expectations of the system prior to beginning the installation.
Warmzone stays with you throughout the installation process. If needed, a master electrician is on hand to guide your installer through the process and answer any questions. This emphasis on "after-sale" customer service is just one reason why professional builders prefer working with Warmzone, and why homeowners recommend Warmzone to their friends. Their unparalleled expertise and customer service have earned Warmzone the reputation as the trusted radiant heat leader.
While Warmzone offers many different radiant snow melting systems, it's also nice to know that Warmzone snow melting systems are easy to customize, so you can be assured your system will meet your specific needs. From small residential projects to large commercial initiatives, Warmzone has a wide selection of proven products and will recommend the ideal solution while keeping within your budget. As John discovered, Warmzone has a highly knowledgeable, experienced professional staff that cares about their customers. It's no wonder that as a trusted leader of radiant heat solutions, Warmzone has radiant heat snow removal systems installed in residential and commercial properties throughout Northern America.
Continued – Radiant Heat Snow Melting Solutions (Part II)