Electric Panel Heaters and Fog-free Bathroom Mirrors
Warmzone continues to provide customers with the latest innovative radiant heating and home amenity products. The latest additions to Warmzone's renowned product offerings are the series of electric panel heaters and the stunning fog-free mirrors with LED lighting options. Home heating amenities now include Warmzone's FeelsWarm® Countertop Heaters, ClearMirror washroom mirrors and premium electric panel heaters.
Warmzone's Fog-free Washroom ClearMirrors
Warmzone's ClearMirror series of stunning shower and vanity mirrors have a thin low-voltage heating pad (defogger) mounted behind the mirror to prevent mist from forming. The defogger makes these mirrors ideal for use in showers and vanities. The mirrors are also available with or without LED lighting panels mounted within the mirror. A variety of mirrors and sizes are available for installation in showers, vanities and studios.
Shower Series Mirrors
The Shower Series ClearMirrors mount flush in the shower, providing elegant looks while making shaving and grooming a convenient, luxurious experience. The mirrors are available in four standard sizes: 12″x12″, 16″x16″, 18″x18″ and 12″x24".
ShowerLite fog-free Series Mirrors
The ShowerLite fog-free series features the same attractive shower mirrors, but with beautifully crafted banks of LED lights built in to the mirror. The ShowerLite ClearMirror with built-in defogger and ultrathin LED lights is a great way to add elegant functionality to your bathroom. The LED lights simulate natural daylight and are perfect for tasks and accent lighting. The LED panels are 5300 K, 94 CRI, and are rated for 70,000 hours.
The mirror's built-in defogger features a very thin low-voltage heating pad that prevents mist from building up on the mirror,  providing a convenient grooming experience. So toss out those old hanging mirrors and temporary solutions and add a touch of class to your shower.
ClearLite Vanity Mirrors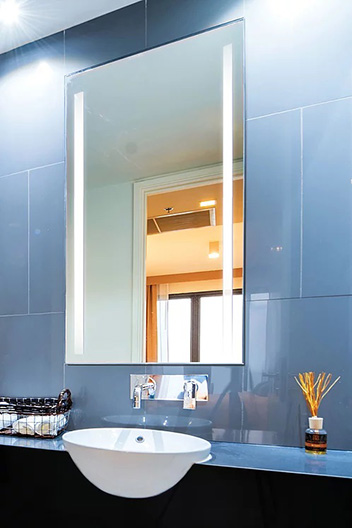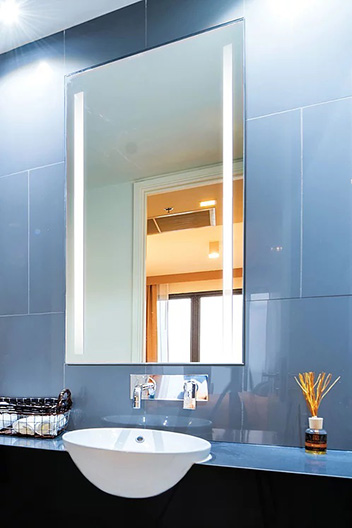 The ultrathin ClearLite Vanity Mirrors provide functionality and gorgeous looks to any bathroom vanity. Designed with hotel designers and architects in mind, the popular ClearLite Vanity Mirror can be found in high-end hotels throughout the world. The beautiful mirrors feature side or top mounted high-output LED panels along with the defogger mounted behind the thin mirror. The standard size of the ClearLite Vanity Mirror is 24 by 26 inches, but this elegant series can also be custom made to your specifications with the LED lighting configuration of your choice.
The 94+ CRI LED lights are the best in the industry, providing full and even lighting coverage. The mirror has flat polished edges and bright anodized aluminum sides, and comes with a Z bracket hangar for easy installation. (It is CL and C/UL listed for safety.)
The Body ClearMirror
The Body Mirror is designed for the professional groomer. The 20 x 36-inch mirror makes shaving and grooming convenient with a fog-free (heated) zone of 16 x 30-inches. This elegant mirror is installed flush in your shower surround and can be turned on by having the mirror wired to your bathroom light or bath fan (recommended). The fog-free mirrors come with a low-voltage transformer.
The Grand Body ClearMirror
The Grand Body ClearMirror is a full length shower mirror that is 5 feet tall and 2½ feet wide. The mirror (with pre-attached defoggers on the reverse side) is mounted flush in your shower, providing you with a beautifully styled, grand fog-free mirror. Installing the Grand Body Mirror adds elegance and grooming convenience to your shower. We are also able to make custom modifications to your mirror if you wish. Call a Warmzone representative today for more information at 888.488.9276.
Studio Mirror Series
A Studio Mirror Series is also available. The beautiful bevel-edged mirrors with optional fog-free technology can be custom made to your specifications, and are available in a variety of Pantone® colors. Warmzone's ClearMirror washroom and studio mirrors are handcrafted in the USA.
Another popular home heating amenity offered by Warmzone is the Runtal® Electric Panel Heater. These stylish heaters can be used as wall-mount or freestanding heaters to complement the existing heating system or to serve as the primary home heating source.
Warmzone's Electric Panel Heaters
Warmzone's Runtal® electric panel heaters, baseboard heaters and towel warmers are designed to combine safe, high-heat output with attractive looks. The durable flat tube design of the wall panel heaters blends high output performance and low surface temperature to provide superior energy-efficient performance. The wall panel and freestanding baseboard heaters can be used to add comfort to your favorite rooms or as your primary heating system.
Warmzone's electric wall panel heaters complement your home's interior and can be installed under windows or on walls where floor space is at a premium. With high output and sleek profile these versatile heaters can either accentuate the room's style or discreetly blend into the existing interior design while adding comfortable warmth. Electric wall panel heaters are available in heights of 17¼-inches and 23⅛-inches, and lengths of 2, 3, and 4 feet. All units are available in 120, 208 and 240-volt configurations.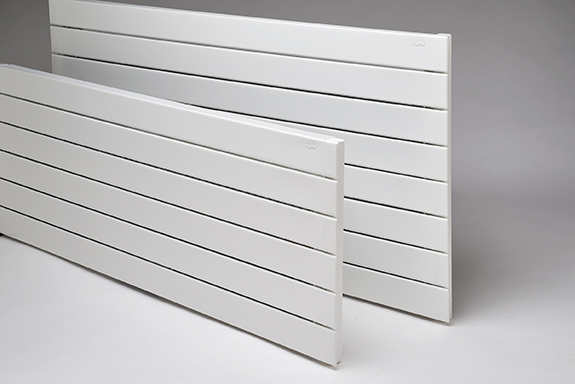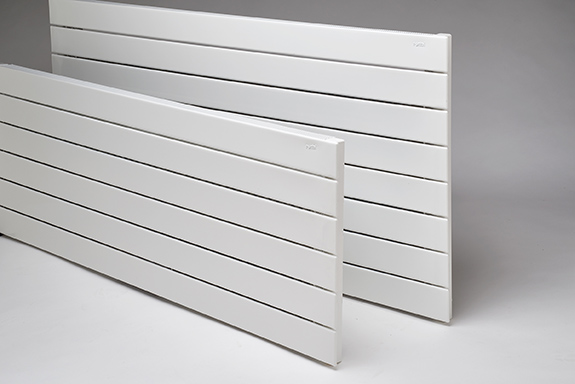 The wall-mounted baseboard series offers simple, conventional installation for either new build applications or for direct replacement of existing wall-mounted electric baseboard products. The stylish wall-mount and baseboard heaters provide comfortable warmth to eliminate cold spots in your favorite rooms, making them an attractive and effective complement to your existing heating system and home décor. Wall-mount baseboard heaters are 10⅛-inch tall and are available in lengths from 3 to 10 feet (in increments of one foot). Freestanding baseboard heaters are also available.
A wide variety of towel warmers and bathroom radiators are also available from Warmzone. The bathroom radiators with towel warming bars can create a toasty, comfortable environment for small to average-sized bathrooms as well as warmth for your towels. The wall-mounted heater's easy installation and attractive looks conveniently adds comfort and elegant style to the existing décor of the washroom.
While providing warmth for the bathroom, nothing quite matches the feel of a warm towel or bathrobe after showering. Because the towel warmer helps to heat and dry the room, the added benefit is that the radiator helps to reduce mold and mildew, and keeps towels fresh between laundering. Various model types and sizes are available for different heat outputs that enable a towel radiator to be used as a supplemental heater or as the sole source of heat for entire bathrooms.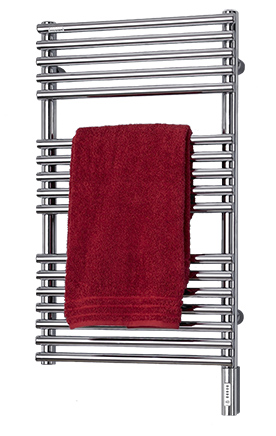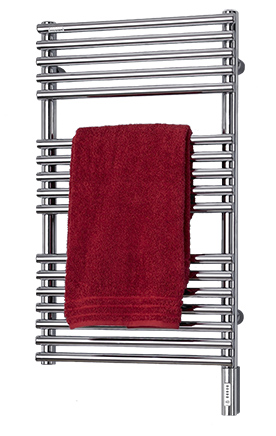 Warmzone's line of wall-mount and freestanding heaters provides comfortable warmth and energy-efficient performance, and are available in a wide range of colors. A Wi-Fi enabled thermostat option is also available, allowing homeowners to control the heating units remotely.
For more information about Warmzone's premium quality home heating amenities, please call us today at 888.488.9276.