The Services and Resources to Look for When Considering the Installation of Radiant Heat
From the initial idea of adding radiant heat to your new or existing home to the actual purchase and installation can be somewhat intimidating for homeowners. Where do you start? What should you be looking for, and what are the options?
Judging from past customers, radiant heat is a proven, worthwhile investment that provides very efficient and luxurious warmth using clean renewable energy. Radiant heated floors continue to gain popularity because of their efficiency as well as the rich, comfortable heat that they produce.
Find a provider that includes complete system design services and a large selection of products and services – from different manufacturers. Warmzone is one provider that offers a dynamic range of radiant floor heating systems. Because of the diverse selection, Warmzone can evaluate your specific needs and recommend the system that will best meet your budget and heating demands. So, if you're considering installing a heated floor, view Warmzone's Floor Heating Overview web page to gain some general information about the different systems. Then call a Warmzone representative to discuss the various possibilities and the advantages of each system (888.488.9276). Our staff features experienced professionals who are happy to consult with prospective customers without any pushy sales pressure.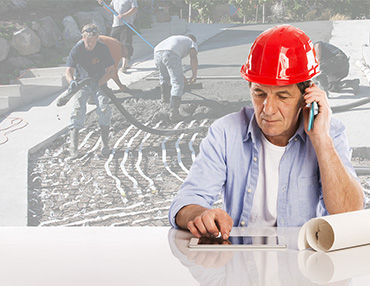 Warmzone includes professional installation support services.
And when it comes to customer service, you won't find a provider that offers better customer services. Warmzone services include FREE installation training for installers, detailed system design and layout services, technical support, free consulting, and a wealth of online documentation, videos and information resources. We take pride in our unparalleled personal services as well as our industry leading products.
Warmzone snow melting systems are also among the very best available. Warmzone continues to be a leader in offering the latest technology with the most trusted and proven systems. Warmzone heated driveways and snow melting systems are easy to customize to match the budget and performance requirements of each customer.
ClearZone heat cable is the longstanding backbone of Warmzone's exceptional snow melting systems. In addition to the heating element, Warmzone driveway heating systems also feature a contactor panel/controller and either a ground-mount snow sensor or an aerial mount sensor. These advanced activation devices detect precipitation and temperature, so when conditions warrant, the sensor triggers the system and the driveway begins to heat. The system continues to operate for a short time after the storm to ensure that the driveway is dry, eliminating slick, dangerous ice.
Fully automated, energy efficient, and featuring quiet, clean operation, Warmzone snow melting systems continue to be a favorite among contractors and professional installers.
For more information, call us at 888.488.9276 and speak with a radiant heat consultant. Also take advantage of our online information resources and view radiant heat installation videos, monthly newsletters, product literature and more. We think that the more you research and compare radiant heat companies, the more impressed you'll be with Warmzone. Call or email us today for a free quote.