Introducing Innovative Stick-on Countertop Heaters
Add a new level of elegant comfort to your home's most popular gathering place – the kitchen. Warmzone's countertop heaters with FeelWarm® technology feature flexible low-voltage heating panels that conveniently stick to the bottom of your countertop. The countertop heaters adhere to the underside of the stone or they can be placed on a support substrate (compressed) prior to the countertop being placed.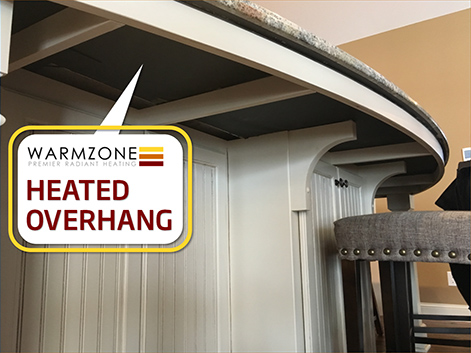 The innovative countertop heating system uses a passive warming system to slowly warm the stone by 20-25 degrees. This measured warming approach and lack of temperature pulsing prevents any shock to the stone. These heating panels are designed specifically for warming stone countertops without introducing a risk of cracking the stone. Warmzone's countertop heaters are also easy to install. While contractors installing new countertops are typically involved with installing the heaters, most homeowners install the panels for their existing countertop. The simple peel-and-stick heating panels can be installed by homeowners with basic "handyman" skills.
View the Video: Heating Countertops with Overhang
View the Video: Heating Countertops with no Overhang
The low-voltage countertop heating mats are ultra thin (between .015″ and .025″ thick) and are custom-engineered for each stone including shape, wattage, and electrical input location. The heating mat is designed to overcome the poor thermal characteristics of stone so that an even heated surface is created and that the front edge is the same temperature as the center of the heated zone. The system is also very economical. Most homeowners leave their heated countertop running at all times, resulting in a cost of less than $0.20 a day.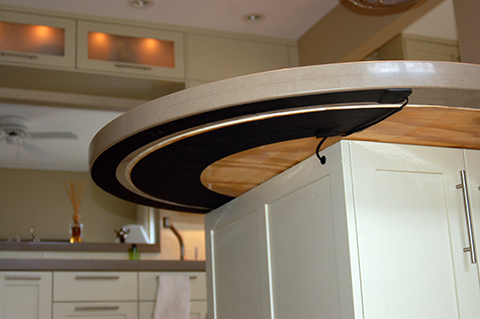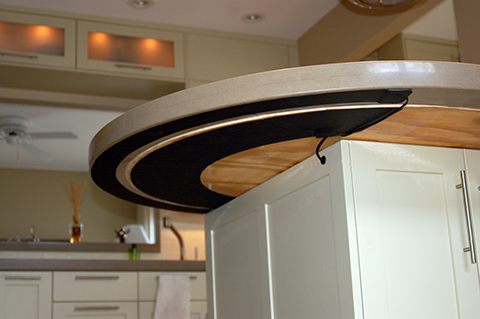 Countertop Heaters – Features and Benefits
Discreet: No physical changes to the cabinet or counter
Easy Installation: Peel-and-stick application
Low Voltage: Utilizes 12-24 volts for complete safety (no special wiring)
Convenient: Utilizes a standard 120 volt outlet
Easy to Customize: Can accommodate all corbels and support beams
Cost Effective: Heats only commonly touched areas
Ultra Thin: Only 1/32-inch thick
Temperature Adjustment: Controller included with heater
Versatile: Works well with all stone surfaces
Applications
Warmzone's FeelsWarm countertop heaters are commonly installed to warm kitchen countertops and islands and bars (with overhang), desks, bathroom counters, bars, vanities, reception desks and any indoor application where stone is being considered. The ideal heating solution is to only warm the overhang, or edge of the counter where most people touch the counter. Therefore the most ideal placement for the heating panel is along the underside of the counter's edge to about 12-14 inches deep. The countertop heaters efficiently warm all types of stone, engineered stone and concrete countertops.
Designed for easy installation, the heater's shape and size is configured specifically for the customer's unique counter and corbels, whether overhanging or resting on framework, angled or curved. The heating mats are an easy do-it-yourself installation that safely and effectively warms the stone.
The heaters are available in four popular sizes and can also be custom-designed to fit your layout needs. The gentle warmth safely adds luxurious comfort to kitchens, bathrooms, offices and more. To learn more about your countertop heating options contact a radiant heat expert today at 888.488.9276.