Installation Tips for Installing an Electric Snow Melting System
Winter is supposed to be colder and snowier than ever this year. If you're living in the snow belt, you can meet the snowy weather with a solution that's sure to make your winter much more bearable. From installing radiant heated floors to heated driveways and roofs, Warmzone makes the process of tackling a radiant heating project much easier.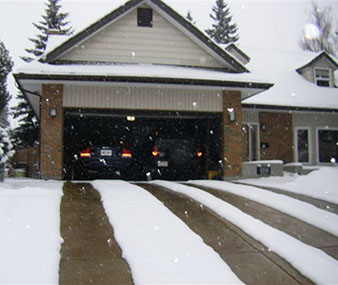 Before installing any heat cable, it's important to know the ins and outs of radiant heat installation to maximize the performance of your system and ensure that the warranty remains valid. In addition to Warmzone's free consultation and installation support, a wealth of information is also available online in Warmzone's radiant resource center, where you can find articles, installation manuals and related information.
Basic Tips for Installing Snow Melting System
Cable Care – Extreme care must be used to ensure the cables/mats are not damaged when using sharp tools, wheelbarrows, shovels, rakes or heavy machinery.
Check Supply Voltage – Make sure that the supply voltage matches the voltage required for your specific snowmelt product.
Measure Cable Resistance – Remember to always measure, verify and record the actual resistance of the heating element throughout the installation process:
1.  Out of the box
2.  After laying the cable out
3.  After applying the surface material
Never cut the Heat Cable – Heat cable is resistance cable. When it is shortened it increases the wattage per foot of the cable. Altering the cable in this way can void the warranty and cause the heat cable to fail due to over-temperature.
Laying out Heating Mats – Unroll the heating mat on to the area you want to heat. Fasten the heating mat to the mesh reinforcement using tie-wraps, zip ties or cable strapping. Do not cause the heating cable of the mat to be compressed or strained.
Do not let Cables Touch – Never allow the heating elements to cross, overlap or touch.
Embed the Cable – Whether you're installing in concrete, asphalt or pavers, make sure that the cable is completely embedded under the surface. If uncovered, it can malfunction in the area of exposure.
Embed the Power Lead – The power lead/heating cable splice and at least 6 inches of the power lead must also be embedded in the paved surface. The remaining power lead should be run through a conduit.
Making Turns with Mats – Heating mats can be altered to accommodate drains, obstructions or bends in the layout. To make turns or alter the spacing of the heating cables in mats, only cut the tape – NOT the heating cable.
Ground Sensor Placement – The ground sensor must be placed between the heating cables within the heated area at least 3.3 feet (1 m) from the edge of the area. A minimum distance of 0.41 inches (1 cm) should be maintained between the sensor tube and the heating cable.
Aerial Snow Sensor Placement – Aerial sensors should not be placed under eaves but where there is direct exposure to the open sky. Avoid areas that will have delayed or false readings.
Remember, Warmzone includes free installation support with your heated driveway system, so if you have any questions, call a radiant heat expert at 801.948.7577.
The Makings of an Industry Leader
Unmatched Customer Services and Proven Radiant Heat Solutions
What does it take to become an industry leader in the radiant heat business? As an industry leader of radiant heat solutions, Warmzone has set the gold standard. Built on top quality products, superior customer service and solid manufacturer warranties, Warmzone is always innovating, testing and developing new and better products for customers.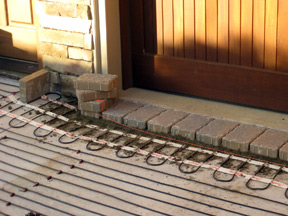 Of course, shopping Warmzone gives customers the assurance they are buying the most proven and advanced radiant snow melting solutions, at truly competitive prices. Warmzone has been around for a long time, and has forged relationships with radiant heat manufacturers and installers across the country. They also maintain bragging rights to an impressive group of in-house radiant heat consultants, staffers who have been entrenched in their business with a strong command of everything radiant heat related.
Warmzone holds its products to ASHREA industry standards, creating a good foundation for great radiant heat solutions. Adhering to these standards is all about breaking it down regionally—examining the weather, climate, average snowfall, temperatures, and other factors that play a role in overall system design to ensure each system is optimized for its location. Warmzone designs custom systems in accordance with these standards for consumers throughout the U.S. and Canada.
Warmzone further differentiates itself with outstanding customer service. From free installation training to personal, expert installation support, Warmzone is there every step of the way to assist you through the installation process. Systems are designed to meets customers' snow melting and budget needs. And the wide selection of products and systems ensures each customer will receive the ideal solution for their snow melting needs.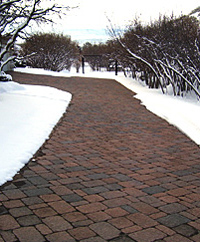 Offering complementary system design services and installation support are other reasons why builders continually deal with Warmzone. Warmzone radiant heat experts thoughtfully consider all of their customers' system requirements to design systems on a case by case basis. Customers receive a detailed layout (AutoCAD if requested) that includes critical power requirements and specs prior to any installation. This helps to ensure that there are no "surprise" expenses and that your system is installed correctly.
There's a whole lot more to talk about, but one thing is clear—Warmzone continues to stand on its own as an industry leader in radiant heat solutions for both residential and commercial customers. For the most innovative radiant heat systems, free installation training, helpful customer support, comprehensive design and installation services, contact Warmzone at 888.488.9276.