Deal With Pros who Care About Your Installation
You've just made an investment in your property and purchased your first state-of-the-art radiant heat system from Warmzone, and you may be wondering, what comes next? Installation is the next step, and the most important when it comes to your new radiant heat system. While purchasing products like a ClearZone snow melting system or ComfortTile radiant heat system assures the quality of your components, the system cannot be effective if installed incorrectly. Without proper installation, your system will not run at optimum levels, which means you won't see the results you want for your home or business. Customer satisfaction is a priority at Warmzone, which is why when you purchase a system from Warmzone you have access to all the tools and help needed to ensure a safe, proper installation. Warmzone's commitment to customer service and installation support is unparalleled in the industry.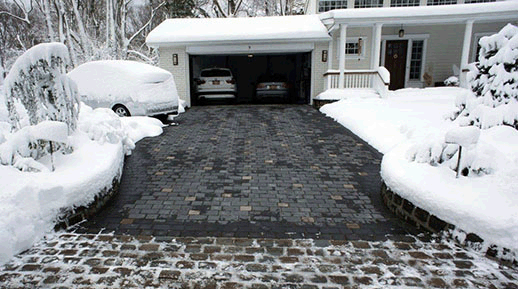 The first benefit you receive when working with Warmzone is access to Warmzone's free professional engineering and design services. This service will help ensure a proper installation as well as save time and money. When purchasing a radiant heat system from Warmzone, you will work with professionals who can answer all your questions and provide you with a personalized AutoCAD for your project. At Warmzone, a radiant heat expert will create your AutoCAD to the exact specifications needed for your project. This allows for a complete design drawing that includes the system layout, projected performance, all materials needed, and power needs. If there are questions about any of the technical aspects of the system, such as number of breakers needed for your project, or the load calculations needed, you will find these on your AutoCAD, or you can contact a professional at Warmzone at anytime. This is an important step in the design process, but even more important for your installation. The information provided can help you or your installer with any questions that may come up to ensure your installation goes off without a hitch.
After you have received your system layout and are ready for install, there are a few important things that can be done to assure your installation goes smoothly. We recommend that the installer reviews some of the helpful online instructional videos. Warmzone also provides personal installation training. The installation course is provided for customers so they can complete installation as quickly and as smoothly as possible. There are installation courses available for all of Warmzone's industry leading products, and helpful installation videos that cover a range of topics. Warmzone's online training is invaluable for the proper installation of a radiant heat system. Warmzone can also connect you with a qualified installer for your project to further ensure that your system is installed correctly.
The next important step for installation is making sure to hire a licensed and reliable electrician. While you can complete much of the installation on your own, you must hire an electrician to complete the wiring for your project (for warranty purposes). An electrician can also verify the amperage available at your home, which will ensure your system will run efficiently and effectively. (This should be the first thing homeowners do.) Verifying the amperage with a qualified electrician and having one available to help finish the installation process will prevent future issues with your radiant heat system. If you have purchased with Warmzone, you know your components are top of the line- but it crucial to complete the installation with a verified electrician to ensure your components will function properly. At Warmzone, the experts know products are only as good as their installation, which is why customer service professionals are available at anytime to assist you during the installation, and can help you locate an experienced electrician for your project.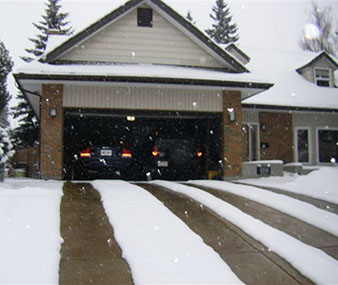 After you have completed your training and verified the amperage for your project with an electrician you can begin installation. For a heated driveway system, you will have the following components: a heating element (such as heating cable or mats), a control panel, and an activation device. An activation device is an aerial or pavement mounted sensor which detects temperature and precipitation to activate the system when needed.
The first step in installation will be laying out your heating cable or mat. While this is not a hard process, there are a few important rules that must be followed. When installing, be sure to never cut or damage your cable. Cutting or compromising the heating cable or mats will ruin the product, and your system will not function. It is also critical when laying heating cable that the cables are not touching, and are spaced according to the layout (usually 3 or 4 inches apart). For heating concrete driveways and sidewalks, the cable must be secured to the remesh (with zip ties) that is supported by Mesh-Up plastic chairs for optimum performance. The Mesh-Ups keep the remesh and heat cable from being pushed down to the ground during the concrete pour. Ideally, the heat cable should be about 2 inches from the surface being heated. When the cable is installed it is important to test the cable during different phases of the installation and make sure it has not been damaged and is functioning properly (refer to installation manual).
You have some options when it comes to the snow sensor / activation device. You can install an aerial-mount activation device, typically mounted slightly above the roof line, or a ground-mount snow sensor that is placed in the pavement where it is exposed to the elements. The system is connected to the control panel, which is usually mounted on a wall in the garage. It is important to have a qualified electrician complete the wiring for your system. After this is done, you will be ready to use your new radiant heat system.
Warmzone's customer service is available to you at anytime throughout the installation process. If you complete your online training and still have questions, you can access installation guides online. Professionals are also available to speak with and help you with any questions you may have, or you can check out our blog for tips on installation. When purchasing and installing radiant heat, Warmzone knows the importance of customer support and installation resources available for customers, making Warmzone a cut above in the radiant heat industry.
If you haven't purchased a radiant heat system and are interested, please contact a Warmzone professional at 888-488-9276 and receive your free quote today.