Family and Guests are Safer Thanks to Roof Deicing
Icicles are really cool to look at. They are even fun to break and shatter into pieces onto the sidewalks below. Icicles are a good sign of upcoming warmer weather too, as they drip and shrink they predict the welcome upcoming spring. But as pretty as they are, icicles can also be incredibly dangerous. Icicles can fall without warning and small children, pets, and the elderly won't be able to move out of the way fast enough. This often leads to injuries that could otherwise be avoided. Many business owners and homeowners alike worry about the best way to keep to their patrons and families safe.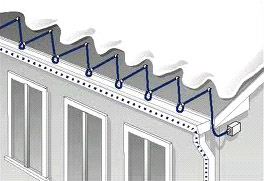 To create a more hospitable entryway into any building, consider installing a roof gutter heating system . Heat cables from one of these fully automated systems stretch the length of your roof line and keep icicles from ever forming.
Roof gutter heating is the #1 way to provide a safe entrance to any dwelling. Roof deicing isn't a new concept but it is one catching on as people strive to protect the people they love as well as the structure itself. Extensive roof damage has been known to occur thanks to large ice dams forming in the winter. The daytime temperatures often never reach melting levels so the ice melts and then re-forms repeatedly. And then it snows again, creating several more layers of damaging ice that potentially could ruin your roof. Ice dams and icicles don't have a chance to form with roof deicing, which protects your gutters and the people walking beneath them too.