Get your Snowmelt System Ordered and Installed Early This Year and Save With Radiant Heat Solutions by Warmzone
If you've only just decided on an electric radiant snowmelt system, and still scratching your head over your lack of time management skills (and timing), don't fret. While it's still not too late to buy and install a snowmelt system, early spring and summer is an ideal time to install these systems. In fact, now may be one of the best times of the year to order a snowmelt system. Think of it as a way to avoid the fall rush to buy and install; and better yet, taking advantage of some discounted prices on Warmzone radiant snowmelt systems.
From cable right off the spool, to cable preconfigured in easy-to-install roll-out mats, Warmzone has the perfect electric radiant snowmelt system for your driveway, sidewalks or roof. And you don't need a new driveway to make the investment in radiant heat. Retrofitting is possible for just about any type of surface.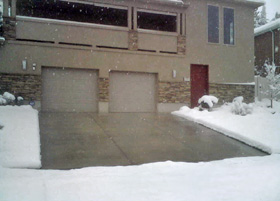 Starting from the ground up, a Warmzone heated driveway is the perfect solution for a sore back that comes from too much shoveling. So if you're all about state-of-the-art on a tight budget, the Warmzone ClearZone automated snow melting system is the way to go. It's the premier snow melting solution for concrete heated driveways, sidewalks, loading docks and ramps. No matter what the dimensions, Warmzone offers the flexibility of installing radiant heat in almost any size and type of heated driveway, porch or walkway.
Right now is the perfect time to get a discount on some of the best snow melting products available. Warmzone gives you plenty of options – both in terms of the design and layout of the system to a wide variety of snow melting (and floor heating) products. Radiant snow melting systems can be easily customized to meet your snow melting needs as well as your budget.
As an industry leading heat cable, ClearZone snow melting cable is extremely rugged, and can even withstand the extreme, unforgiving temperatures common to hot asphalt pours. The cable can be rolled out and configured to address the nooks and crannies that characterize hard to reach surface areas and is perfect for large snow melting and unconventionally shaped areas.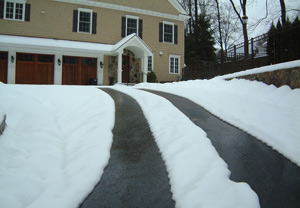 ClearZone Snow Melting Systems, Fully Automated and Easy to Install
If you're a do-it-yourselfer and have a more conventional radiant heat project to tackle, you may want to consider a ClearZone radiant snow melting system. Available on the spool or in mats, the versatile CZ heat cable sets the benchmark for durability and performance. The CZ mats feature ClearZone cable that is pre-spaced and attached to a durable backing for proper cable spacing and easy "roll-out" installation. The heating mat backing can be cut on site, for installation around corners and in hard to reach places. Like cable off the spool, the mats can be installed under just about any surface. A simple, more affordable "tire track" radiant heat snow melting pattern can be achieved just by rolling two ClearZone radiant snow melting mats down your driveway and then applying the finish surface.
Of course, great products and prices are nothing without good support. Warmzone offers unparalleled customer service, from the initial phone call to expert installation support. They also offer one of the best warranties in the business. To find out more how you can cash in on an off-season radiant heat snow melting installation, call Warmzone at 888.488.9276 or visit our website today.
Protect your Home with RoofHeat
Protect your Roof, Gutters, and Downspouts with a Heat Trace System from Warmzone
If you haven't thought about your roof much this winter, be proactive with a gutter heat trace system from Warmzone. These automated roof deicing systems are specifically designed to melt ice and snow on roofs, in gutters and downspouts to prevent costly damage, not only to your roof, but to your home as well.
Warmzone radiant roof heating systems quickly melt heavy ice and snow from gutters and trouble spots on your roof. They can be easily installed in existing roofs to prevent icicles, ice buildup and ice dams from occurring. Moisture buildup from ice dams can seep up under shingles and into the roof decking before making its way into your home and causing significant water damage.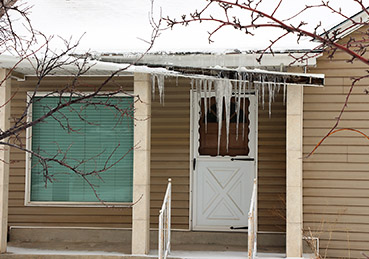 Made up of a rugged, durable outer construction designed to withstand winter extremes, Warmzone's RoofHeat self-regulating gutter heating cable is extremely effective, energy efficient and safe. Noted for its durable and self-regulating characteristics, RoofHeat radiant heat cable is one of the most recommended roof heating solutions available. The systems are easy to install and easy to customize.
RoofHeat snow melting systems respond to weather changes to anticipate events conducive to snow fall. Melting occurs as a snow event is happening. And since these roof heating systems are fully automated, there's no switch to flip or roof raking to be done, making snow removal extremely convenient for you. Simply install it and forget it with the knowledge your roof is safely protected.
Warmzone offers the widest selection of radiant heat products, you're assured of getting the best solution for you, at a price you can afford.
For more information on a RoofHeat radiant snow melting systems for your home, visit www.warmzone.com or call 888.488.9276.