Minimal Space Requirements, Maximum Heating
ECO-Heaters are compact thin electric panel heaters that mount on the wall and safely emit heat. One benefit of ECO-heaters is that they are mounted on the wall, saving valuable floor real estate. The heater dimensions are 23¼ x 23¼ x ⅜-inches and weighs approximately 15 pounds. Each heater package contains one 400 watt electric panel heater, mounting kit, installation instructions and Styrofoam packaging that also serves as a convenient mounting template.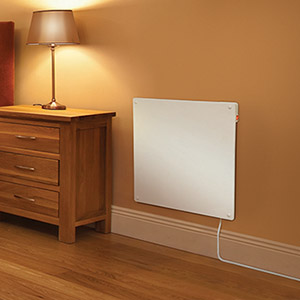 ECO-heaters are designed to be mounted approximately 6-8 inches above the floor, giving the heat a chance (and plenty of space) to rise and sufficiently heat a smaller space. Ideal for bathrooms, kitchens, even offices, the ECO-heater is an efficient method of heating a room. There is a ¾-inch gap between the heater and the wall allowing cold air to be drawn behind the heating panel. The gap is small enough to allow the cold air to heat quickly and rise from the gap at the top of the heating panel of the ECO-heater. Cool air cycles into the gap behind the heater as well and natural circulation of heated air cycles continually. This natural convection takes away the need for a fan, which increases the heater's efficiency and decreases the need for more space devoted to this compact wall mounted heater. You can find them for less than $130, making them an affordable and compact way to heat any chilly space.