Climastar: New in Heating and Decor
Most things that hang on your walls at home or office are just for eye catching appeal, but what if you get another benefit from wall art? What if you learned about Climastar wall-mounted heaters and suddenly discovered that comfort and warmth could also look attractive too? That would be pretty great, huh?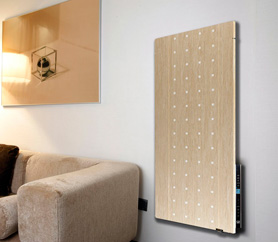 Well, it's true. Wall heaters can not only add much needed warmth to a chilly room, they can look good doing it. The Climastar wall-mounted heater has been designed for functionality as well as beauty. The innovative design allows energy efficient heat to permeate your bathroom at work or home or any other room you need a heating boost.
Wall-mounted heaters consume very little power but allow enough heat to be generated to heat an entire small room. Climastar offers many attractive choices to suit your unique taste and design ideas. Having a wall-mounted heater doesn't mean you have to hang a looming hideous dinosaur on your wall. These wall heaters have eye-catching stone facades to give the sophisticated look and feel of wall art while adding the durability, functionality, and heating power of a wall-mounted heater. Each heater allows you to program a specific temperature giving you flexibility to set the heat to your comfort level with ease.