Comparing Electric Snow Melting Systems and Hydronic Systems (Read Part I)
Flow or current: What's your Chi?
At this point you may have already drawn some conclusions about these systems. Here's an "at-a-glance" comparison of both systems.
Comparison Overview: Hydronic Radiant Heat vs. Electric Radiant Heat
| | |
| --- | --- |
| Hydronic Snow Melting System | Electric Snow Melting System |
| Flexible power source options can lower operating costs. | Only one power source. Circuit breakers may have to be updated to accommodate system. |
| Installation costs may be higher, especially if water heater or boiler is required. | Easier installation. Also can be used in retrofit applications. |
| Higher maintenance. Propylene glycol fluid levels must be routinely checked. | Low maintenance. Less moving parts and no fluid levels to check! |
| Requires heating of the water, resulting in a slower response time. | Less warm-up time is required so the system response is faster. |
Hydronic heat, depending on the heat source, can save you on operational costs. Hydronic cables or PEX tubing can be installed under a variety of mediums, including concrete, asphalt, stone pavers, etc. Successful operation of a hydronic heating
system depends on proper tubing spacing and layout. Tubes are usually laid out in a spiral or serpentine pattern for even heat distribution, making initial installation a bit more challenging than that posed by electric heated systems.
Warmzone's expertise with hydronic heat systems is an invaluable resource, particularly if you choose to go with a hydronic heated driveway. However, with the complexity of hydronic heat installation comes a large price tag, especially if a hot water heater or boiler is required.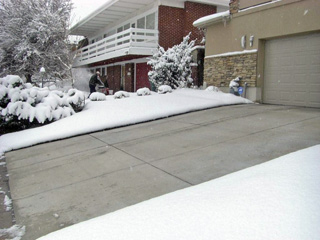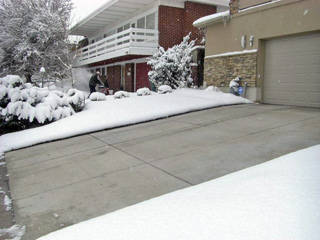 Electric heated driveway system in concrete.
ClearZone electric heated driveway systems are generally more efficient than hydronic systems. Electric cables heat up instantaneously, whereas water within hydronic cables must be heated up before the snow begins to melt. Installation of electric systems is fairly simple for the "do-it-yourselfer", and heat cable is also available pre-spaced and woven into mats, which can be easily rolled out to heat tire tracks or an entire driveway. This flexibility is invaluable in retrofit applications, where hydronic system installation is more evasive, and as you would imagine, costly.
Hydronic systems may offer a lower operating cost than electric systems because they can run using the cheapest power source, such as natural gas, coal, propane, etc. Hydronic snow melting systems are a reliable means for heating driveways and parking areas, but the "current" trend seems to be swinging to electric radiant heated driveways. The systems are easy to install, heat instantaneously and there is no maintenance or upkeep required to assure top performance. Installation options are numerous, whether you choose to heat your entire driveway, or roll out heating cable tracks to heat just where your tires hit pavement.
Warmzone's ClearZone heating cables are built specifically for heating driveways, sidewalks and other common areas to melt snow and ice in the worst of conditions. Extremely efficient and virtually maintenance free, they have become the Warmzone customer's method of choice for snow melting. Warmzone has a variety of products and the expertise to install or retrofit your existing driveway with a realistic electric radiant heated driveway solution that's equally energy efficient and cost effective, so you can put down your shovel, for good!