Heated Liquid or Electric Current (Of Water and Wires: Comparing the Systems)
If you've finally put down the shovel and decided to purchase a heated driveway system, will you be going hydronic or electric? If you're newcomer to the concept of driveway heating, hydronic and electric are both popular, and extremely viable forms of driveway heat, and Warmzone has the expertise, and experience, to help determine which is best for you. What these systems share in common—four key components you should be familiar with before purchasing a heated driveway system:
Heating Element (Embedded in the driveway)
Snow Sensor
Power Controller Unit (Powers the heating elements)
Power Supply (Circuit breaker panel)
Of the components mentioned above, the heating element and the controller distinguish hydronic heated driveway systems from electric heated driveway systems.
Hydronic Heated Driveway Systems: Going with the Flow
The heating element for a hydronic system, as you may have guessed, involves water. Specifically, hydronic heated driveways use what is known as closed-loop tubing to heat the surface of the driveway. The tubing is generally made of a flexible (and quite durable) polymer or synthetic rubber to circulate a mixture of hot water and propylene glycol (antifreeze). The fluid is warmed to temperatures between 140 to 180 degrees F to deliver enough heat for snow melting.
A water heater or a boiler is the chief source of heat for a hydronic heated system, which can be powered by any energy source that satisfies the btu requirements, including natural gas, electricity, oil, wood, or even solar collectors. A circulating pump and supply and return manifolds, installed in an easily accessible location, transfer the water between the heat source and tubing.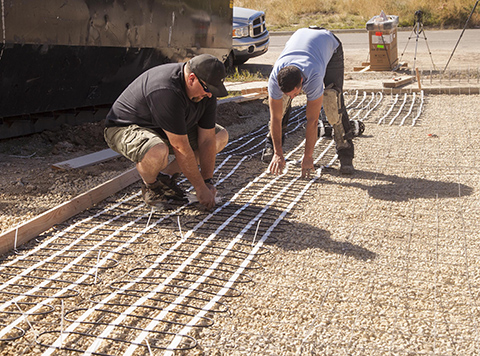 Electric Heated Driveway Systems: Riding the Current
Unlike hydronic systems, electric heated driveway systems use hot wires to heat paved surfaces. These wires are surrounded by layers of insulation, copper grounding braid and a protective outer layer of PVC or polyolefin to form a flexible cable about ⅛ to ¼ inch in diameter. What's great about the heat cable is the flexibility of the application. Cable is available on spools as well as pre-woven into mats, and can be customized (cut) to suit virtually any type of layout, including driveways, ramps, common walkways and sidewalks.
After being triggered by the snow sensor, the control unit then powers the heat cable to warm the driveway. To reduce the power demands (and operating costs), you can install cables in just the tire tracks of a driveway rather than the entire area. Warmzone offers several options and provides complete system design services to ensure that you receive the best system layout and products for your project.