Spring is here and now is a great time to install a radiant heated snow melting system to prepare for the winter ahead. By installing a system now, rather than during the fall rush, you may receive some added discounts.
There are two types of snow melting systems, and it helps to understand the two technologies. Both electric and hydronic systems provide clean, efficient radiant heat, but one is likely to be more ideal than another for your specific needs.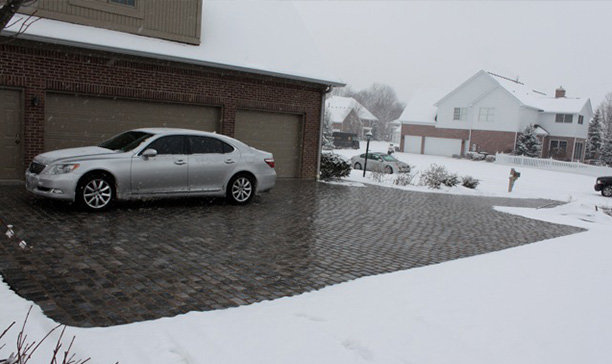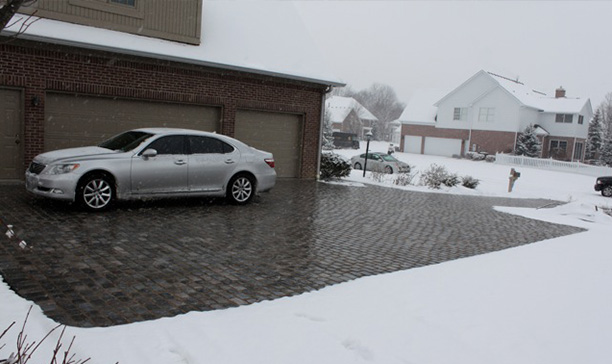 Hydronic radiant heat works by heating specialized liquid that consists of water and propylene glycol (anti-freeze). This liquid is circulated though a closed loop of special PEX tubing installed underneath the surface. The PEX tubing is flexible, and can be installed in common applications, including concrete, pavers, and asphalt. The tubing is designed to resist chemicals and corrosion, making it extremely durable and long lasting.
The liquid is heated by a traditional water heater or boiler. Because a boiler can operate on natural gas, hydronic systems have the potential for lower operating costs than electric systems, especially if you are heating a large commercial area. Like electric heated driveways, hydronic systems are triggered by an aerial or in-ground sensor that activates the system when it detects the temperature is at or below the set-point (usually 39°F), and precipitation is present, allowing for automated snow melting to keep driveways and sidewalks clear of snow and ice. When considering a hydronic snow melting system, it's important to consider that the system requires its own dedicated mechanical room. Hydronic radiant heat systems are considerably more complex than their electric counterparts, and as such, these systems also have a much higher installation cost.
If you're looking for a hassle-free system for heating a residential driveway, steps, or sidewalk, an electric ClearZone snow melting system may be the right fit for you. Electric snow melting systems have become the most popular choice for homeowners and businesses in recent years. In fact, some contractors estimate that over 90 percent of homeowners choose an electric snow melting system for their needs.
ClearZone electric snowmelt systems heat the driveway or sidewalk with a rugged line-voltage cable that is available in individual lengths or pre-spaced in mats. Depending on the system layout, the heat cable is generally spaced 3 or 4 inches apart. The cable is connected to a power source as well as the aerial or in-ground sensor that triggers the system.
ClearZone heat cable can be installed under any medium, including asphalt, pavers, and concrete. (A special asphalt heating cable is available for installation in hot asphalt applications.) Warmzone ClearZone systems are relatively easy to install. Because of the simple design of the system, and the single-point connection cable, it can be installed quickly and easily.  ClearZone snow melting systems also have one of the fastest response times on the market, and produce 35-50 watts per square foot (depending on your system). Any sidewalk, driveway, or walkway with a ClearZone system will remain clear as soon the snow falls.
Another great advantage of an electric snow melting system is that they require no maintenance. While other radiant heat systems may have moving parts and require maintenance, a Warmzone ClearZone system has no moving parts, making it extremely reliable as well as maintenance free. Electric systems do not require a separate mechanical room like hydronic, making them a good choice for those who may not have extra room. Electric systems also have a lower initial cost than hydronic systems.
Whatever system you choose, an electric or hydronic snow melting system from Warmzone will be carefully designed to meet your specific layout and snow melting needs. Both hydronic and electric radiant heat systems are fully automated, so they only operate when needed. This adds to the efficiency of the systems. A snow melting system can also add value to your home or business and protect you and your driveway from any costly damage – while greatly enhancing safety. Using chemicals and salt can cause damage to your driveways and walkways, as well as surrounding landscapes. A snow melting system is a long term investment in safety and and convenience.
When working with Warmzone, you'll receive top notch customer service. Every snow melting system from Warmzone is custom designed for you by a design professional, and can be configured in any way. If you would rather heat only high traffic areas, tire tracks, or certain steps or walkways, a Warmzone professional will assure that the system is designed for optimum performance and efficiency.
Free installation training is provided as well as expert technical support if you need. If you're ready for a snow melting system, or would like assistance in making an informed decision on which system is best for your home, contact a Warmzone professional today at 888-488-9276.