New homeowners and construction professionals in cold-climate regions have discovered that radiant heated driveways can't be beat. It's easy to understand why as you drive through any new neighborhood in the winter and spot the sleek heated concrete, asphalt or paver heated driveways, completely free of snow and ice.
But just what are the primary benefits of radiant heat? Well, if you're one of those who is considering taking the leap to radiant heat, then consider these ten benefits of radiant snow melting systems.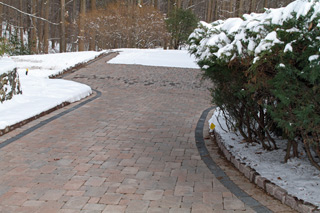 1. Radiant heated driveways are fully automated. When temperatures are below a certain set point and the snow sensor detect precipitation, the system will be activated. This state-of-the art automated radiant heating system only turns on when needed and shuts off afterwards, keeping your bill affordable.
2. Electric heated driveway systems require no maintenance. This means you can sip your hot cocoa from your window and taunt the schmuck next door who is losing the battle of the blizzard one shovelful at a time.
3. Heated driveways can be easily customized. Got a funky driveway design? No problem. Radiant heated driveways can be designed and installed in any unique driveway, sidewalk, or outdoor application.
4. Everyone loves a heated driveway, and you know what that means? Installing a heated driveway system just bumped up your property value from "meh" to "SOLD!"
5. A radiant heated driveway is an easy, no-frills way for you to go green. Driveway heating systems use renewable energy, which is a big thumbs up from Mother Nature. Additionally, heated driveways eliminate the need for that nasty salt that can wreak havoc on neighboring plants.
6. Durability is a heated driveway's middle name. The radiant heat cables used are designed to withstand winter's best attempts to destroy your driveway. Plus, Warmzone snow melting systems come with a 10-year warranty that covers up to twice the cost of the original installation. Yes, heated driveways are built to last, which means you do nothing but sit back and relax with snow-free peace of mind for a lifetime.
7. Electric heated driveway systems are relatively easy to install. With a little help from us and some ambition, you can have your heated driveway up and running in no time.
8. Radiant heated driveways can be installed under virtually any surface, including asphalt, concrete, tile, brick pavers―you name it. Having a snow-free driveway doesn't mean sacrificing on aesthetics. You can have whatever surface you want just how you want it―delightfully snow- and ice-free.
9. Warmzone radiant snow melting systems feature rapid response times. An electric radiant heated driveway heats up to 30 percent faster than other snowmelt systems, meaning you get better performance fast. What's more, it produces only 35-50 watts per square foot, getting you more snowmelt for your money.
10. Heated driveway systems enhance safety for you and your family. Consider slipping and falling on snow and ice a fiasco of the past. Even better―you'll never have to deal with strained backs and blistered hands again. In fact, maybe you can give it to the neighbor. He'll need it.
Whether it's springtime, summer or fall, plan ahead and install a heated driveway system today to ensure a winter of peace and satisfaction. Once that first snowfall rolls around, you'll be happy to finally say that your radiant heated driveway is cooler than your neighbor's snow-laden driveway.
How Snow Melting Systems Work
Premier Snow Melting Cable
As the most durable, versatile and long-lasting radiant heat cable on the market, ClearZone heat cable is the most trusted radiant snowmelt solution available. Combined with Warmzone's advanced master control unit, the snow melting cable can be installed in virtually any snowmelt application and can even withstand the heat and compression of newly poured asphalt.
Industry Leading Warranty
Warmzone offers the premier heat cable that carries the industry's most comprehensive warranty. Unlike other heat cable warranties, the cable that Warmzone carries not only provides a 10-year warranty for the cable, but also the labor costs associated with replacing any defective cable. Simply put, Warmzone snow melting cable is unparalleled in all aspects of performance, reliability, longevity and manufacturer support.
Snow Melting System Control Unit
Electric heated driveway systems utilize a small wall-mounted control unit to power the snow melting system. The master controllers include line and load terminal blocks and operating contactors.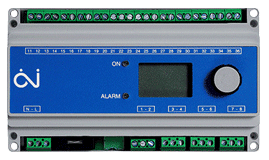 The snowmelt system controller features a built-in, easy-to-use programmable timer and digital operator interface with manual override capability. The unit is compact, durable and efficient, further complementing the overall performance of the ClearZone snowmelt system.
Using readings from temperature and moisture sensors, the controller ensures economical control of power consumption when keeping outdoor areas free of ice and snow. A moisture sensor is installed in the surface of the driveway. As soon as moisture is detected, the controller activates the snow melting system. Once the sensor has dried out, the thermostat immediately switches off the heating system.
Radiant Snowmelt System Activation Device
Warmzone radiant snowmelt systems come standard with an aerial-mounted snow sensor. This highly sophisticated, yet durable device automatically activates the driveway snowmelt system when certain conditions are met, and has several notable features, including: adjustable temperature trigger point, adjustable delay off cycle, upgrade-able remote activation, and it is smart-system compatible.
Pavement-mounted snow sensors are also available, but are more commonly used in commercial applications. These devices allow the radiant snow melting system to be 100 percent automated, activating only when it snows. Manual mode allows you to activate the system in case the wind blows snow on the driveway or ice forms due to wind or shade.