Which Radiant Heat System is Best for You?
Old man winter is providing plenty of incentive for many of us to purchase a hydronic or electric radiant snow melting system, and Warmzone can help you settle on which system to choose for melting snow and ice from your driveway. The good news—both hydronic and electric snowmelt systems are effective, efficient, and surprisingly affordable solutions to keeping exterior porches, walkways and driveways clear and dry.
Hydronic systems heat a mixture of hot water and propylene glycol (anti-freeze), then circulate it through a network of polymer Pex tubing installed in asphalt, concrete, or just about any other medium. The water is circulated from a centrally located water heater or boiler through the Pex tubing to warm your sidewalk or driveway. These systems feature condensing boilers that can be powered by any energy source, including natural gas, wood, oil or even solar panels, making operation extremely affordable.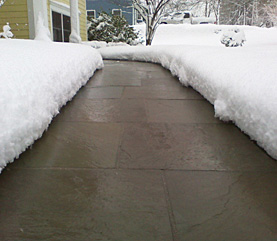 Electric radiant snowmelt systems can also be installed in a variety of mediums including hot asphalt, mortar beds, under pavers, and concrete etc. Prior to a concrete pour, heat cable is laid down and secured to the remesh with wire ties. The system's activation device (in-pavement or aerial-mount snow sensor), communicates with a compact master control unit to send power to the embedded heat cable which quickly and evenly distributes heat to prevent ice and snow build up.
Both snow melting systems feature energy efficient, advanced technology backed by impressive warranties. Generally, hydronic is the best pick for larger-scale, commercial snow melting applications because of the potential for lower operating costs; whereas electric radiant heat systems are often the more preferred solution for residential or home improvement projects. Hydronic snow melting systems require a larger investment upfront. They rely on a high-efficiency heater or boiler to function properly, and they cannot be retrofitted in existing driveways, so in addition to the system, you're looking at the cost of a driveway tear out and pour. The systems also need their own dedicated mechanical room.
Electric radiant snow melting systems feature rapid response times and are extremely efficient. They rely on a sensor and a small control unit to operate, so the initial cost up front is decidedly smaller. If you want to save a few bucks on installation, Warmzone's ClearZone electric radiant heat cable comes on a spool or in pre-configured mats that can be laid out for quick, easy installation. And, ClearZone electric radiant heat cable installation is very easy to customize, so you can configure your system to ideally suit your budget and snow melting needs. You can heat the entire driveway or a strip up the middle or just two 24-inch tire tracks. Electric systems grant you lots of custom options.
Probably the biggest incentive for choosing electric radiant snow melting systems is their efficiency in removing ice and snow. Designed to produce 30-50 watts per square foot, ClearZone radiant heat cable has the quickest response time (time to heat the driveway upon system startup) of any snow melting system on the market). Hydronic systems rely on hot water. More time is required to heat the water before it is subsequently pumped through the system, so the response time is considerably less.
If you've had it "up to here" with snow this winter, it's not too late to purchase and install a snow melting system. For more information on hydronic and electric radiant snow melting systems, contact Warmzone at 888.488.9276.
FoilHeat Floor Heating Mats
Your Perfect Solution for Heating Carpet, Laminate and Other Flooring
A FoilHeat radiant heat mat is an excellent way to warm up frosty laminate and even carpeted floors when the weather outside is frightful. If your floors rest on concrete, life at home can be especially chilling during the winter months. As you would expect, cranking up the thermostat to remedy the situation generates even more heat, all of which eventually rises, rather than solving your initial dilemma—cold floors. Made from durable heat-conducting aluminum materials, a FoilHeat radiant heating mat distributes heat quickly and evenly, so it's not prone to "hot-spots" or localized heating you might expect from forced air, baseboard or other heating systems, making it a great alternative for home heating.
FoilHeat is a unique, ultra-thin electric radiant floor heating mat specifically designed for use under laminate, carpet, engineered wood, glued hardwood and other floating floors. This paper-thin grounded flat aluminum sheet can be layered between the installation pad and the floor with virtually no buildup, to deliver uniform heat throughout your home. And don't let its "thin" skin fool you—FoilHeat maintains a durable yet flexible construction suitable for do-it-yourselfers and professional installers alike. It's made with fluoropolymer insulated heating cables sandwiched between two layers of specially reinforced aluminum foil to form a strong, yet thin and flexible laminate mat that's perfect for prolonged use.
If you're intent on installing FoilHeat radiant heat mats in your home, no worries. Each mat is available in a range of nominal outputs and predetermined lengths for easy installation, regardless of the size and shape of your home's interior flooring, or your heating requirements. Their thin construction can be safely and easily cut and shaped to meet the specific requirements of your project, so they're a breeze to install, and ideal for efficiently heating any size or shape room, from basements and bedrooms to bathrooms and kitchens.
 FoilHeat installed on slab to heat basement floor.
As with every Warmzone radiant heat system, FoilHeat mats are prefabricated and tested in a carefully controlled factory environment to ensure you receive a reliable product that's designed to deliver consistent performance, year after year. Each UL-approved FoilHeat mat is watertight, completely grounded and safe enough to install under regularly steam-cleaned carpets or floors, and includes a 15-year warranty and manufacturer installation guarantee to boot.
While living over a concrete slab is wonderfully cool during the summer, in winter, it can be the polar opposite. If you've already worn out your slippers this season trying to keep warm, give Warmzone a call at 888.488.9276 to discover how a FoilHeat radiant floor heating system can help. Our consultants are the most knowledgeable and helpful radiant heat experts you could hope to talk with. Learn more about your floor heating options today.