The Ins and Outs of Electric Radiant Heat for Hardwood and Laminate Flooring
The growing trend in wood and laminate flooring installation is radiant heat. Affordable, efficient and comfortable, radiant heated floors are a welcome way to spend the winter months, and roll up your area rugs too. If you're looking to heat hardwood or laminate flooring, or add some warmth to your existing wood floors, be prepared to do a little homework.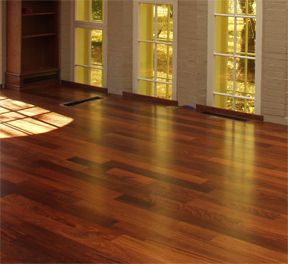 Find the right flooring for the job. Wood and laminate flooring can be safely installed over radiant heat, as long as you are careful to choose suitable products. It's not the heat produced by the radiant heat source that's a concern. It's the humidity in your home. All wood products expand and contract with humidity, and over time, this process can create gaps between your floor boards. Unsuitable materials or a poorly constructed floor greatly accelerates damage caused by humidity over time.
Styles of wood flooring that are best for radiant heat installation include:
Laminated wood flooring
Floating floors, laminated/engineered or solid wood floors
Certain species of wood including American Cherry, American Walnut, Mesquite and Teak
Quarter sawn or rift sawn wood flooring
Some types of wood floors make better candidates for radiant heat than others, so it's best to go with the manufacturer's recommendation for suitable types of wood over radiant heat. Quarter sawn or rift-sawn flooring is more dimensionally stable than plain sawn wood flooring. Strip flooring is also a better choice than plank flooring, because narrow boards expand and contract less (take up more movement) than wide boards do. Because of its inherent dimensional stability, laminated wood is also a great choice for radiant heated floors.
Once you've chosen the right flooring, it's important to partner with a reliable radiant heat solutions provider, like Warmzone, to help you choose and install an electric radiant floor heating system under your wood or laminate flooring. At Warmzone, you'll benefit from an impressive selection of radiant heat products designed specifically for your hardwood or laminate flooring.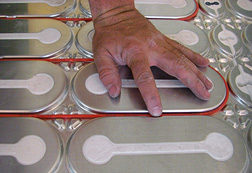 For new floors, Warmzone HeatShield floor heating insulation panels are a practical radiant heating solution for hardwood and laminate flooring. Installation is simple. There's no need to embed the heating cables in a mud base. Once you lay the insulation panels on the existing floor, simply press heating cables into the grooves provided, lay the wooden laminate floor directly on top, connect the thermostat and turn on the heat.
Made of a ½-inch thick polystyrene insulation covered with a thin, specifically profiled aluminum, HeatShield is designed for excellent downward insulation, and efficiently directs heat upward for the best heat distribution to significantly lower energy consumption. The efficiency of the panels also reduces your floor heating systems operation time, saving you money.
For new or existing floors, self-regulating Warmzone FloorHeat is a unique, low-voltage heating element perfect for installation under hardwood and laminate flooring. This radiant heat system uses a self-regulating semi-conductive polyethylene heating element, and is ideal for both new construction and retrofit applications alike. It is also very thin, making it a great option for installation under laminate and wood, without additional floor build up. A safe low-voltage product, FloorHeat can also be nailed through without damaging the heating element. This flexibility makes FloorHeat a good choice for retrofitting existing floors.
If you can access your floor joists from below, you're also a perfect candidate for the Warmzone RetroHeat floor heating system. The RetroHeat heating element is easy to install so it makes a great do-it-yourself project.  The two most highly recommended options for floors are RetroHeat and FloorHeat. Both systems are very affordable, and allow you to install radiant heat to your existing floors without extensive floor tear ups or remodeling.
To learn more about the ins and outs of electric radiant heat for your hardwood or laminate floors, be sure to contact Warmzone at 888.488.9276.