Warmzone's Advanced Thermostats Ensure that your Heated Floors Operate at Peak Efficiency
When it comes to residential heating systems, homeowners have many options from which to choose. Traditional systems that use a furnace, blower, and ductwork (known as forced-air systems) are still commonplace in homes today, but the advance of technology is paving the way for new, and increasingly efficient options for homeowners.
Radiant heat has long been the most efficient heating technology for decades, but today's systems continue to push the envelop – both in terms of comfort and efficiency. A wide variety of electric floor heating systems are available, as well as hydronic systems. (Hydronic floor heating systems heat specially treated water that is circulated through a closed loop of special PEX tubing that is embedded in the floor.)
In addition to offering hydronic heated floors, Warmzone carries one of the largest selections of electric floor heating systems in the industry. The systems range from thin heat cable to low-voltage polymer panels, near-paper-thin "film" heating panels, and more. Whether you have hardwood, tile, vinyl, or any other type of flooring, Warmzone can match you with the ideal system to meet your heating needs as well as your budget.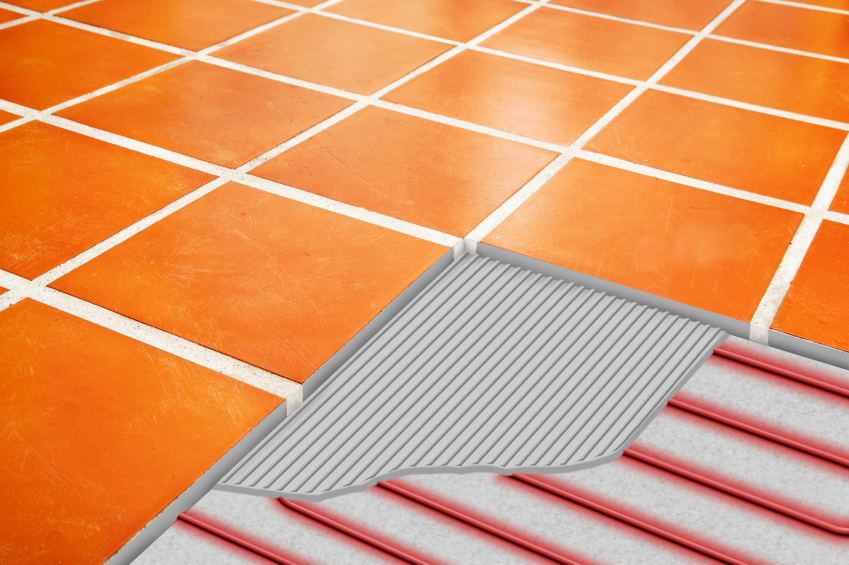 Warmzone Floor Heating System Products and Offerings Include:
ComfortTile: As the most popular floor heating option, this versatile system features thin heat cable (available in mats and spools) is effective for heating a wide variety of floors.
FilmHeat: This remarkable heating element is thinner than a credit card, and is regarded by flooring professionals at the best option for heating laminate and floating floors.
In-Slab: The sturdy In-Slab heat cable is designed for installation in concrete slabs. In-Slab heat cable is ideal for heating basements, or other floors over concrete.
FloorHeat STEP: Thin, low-voltage polymer FloorHeat panels are ideal for heating hardwood floors.
RetroHeat: The ultra-thin heating panels allow homeowners to heat existing floors, without having to undergo any major remodeling. The panels are designed to be stapled up between the floor joists.
FoilHeat: The FoilHeat system features thin heat cable that is sandwiched between two layers of specially reinforced aluminum. The system is designed for heating laminate, engineered wood, and even carpeted floors.
Prodeso: The flexible underlayment membrane provides an innovative uncoupling and waterproofing system for heating floors and other surfaces without movement or expansion joints in the screed.
In addition to the many advanced radiant floor heating technologies, Warmzone also offers the industry's most advanced control systems. Warmzone's newest thermostat offering is the LED WiFi Touch Thermostat.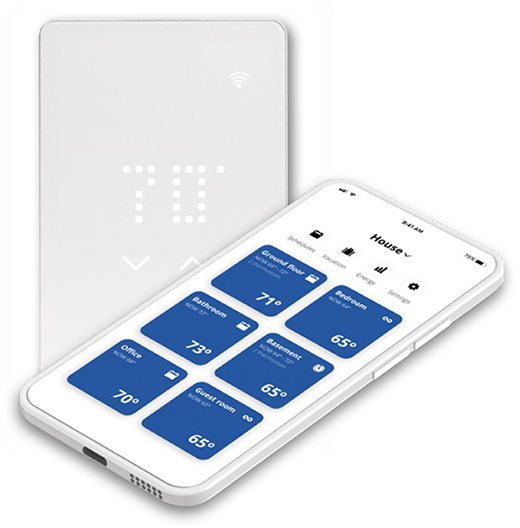 This attractive, technologically advanced touch-screen thermostat allows users to remotely adjust and monitor their floor heating system. The thermostats can be accessed locally through Bluetooth® and virtually anywhere when connected to the Cloud service through WiFi. Users can also control the thermostat using their voice with Amazon Alexa or Google Assistant-enabled devices. The advanced thermostats include an intuitive installation wizard that guides installers and end-users through the setup process.
To ensure security, the LED WiFi thermostat transmits encrypted data securely via TLS 1.3. This latest state-of-the-art encryption technology allows faster and more secure connections. For your WiFi connection, take advantage of the secure and comprehensive WPA3 protocol.
A variety of other thermostat options are also available to homeowners. The controllers range from programmable "TOUCH" thermostats to simple control devices for those on a tight budget.
Radiant heat is the home heating technology of today, and the future. Start enjoying luxurious warmth and unprecedented efficiency by installing your radiant floor heating system. With Warmzone's expertise and vast product selection, homeowners are assured of finding the ideal system and thermostat for all of their home heating needs.
Warmzone is also a customer service leader. Warmzone's support services include radiant heat system design and layout services, personal installation support, and FREE installation training. Our goal is to provide customers with the best, most complete floor heating solution possible. For more information about radiant floor heating systems or customer services, call a friendly radiant floor heating expert today, at 888-488-9276.