Heated Driveway System in Illinois Paves the Way to Big Savings for one Warmzone Customer
When a Warmzone customer in rural Illinois found he did not have the resources to heat his entire driveway as originally planned, Sales Manager, Bryan Morris, offered a reasonable alternative. "Tire tracks were a great option in this scenario," he explained, "because you can still get a heated portion that allows you to drive in and out, without breaking the bank. After consulting with the customer and our design team, we laid out the options (verbally and with drawings) before deciding on a more cost-effective, two-track heated driveway solution. Ultimately, heating two tire tracks (500 sq.ft.), as opposed to heating the entire 1,250 sq.ft. driveway, resulted in a $3,900 cost savings."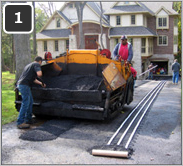 Another consideration was the lack of available power. "To heat an entire driveway would have required a large number of amps from the home's electrical power panel," Morris stated. "Most homes only have a 200 amp panel, yet it takes approximately 180 breaker amps per 1,000 square feet to heat an entire driveway."
The two-track radiant heated driveway system required installation of four Warmzone ClearZone snow melting mats, a 200-amp Warmzone electrical timer panel, an aerial mounted moisture/temperature snow sensor, a remote manual control unit and an NEC marker plate. Tire tracks were easily installed by rolling out the mats like sleeping bags. A protective asphalt layer was then raked over the tire track mats (photo 2) before the final surface coat was applied. "We use an asphalt machine that straddles the heating element to prevent damaging the heat cable," offered Morris.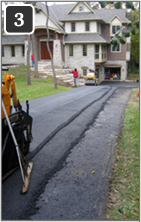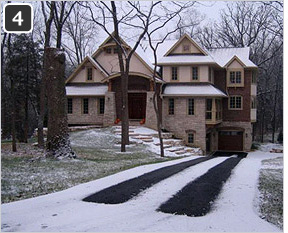 The great news is that you don't have to pour a new driveway to benefit from a heated driveway. Warmzone can customize your system to fit your needs and budget. "On this project," said Morris, "the customer was paving the whole driveway anyway. Some customers pick other install methods, such as saw cutting, to achieve their goals."
Saw cutting is cutting grooves or paths and inserting the heat cable in areas where heat is desired. With certain driveway heating systems, it is also possible to pave over the mats and create the appearance of a seamless transaction. "You can cut out the area you want to heat and then pave only that area," Morris added. ClearZone is used under cement, asphalt and pavers on a regular basis.
Flexible options make heated driveway solutions a very popular equity booster for homeowners, and are becoming a popular home improvement option. "On average," Morris stated, "the overall materials (cable, electrical and auto sensors) cost $6.00 per sq.ft. for 1,000 sq. ft., and the operating cost per 5-hour storm is $18.00, or $3-4 per hour depending on the state the heated driveway system is installed in and the power company's cost per kilowatt hour."
While the initial cost of installing a radiant heated driveway system may seem a bit daunting, the benefits of driveway heating are well worth the initial investment, the most obvious being convenience. Heated driveways don't require shoveling, harmful salt and chemical applications or expensive snow removal services. Instead, driveway heating systems provide a safe, thorough snow removal solution with curb appeal, solving snow  removal challenges posed by problematic driveways, steps, and other heavy traffic areas.
Heated driveway systems are fully automated, so they will automatically turn on or off when needed. "If it snows at 3 a.m.," Morris smiled, "our customer will wake up to a clear driveway. He now has a reliable, efficient snow removal solution."
Project Spotlight – Colorado Homeowners Install Solar Powered Radiant Floor Heating System
When two Colorado homeowners decided to build a new home from the ground up, they had two main objectives in mind. They wanted a home just for them and they wanted to be as eco-friendly as possible. One of the components they chose in their new construction was to install radiant floor heating through the 1600 square feet downstairs and 900 square feet upstairs.
After doing some research and finding Warmzone online they were pleased with the many options available for various applications and the customer support offered during the entire process.
These Rocky Mountain homeowners had several great reasons for wanting to go the radiant heat route. A major consideration was allergies and how forced air systems exacerbate this condition. Cost was another concern, as was the noise of a running furnace and the desire for a comfortable, even-air temperature throughout the home. Many customers are finding their way to radiant floor heating for some of the same well thought-out reasons.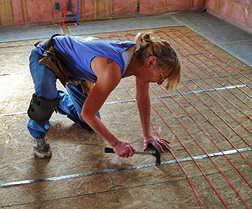 In order to accommodate the necessary electricity needs for a radiant floor, they installed 28 solar panels to meet the demand of the electric heat. This means they are using electricity solely produced by them, helping to keep costs down and mother earth smiling.
This project called for ComfortTile heat cables and a low-voltage floor heating system laid under a variety of flooring throughout the home. The Colorado couple chose tile, wood laminate, and carpet in various parts of the home. The radiant flooring systems were chosen because of their particular capabilities and installed throughout different zones. Warmzone provided the design layouts and helped walk them through the entire process.
When asked about the benefits of using radiant floor heating, the homeowner produced a long list, including evenly spread heat through the whole house, toasty floors, noiseless heating system with easy-to-program thermostats, lack of dust, and no need to wear shoes indoors anymore.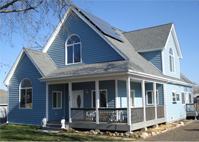 Asked if they would recommend radiant floor heating to others Jane responded, "Definitely! Check out the different flooring options and applications and determine where you want the zoned heating." Warmzone provides customers with a variety of options and helps you select the best solution for your home and budget.  Warmzone prices, product offerings and professional design services are among the best in the industry.