Radiant Heat – The Heating System of Choice for New Construction Projects
With the emphasis on renewable energy and enhancing the efficiency of our homes nowadays, it's no wonder that radiant heat is fast becoming the heating system of choice for new home construction. Radiant heated floors boast virtually no heat loss as over 99% of the energy devoted effectively translates into heating the home. Unlike traditional forced-air heating systems where hot air rises quickly and cools in the room (and escapes from closed vents), radiant floor heating systems feature no heat loss and precise control, as each room (or zone) is controlled by its own thermostat.
In addition to its remarkable energy efficiency, radiant floor heat also provides luxurious warmth. Installing a radiant heat system in your home not only can enhances cost savings and comfort, but can also significantly boost the value of your home.
Radiant floor heating systems consist of three main components: a heating element, a control center and an activation device (thermostat, timer, etc.). Warmzone offers a variety of the industry's most advanced thermostats with its floor heating systems. The thermostats include simple on/off controllers and 7-day programmable thermostats that can be controlled by an external sensor (embedded in the floor), a built-in sensor, or a combination of the two. By installing heated floors, homeowners can turn a small investment into considerable cost-savings that also increases the value of your home.
The Types of Heating Elements
To accommodate the many different floor types and applications, Warmzone offers one of the largest selections of floor heating systems. The various systems utilize different types of heating elements, each with their own strong points and advantages.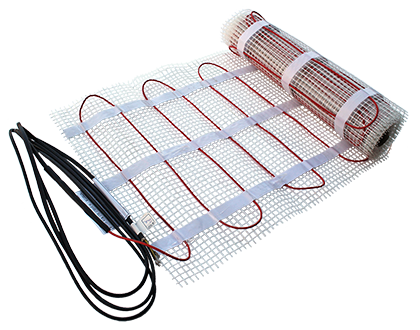 The most common and popular heating element is thin ComfortTile heat resistance cable. The cable diameter is only about 1/8-inch and has a bending radius of about 1 inch. It is twin-conductor cable with a single point connection to facilitate easy installation. And speaking of easy installation, ComfortTile mats feature heat cable that is pre-spaced on a flexible mesh backing for simple "roll out" installation. With a 25-year limited warranty, and UL listed in the U.S. and Canada, ComfortTile heat cable is one of the most trusted and commonly used floor heating solutions today.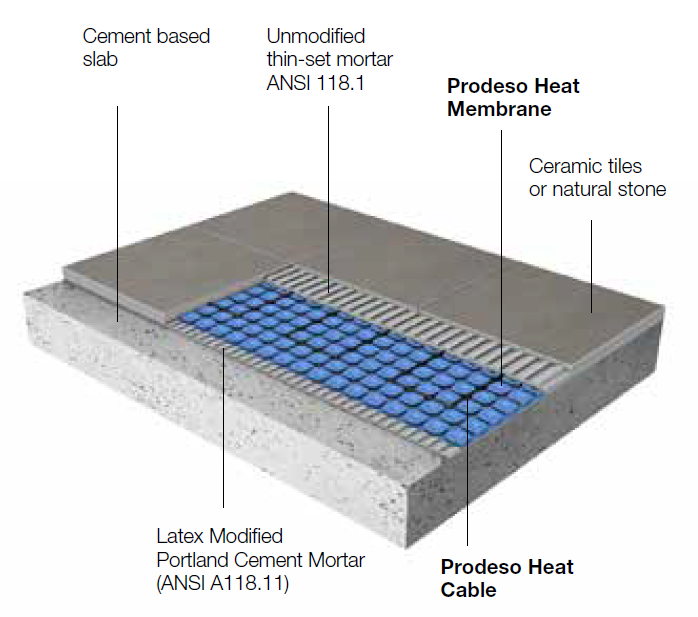 Thin heat cable can also be used with other components, such as the Prodeso® floor heating membrane. The uncoupling, waterproofing membranes come in rolls that are laid out over the subfloor and then the heat cable is installed in the channels of the membrane. This ensures precisely accurate spacing and speeds up the installation process. The floor surface is then installed directly over the membrane and heat cable. The system can be used to heat a wide variety of floor types.
A thicker, highly rugged heat cable is also available for installation in concrete slabs. In-Slab heat cable provides an efficient and highly effective means for heating floors that are installed over concrete slabs. The heat cable is secured to the remesh (with zip ties) and the concrete is poured. In-Slab floor heating systems are ideal for heating basement level floors. The twin conductor, single point connection heat cable features a 10-year manufacturer warranty.
Another heating element features thin FilmHeat (only 0.016-inch thick) that can be cut to length on site and either placed on the subfloor to heat newly constructed floors or stapled up between floor joists to heat existing floors. For new floors, this heating element is installed by floating it on top of an underlayment and floating the floor covering on top of the film. No alarms, special tools, or self leveling compounds are needed. This versatile system is very energy efficient, and because it is so thin there is no floor buildup. The system can be used to heat a range of floor types, including laminate, floating tile, engineered wood, and even bamboo.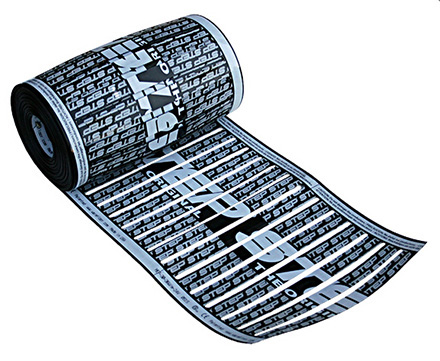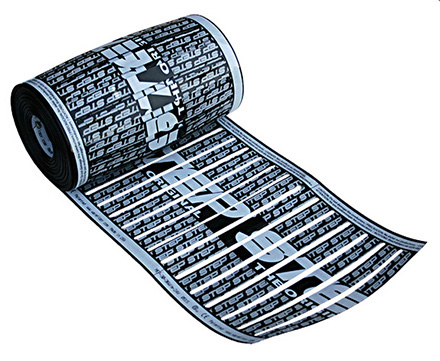 Thin polymer FloorHeat panels can also be installed to heat a variety of floor types, including hardwood. This low-voltage system is one of the most unique and innovative radiant heat systems, and features self-regulating heating elements. Purchased in rolls, the thin, 12-inch wide heating element can be cut to size and field wired onsite for easy installation.
Another ultra thin FoilHeat electric radiant floor heating system features thin fluoropolymer insulated heating cables that are sandwiched between two layers of specially reinforced aluminum foil. Featuring superior design and quality construction, FoilHeat is another viable option for heating laminate floors.
The watertight heating element is connected to a power-supply cable that exits the laminate mat from one corner. The power lead is a flat, thin two-core flexible cord, consisting of two insulated conductors with a metal sheath and an outer sheath. The uniform spacing of the heating cable, backed by the conductive aluminum foil, ensures that there are no problems of "hot-spots" or localized heating. FoilHeat mats can be cut and shaped onsite.
In addition to the vast selection of electric radiant floor heating systems, Warmzone also offers industry leading hydronic floor heating solutions. For more information about our radiant heat systems, call 888.488.9276 today.