Roof de-icing systems are a great investment that can save homes from the damage that melting ice and snow can cause in the cold winter months. If you've been considering a de-icing system for your home or business, fall can be the perfect time to get one installed.
Roof de-icing systems can be used to heat your whole roof, but it is more common to heat specific areas. The most common application is heating roof edges, but heating problem areas, roof valleys, or even your gutters and downspouts are also popular options. Heating these areas can prevent ice dams that can be created by warm temperatures in the attic that can cause snow or ice to melt and trickle down the roof. When the cool water hits the freezing eaves, it refreezes, eventually creating a ridge of ice along the roof eave. This causes subsequent runoff to pool behind the ice ridge, and that's when problems can occur. The water seems into every tiny crevice and when it refreezes, it expands. As this process repeats, the expanding ice can threaten the integrity of the roof. Damage from ice dams can be hazardous and costly to repair, and can also lead to interior water damage inside the home. Radiant roof de-icing systems are proven to prevent ice dams from forming to allow runoff to reach the gutters, helping to prolong the life of your roof.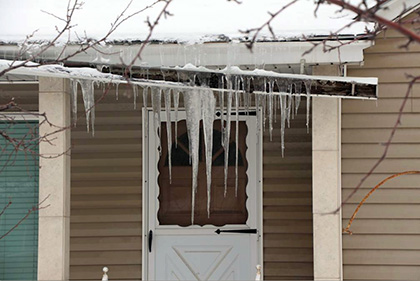 No matter which area of your roof you are looking to heat, don't forget that a system is only as good as the installation and components that are included. Each Warmzone roof de-icing system consists of the industry's most advanced and proven components. Warmzone offers multiple options for heating elements that allow you to customize your system to fit the needs of your home or business.
One of the most popular and reliable heating elements available is Warmzone's self-regulating heat trace cable. RoofHeat self-regulating heat trace cable is an easy to use roof de-icing option that is affordable and great for a wide variety of applications. Self-regulating heat cable has an irradiated conductive core that increases the heat output as temperatures outside drop, and decreases output as temperatures rise. Cable is available in different lengths and can be installed to accommodate just about any configuration, including custom or oddly shaped areas. The cable is UL recognized, flexible, and has an extremely rugged outer jacket of UV stabilized thermoplastic elastomer, making it perfect for harsh outdoor conditions. Self-regulating heat cable from Warmzone also comes with a 10-year manufacturer warranty.
Self-regulating heat cable is the first choice for installing in gutters and downspouts, and can even be used for pipe trace applications to prevent freezing. Installing the heat cable is simple. It is installed in the gutter and into the downspouts, and ended below the frost line. When installing cable on the roof itself, it is attached to the roof with roof clips in a zigzag formation. Installing heat cable in these areas is extremely efficient at providing channels for runoff to prevent ice and snow damage, and the best choice for most customers. Most customers use self-regulating cable to heat roof edges, but it is also effective for keeping roof valleys clear of snow and ice buildup. Self-regulating heat trace cable has been installed in most of the coldest areas of the country, and still remains one of the most efficient and discreet options for gutter trace applications and roof heating today.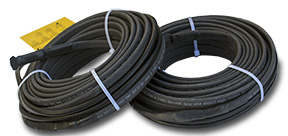 Wamrzone also offers pre-terminated 120V, 6-watt self-regulating heat cable. This option is affordable and convenient, as it comes pre-assembled and can be plugged into a standard outlet. This cable is also available with a GFCI power plug, and comes in 50, 75, or 100-foot lengths. Pre-terminated cable allows for easier installation, as it does not require any special skills or tools. It can be used in almost any application, even industrial environments – including hazardous and corrosive environments.
Another option available from Warmzone is constant wattage cable. This type of cable is a good choice for quick, easy, and general roof de-icing projects, where customization may not be necessary. Constant wattage cable has outstanding electrical and thermal properties, with a parallel heating core that will produce uniform thermal output over its entire length, meaning that the power output remains the same across the whole cable. (It is unaffected by ambient temperature, unlike self-regulating cable.) Constant wattage cable uses a single power point making it easy to configure and install heat tracing systems anywhere. Constant wattage cable comes pre-assembled, and can be installed to eliminate problem spots along your roof edges, gutters, or downspouts. The cable can also be used for pipe freeze prevention, as well as for process heating, and velocity flow control for viscous materials in industrial applications.
If cable isn't the right option for heating your roof, Warmzone's low-voltage RoofHeat STEP de-icing system may be the ideal choice. This system also features a self-regulating heating element. This system utilizes a thin polymer element that can be nailed through and cut on site. The semi conductive polymer heating element uses individual control boxes to monitor monitor power and output for each section of roofing. The transformers will step from high voltage to low voltage (60 V or less) to assure safe and efficient performance. The low-voltage element can be safely installed under shingles and metal roofs, and is ideal for heating entire eaves and problem areas.
Warmzone's versatile self-regulating heat cable is an industry leader that is the perfect choice for most home or business owners. A roof heating professional from Warmzone can help you determine which heating element is best for your particular application, whether you need to heat valleys, edges, downspouts, or even your whole roof. Warmzone professionals provide industry leading customer service, including professional system design, free installation training, and tech support. If you still have questions about roof de-icing systems, contact a Warmzone professional today at 888.488.9276. We'll be happy to answer any questions you may have.