You're Late for a Very Important Date and Snow is to Blame
Do you spend more time making up excuses as to why you are late than you actually do in being on time to your appointments, dates, yoga class, and work? We all have those lists in our head of excuses to our boss or our kid's soccer coach about why we are late yet again. It's never easy having to use these excuses. Your number one wintertime excuse of shoveling a foot of snow off your driveway could be a thing of the past however. You can eliminate snow shoveling from your "oh geez, am I late again? So sorry…" routine.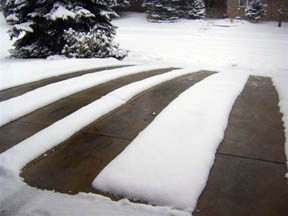 Installing a heated driveway is now easier than ever. It's also a cost-effective, proven home re-sell enhancing feature. Equipping a home with a technologically sound and savvy snow melting system has become a popular and affordable way to beat the snow. Look at the homes in your own neighborhood. Many of them probably already enjoy the benefits of a snow melting system. If they do, they are never late for a date or any other function because of back breaking snow removal. Their driveways remain clear and clean of sticking snow all winter.
Driveway heating has come a long way. It's no longer something seen exclusively in the affluent neighborhoods or touted by the rich and famous. Heated driveways are now something your sister's best friend just installed, your son's basketball coach, your co-workers, next door neighbor or even your kid brother who you were sure was never going to own a home let alone increase its value with something as smart as a snow melting system. Get out of hot water with your boss, pull out of your driveway on-time and relaxed as you calmly wave at your less fortunate neighbors sweating and shoveling out from last night's whopper of a snow storm. Install a snow melting system right now and start enjoying the benefits of a stress-free, time-saving heated driveway